Local Resident Applications 2023
Applications for the 2023 season are now open to our local residents. Please fill in the form below and attached a copy of your council tax letter to apply for your resident tickets. You should receive a response within 10 days.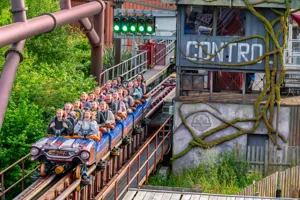 Am I eligible for local resident tickets, and what restrictions are there?
You must live at a property within 3km of the centre of the Alton Towers Resort, and the property must be solely for residential use. (Commercial, storage, vacant properties or holiday rentals are not eligible.)
How do I apply?
You must fill in the form below with the exact details as shown on your council tax letter. Any errors may result in your application being denied.
How many tickets will I receive?
You will receive a unique resident code which will allow you to book a total of 20 tickets for use throughout the 2023 season. (Restrictions apply.) Keep this code safe; it can be tracked and logged to you.
How do I book my tickets?
I can't book for a certain day. Why is this?
All tickets are subject to availability, so we advise booking in advance to avoid disappointment. Some dates are restricted, meaning that resident tickets are not valid on select dates.
How can I find out more about events and updates?
Any major updates will be announced at the top of this website, AltonTowers.com.


Alton Towers Resort reserves the right to reject applications for any reason. Tickets remain the property of Alton Towers Resort and may be revoked at any time for any reason, without notice. For the avoidance of doubt, misuse of local resident tickets or the application process, including selling/auctioning tickets, may result in any existing orders and future tickets being cancelled (This may also affect future applications.) Full terms and conditions can be found at AltonTowers.com