This December join us for a Festive Day Out with your family on the 5th, 6th, 12th, 13th, 18th - 23rd December. Please note that the Theme Park will not be open after Christmas.
We're open for local guests to enjoy a magical festive escape, with specially selected rides ideal for young families, including CBeebies Land! Plus get ready to take the most wondrous stroll of your life in the magical Garden Lights Walk: Twinkling Stars, and watch the Towers transform into a wonder of festive delights.  Enjoy a host of seasonal entertainment, meet cheery characters and…smell that? Delicious roasted chestnuts and toasted marshmallows!
5th, 6th, 12th, 13th, 18th - 23rd December
Adults from £18
Ideal for families
If you unsure about whether you are a 'local guest', please check the latest Government guidance here.  If Alton Towers is NOT within your local area, please DO NOT VISIT.
Please note that Alton Towers is in Staffordshire, which is a Tier 3 area.  Alton Towers is a covid-secure venue and your safety is our top priority, so we have worked closely with our local public health team to ensure that our Festive Day Out event complies with the latest Government guidance and the rules for a Tier 3 area. Please do not visit if you live outside the local area.
Attractions and entertainment are subject to change if the Government guidelines change.  In light of updated advice from our local Public Health team, we have revised the entertainment programme, full details of which are listed below.
As the event is largely outdoors, please ensure that you come wrapped up warm.  Why not bring a blanket?! As we are unable to open our indoor attractions at the moment please remember that there is nowhere to warm up.  Please visit in groups of 6 people or less, but remain within your household when inside any of our shops or food and drink outlets.  Please ensure that you observe social distancing at all times, and wear masks in the places where it's required.  For a full list of the COVID-19 safety measures we have in place at the Resort please click here.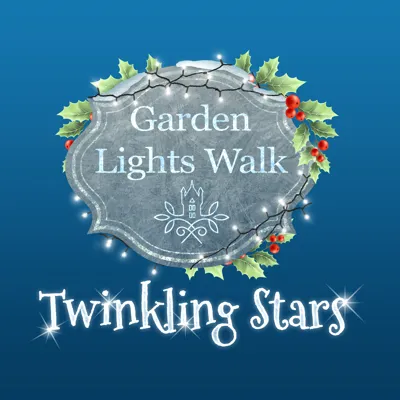 Garden Lights Walk
With luscious stretching lawns, vibrant beds and stunning conservatories the Alton Towers Gardens are well worth a visit in the daylight but wait until nightfall to be dazzled by shimmering lights that will fill you with wonder! Have a magically Merry Christmas!
Garden Lantern Trail
As darkness falls, follow the enchanting trail of lights through a secret path that will lead you to the most fantastical corners of the Gardens, down Storybook Lane where you will walk through the pages of some of the most beloved and magical fairy tales of all time! Expect endless fun and surprises in this truly spellbinding experience.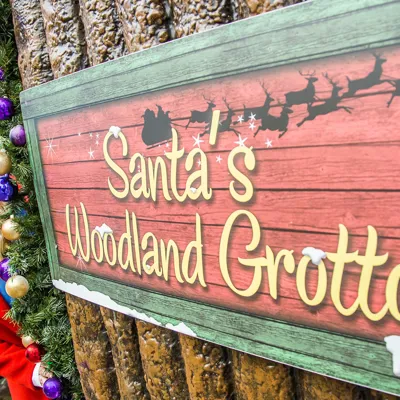 Visit Santa at his Grotto
Included in the price of your Festive Day Out Ticket before Christmas is a visit to see Santa at his Grotto. Your meeting with Santa will take place in strict accordance with the latest COVID-19 guidelines but will still offer a magical Christmas experience for every child, including a gift that will be presented in a new, totally contactless way. (A visit to Santa's Grotto is not included with a Twinkling Stars Ticket and this cannot be added on)
Please observe social distancing as you wait to see Santa. Guests will be asked to sanitise their hands before approaching Santa's Grotto. Hand sanitiser will also be available on exit. The Elves who'll greet you will all be wearing themed face masks, and Santa will sit behind a Perspex screen. Guests over the age of 11 will also be required to wear a face mask whilst visiting Santa. 
Choose between Santa's Grotto on Mistletoe Lane in CBeebies Land or on Elves Avenue in Mutiny Bay. This is only available on days up to and including 23rd December.  Please book one time slot for your group to visit Santa. Any duplicate bookings will be cancelled.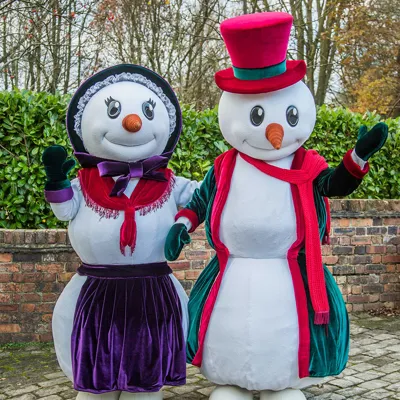 Entertainment
Enjoy a host of festive entertainment throughout your visit including our very own troupe of Carol Singers who will be performing around the Park during the afternoon.  Other Christmas characters will be at large to entertain and delight and in Fountain Square 'The Towers Musical Players' will sing some of your favourite Christmas tunes!
Rides and Attractions
The following outdoor rides and attractions will also be open for guests to enjoy during their Festive Day Out:
CBeebies Land:
Go Jetters Vroomster Zoom Ride
In the Night Garden Magical Boat Ride
Bugbee Go Round
Octonauts Rollercoaster Adventure
Postman Pat Parcel Post
Peter Rabbit Hippity Hop
Tree Fu Tom Training Camp
Big Fun Show Time
Other areas:
Heave Ho
Marauder's Mayhem
Cuckoo Cars Driving School
Spinball Whizzer
Christmas Characters appearances
Delicious hot food (including pizza & hot dogs) and drinks will be available at the following outlets. Please note that payment will be by CARD ONLY.
Corner Coffee
Towers St Donuts and Hots Dogs
Eastern Express
Little Explorers Lunchbox in CBeebies Land
Seasonal concessions in Fountain Square and Gardens open every day from 11.00 to 20.00
Frequently Asked Questions
Guests with pre-booked tickets on dates when the Resort is now closed will have their tickets revalidated so they can arrange their visit in 2021.  We ask our guests to please visit www.altontowers.com/tickets-passes/day-passes/pre-book-reservation to make a reservation for a date of their choice. Should you not wish to revalidate your ticket, please email gs.feedback@alton-towers.com and a member of our team will be happy to help. Please kindly be advised that our teams are working hard to fully support guests who are affected by the closure. However, due to the festive period and our safety protocols, many of our teams are working remotely and are on reduced staffing levels. Therefore, our current response times are slightly longer than usual but please rest assured we will come back to you. We ask for your understanding and patience at this difficult time.
If you are a MAP Passholder please also contact gs.feedback@alton-towers.com to discuss your tickets.
During Festive Days Out a selection of fantastic, outdoor festive attractions and entertainment for families, as well as fabulous live entertainment in our grounds will be open, all in line with the new guidelines. 
A Festive Day Out will include:
a selection of outdoor rides and attractions for families focusing on CBeebies Land and Mutiny Bay
a host of festive entertainment throughout your visit including our very own troupe of Carol Singers, Christmas Characters at large in the Park and The Towers Musical Players who will perform Christmas tunes in Fountain Square
as darkness falls, be dazzled by our brand-new illuminated attraction Gardens Lights Walk: Twinkling Stars
If you visit before Christmas, guests who've purchased a Festive Day Out ticket will even be invited to enjoy a socially-distanced outdoor audience with Santa in his Grotto. A visit to Santa's Grotto is not included with a Twinkling Stars Ticket and this cannot be added on.
No, there will be no additional charge for parking.
Nothing, it's included in the price of the ticket if you have purchased a Festive Day Out on a date before Christmas! You will need to book your timeslot to see him though, you can do this when you purchase your tickets.
A visit to Santa's Grotto is not included with a Twinkling Stars Ticket and this cannot be added on.
A range of food and drink outlets will be open offering takeaway drinks and snacks.  These include:
Corner Coffee
Towers St Donuts and Hots Dogs
Eastern Express
Little Explorers' Lunchbox in CBeebies Land
Concession stand in Fountain Square
The following rides and attractions will be open:
Go Jetters
In the Night Garden
Bugbee Go Round
Octonauts
Postman Pat
Hippity Hop
Tree Fu Tom
Big Fun Show Time
Spinball Whizzer
Heave Ho!
Marauder's Mayhem
Driving School
Between 18th and 23rd December, the Park will be open between 11am and 8pm (rides close at 7.30pm)
The theme park will be open for Festive Days Out on 5th, 6th, 12th, 13th, 18th - 23rd December and Twinkling Stars tickets only from 27th December - 3rd January. We will review our operations in line with the next Government update of COVID restrictions on 30th December and update our website when we know more.
Our Covid-secure attraction will continue to provide an extensive range of safety measures, designed to ensure a happy, safe and healthy experience for all guests and staff. Information about all our COVID-19 safety measures can be found here.
We've made the decision to close a little earlier based on feedback from guests who visited for a Festive Day out earlier in December.  With reduced visitor numbers each day, there is still plenty of time to enjoy our selection of outdoor rides and fantastic festive entertainment within the new opening hours.
Ticket information:
Festive Days Out will take place on 5th, 6th, 12th, 13th, 18th - 23rd 27th December.
Festive Days Out Tickets are priced at £24 for adults, £15 for children (aged 3 – 12. Under 3s are free) and £12.50 for Alton Towers Season Passholders and Merlin Annual Passholders. Your ticket includes the opportunity to meet Santa in his Grotto. You can add-on your timeslot to see Santa as part of your ticket booking. Please only book one timeslot per party.
Twinkling Stars Tickets are priced at £18 for adults, £15 for children (aged 3 – 12. Under 3s are free) and £10 for Alton Towers Season Passholders and Merlin Annual Passholders. A visit to Santa's Grotto is not included with a Twinkling Stars Ticket and this cannot be added on.
Between 18th and 23rd December, the Park will be open between 11am and 8pm (rides close at 7.30pm)