Mardi Gras
Join us in getting the festival vibes going with a Mardi Gras inspired takeover that will dazzle you with an explosion of colours, sounds and much more!
Alton Towers Resort's Mardi Gras is back this spring! The carnival-inspired takeover is set to dazzle, thanks to an explosion of colours, sounds, and high-energy entertainment including even more sensational performers! Try some delicious themed food this season from the Deep South of the USA and around the world, all set within the backdrop of the UK's favourite theme park complete with world-class rides and attractions.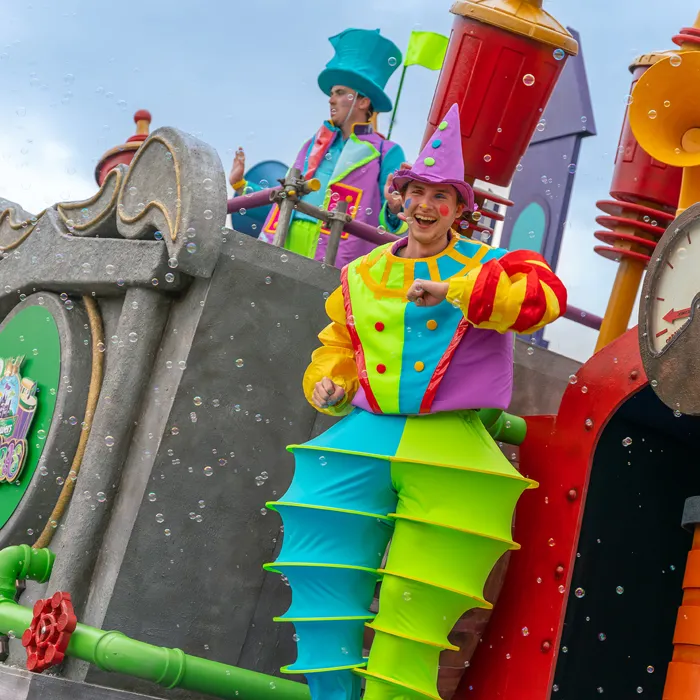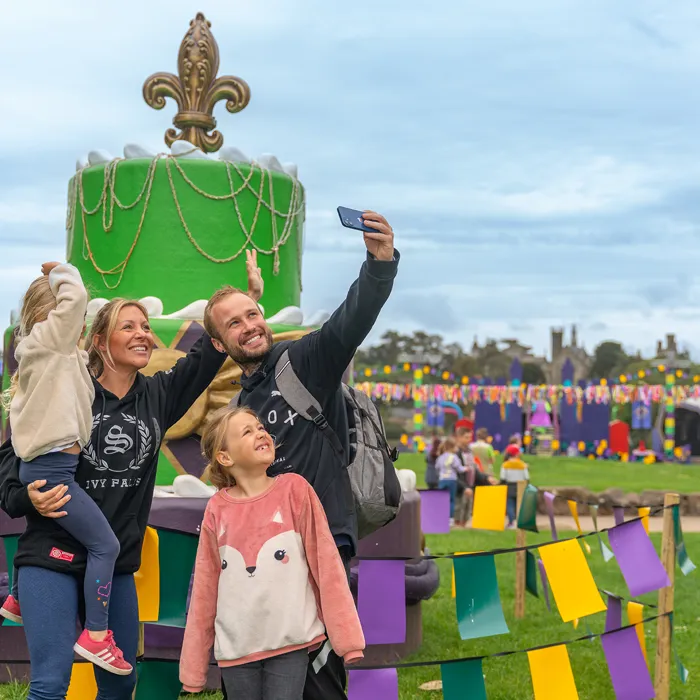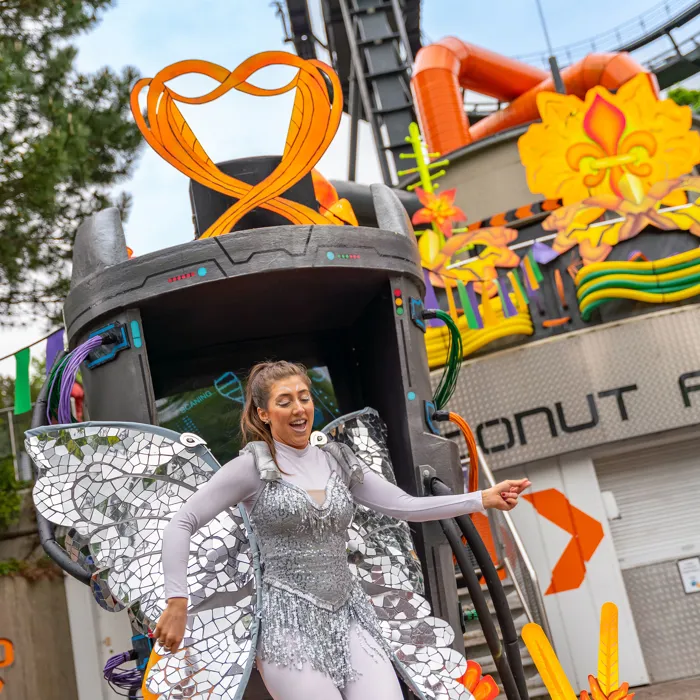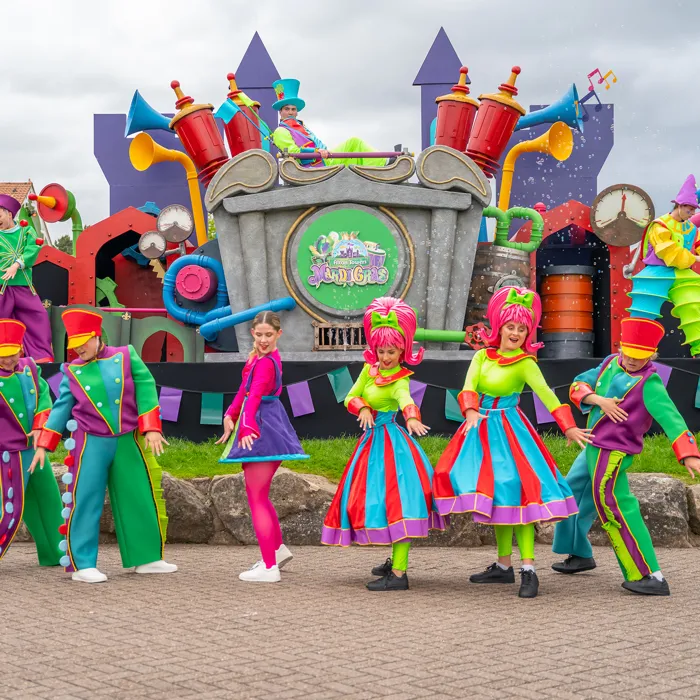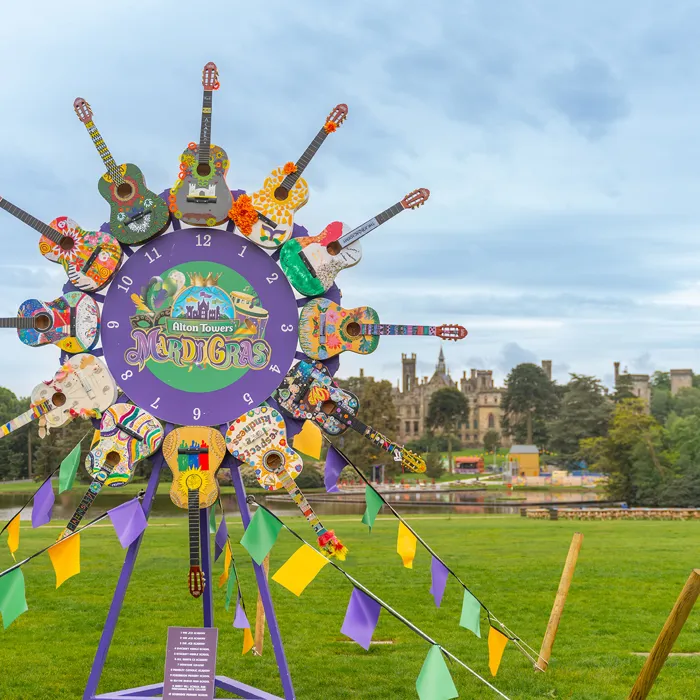 Prepare to party!
Prepare to party as Alton Towers Resort's Mardi Gras inspired event returns!
Celebrate with family and friends as the Resort is transformed in an explosion of colour with carnival music, lively street performers and unforgettable food, creating a fantabulous feel-good atmosphere! Each themed area of the Theme Park will be represented by its own flamboyantly dressed 'Krewe' atop its own showstopping static parade float. Throughout the day, each Krewe will be 'takin' it to the streets' for some high-energy live entertainment filling the Theme Park with all the colours and energy that Mardi Gras has to offer.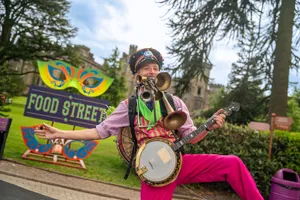 Food Street
Bigger and better than ever before, Food Street is returning to Alton Towers Resort for Mardi Gras! Dive into our new and delicious 'Dirty Dogs' hotdogs, smokery burgers, pulled pork and ribs for a real South American BBQ flavour, or try a Louisiana staple fish-filled fancy Po'Boy sandwich. Finish like royalty by indulging in our traditionally inspired Mardi Gras King Cake, fried and glazed to tickle the tastebuds! Appetite for more? Our Loaded Doughnuts offer the widest range of fillings and toppings, from sweets to ice-cream, not to be missed.
Meet the Krewes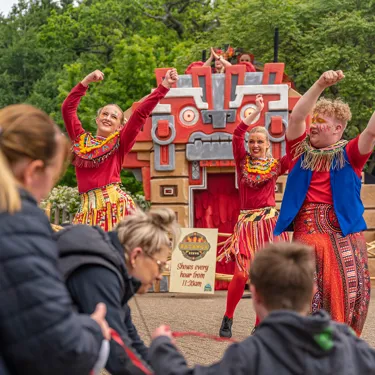 Katanga Krewe
Venturing through the rocky ravine, catch the Katanga Krewe display their audaciousness and courage as they embark on another relentless adventure in Katanga Canyon! Don't miss this Krewe as they prepare for their next courageous journey.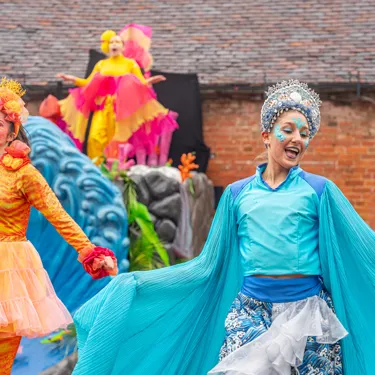 Mutiny Bay Krewe
Championing the conservation of the oceans and representing the planet, let us introduce the Munity Bay Krewe! Masters of the natural elements and shielded by the vibrant colours of blue and green, share their love for the seas as they do with their pirate companions who roam them. The Munity Bay Krewe dedicate their performance firstly to the sea with high-paced routines as they rush and whirl across the high-seas in a wave of exhilaration and effects not to be missed!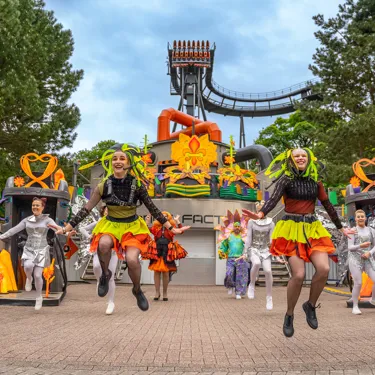 X-Sector Krewe
The X-Sector Krewe brings to life the technological and experimental world they live in. Observe the experiments as the X-Sector Krewe administer dance, light and an abundance of sound to the Alton Towers Resort. Feel the energy of wind from the researcher's wings as they show off their talents. Join them at Mardi Gras and witness their fantastical seismic results!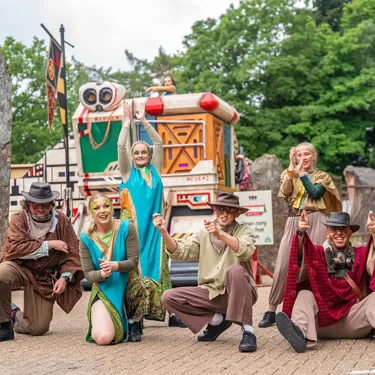 Forbidden Valley Krewe
The Forbidden Valley Krewe are always on the lookout for a new discovery, with the aim to find their breakthrough innovation at this Mardi Gras event using their Robotic Marvan station combining classic and futuristic technology. Prepare to witness their most recent discovery - the spectacular show-stopping headdresses they adorn - and play a part in the unearthing of their spirit as they get set to make a brand- new discovery!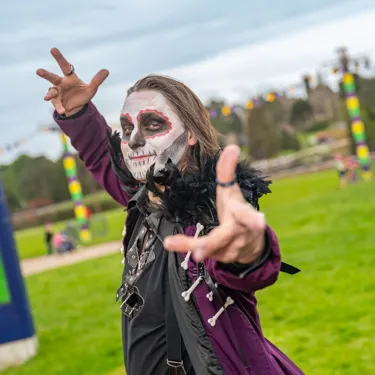 Voodoo Krewe
Venture down to Fountain Square cautiously, as the peculiar Voodoo Krewe celebrate all things dark and mysterious around their captivating smoking cauldron. Their spellbinding bright purple and blue costumes, oversized hats and quick dance acts may convince you to join their celebration! Capture the mystifying magic that lies within this exciting Krewe…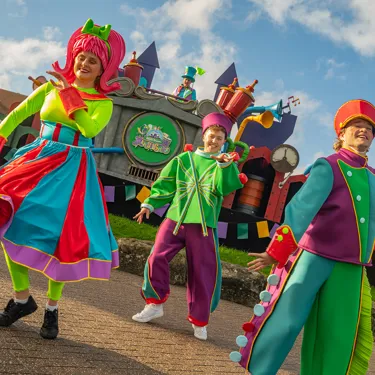 Towers Street Krewe
Proudly displaying the Alton Towers Resorts iconic colours of purple, gold and red, catch the wondrous escapades of this supreme Krewe! On the famous Towers Street, witness the enlightening bright and fantastical shows as they celebrate Britain's greatest escape. Celebrating all things wonderous and marvellous on Towers Street!
Extend your Mardi Gras day out into a Short Break
One day just isn't enough! Let the fantabulous fun continue with an amazing short break at Alton Towers Resort. Choose from five themed accommodations including the Splash Landings Hotel - experience all the sunny joys of the Caribbean, right here at home! A short break at Splash Landings Hotel means awesomely-themed rooms, delicious food in exotic family-friendly restaurants and fabulous entertainment. Whatever your age, you'll find endless delights for all the family to enjoy!
Calling all Annual Passholders!
Tickets for Mardi Gras are now live for you to book - don't forget to pre-book your free passholder reservation for entry into the Alton Towers Theme Park during Mardi Gras.
Pre-book now