Santa's Sleepover
Experience the most magical Christmas Escape with a Santa's Sleepover including selected Theme Park rides, a unique Santa visit, Waterpark, a festive evening meal plus much more!
Stay tuned for 2020 Santa's Sleepover dates
Ideal for families with young children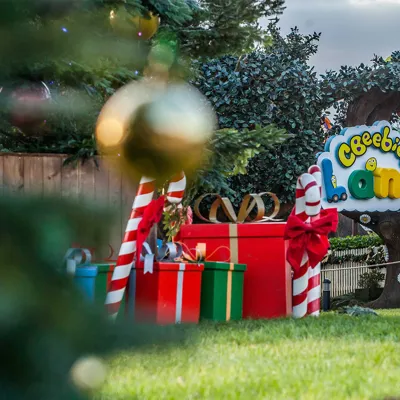 Your festive package includes
An

 

overnight stay

 

in one of our fabulously themed hotels
A

 

unique visit to Santa

 

(with a delightful gift for each child)
Tickets to our amazing Pantomime
Tickets to the

 

Theme Park

 

with a selection of family rides and attractions
Tickets to the wacky Caribbean themed

 

Waterpark
9 holes of crazy, zany

 

Extraordinary Golf
A fantastically festive

 

evening meal
A delicious buffet

 

breakfast
And last but not least - fabulous

 

evening entertainment

 

including meet & greets, shows, a Christmas cinema and a farewell from Santa.
Choose your Christmas package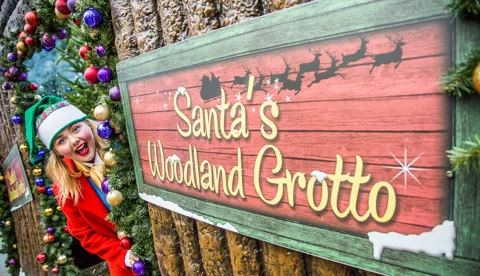 Santa's Woodland Grotto
Meet the Elves in the heart of CBeebies Land and follow them down Mistletoe Lane to Santa's cosy Woodland Grotto. Santa has taken a break from his Christmas preparations and can't wait to spend some quality time with you and your family. Capture the moment with a perfect family photo of you and Santa Claus.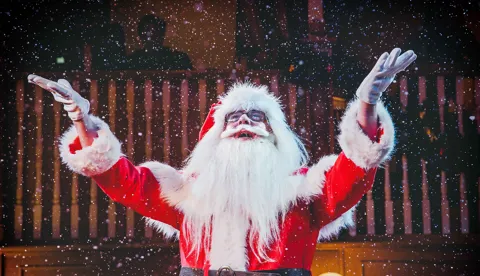 Santa's Festive Breakfast
Mrs Claus is busy preparing a glorious breakfast feast for you to enjoy! Along the way you will meet Sir Algenon and his friends, Eric the Yeti and Darwin the Dodo, as they share stories of their intrepid explorations to the North Pole. The Elves have some festive songs to share, and there's an extra special visit from Father Christmas himself!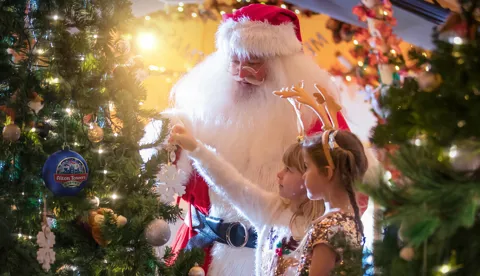 Christmas Party with Santa
The fairies and elves are hosting a party in their festive-themed Tipi! Take part in a fun-filled family activity before being led to the beautifully decorated Christmas Tipi. There's singing, dancing and of course their guests of honour – Santa and Mrs. Claus. Plus, enjoy a tasty festive drink – mulled wine for the adults and hot chocolate for children.
Our Accommodation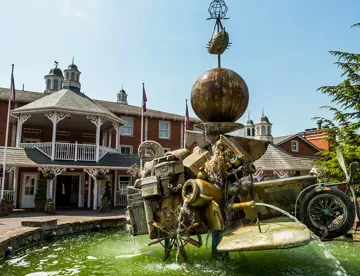 Alton Towers Hotel
This unique hotel is themed around the incredible explorer Sir Algenon, who has made the Alton Towers Hotel his home.
CBeebies Land Hotel
Step inside the rainbow and straight into the colourful world of the UK's only CBeebies Land Hotel, all uniquely designed for young families.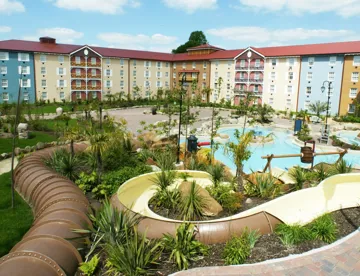 Splash Landings Hotel
For a hotel with fun at its heart, check in to the wonderfully wacky Splash Landings Hotel. There's tonnes of fun to be had, including a fabulous disco hosted by the amazing Calypso Crew.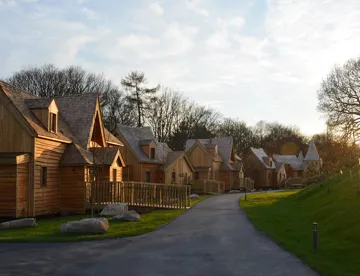 Luxury Treehouses
Indulge your friends and family with a luxury treehouse holiday, complete with a private hot tub! Our five Treehouses offer true top of the tree extravagance for up to eight people.
Terms and Conditions
Terms and conditions apply. Event and entertainment is subject to change and availability. 

Please note: a £50 hold on a debit or credit card will be required upon arrival when staying at the Alton Towers Resort.

Important information regarding your Santa's Sleepover experience:

Entry to Santa's Woodland Grotto is exclusively for guests staying at the Alton Towers Hotel or CBeebies Land Hotel.

Santa's Festive Breakfast is exclusively for guests staying in an Enchanted Village Luxury Treehouses or at the Alton Towers Hotel.

Christmas Tipi Party with Santa experience is exclusively for guests staying in Splash Landings Hotel only.

Each Santa's Sleepover guest is entitled to one Santa Sleepover experience only.

*The only accommodation available on 13th and 14th December 2019 is the CBeebies Land Hotel. Guests will have access to selected rides and tickets to the pantomime on 14th December 2019.

Theme Park:

Santa Sleepover packages will include 1-day access to the Theme Park.
Guests arriving on 13th December 2019 will use their 1 day access to the Theme Park (10am – 5pm) on the 14th December 2019 only. Guests arriving on 24th November, 1st, 8th, 14th – 23rd December 2019 must use their 1 day entry into the Theme Park (10am – 5pm) on the day of arrival.

The Theme Park will be closed on the 13th & 24th December 2019.
Please note: the full Alton Towers Theme Park is closed during this time, and there will only be access to a selection of rides and attractions. Open rides are subject to availability and will be weather permitting. Additional charges apply for upgrades. Room prices vary and are subject to change. All rooms are subject to availability at time of booking.

Alton Towers Waterpark:

Waterpark access is included in our Santa Sleepover Package. Your Waterpark ticket is valid for one visit or session on either day of your stay depending on your stay date. Time slot entry will be in operation on selected dates, this will appear on the extras page where you can make a selection. For more information please visit our Help Centre. Guests wishing to use the Alton Towers Waterpark must adhere to the terms and conditions and strict adult to child ratios. Please see the Waterpark page for more details. 

Resort benefits, extras and activities are subject to change and availability. This offer cannot be used in conjunction with any other offer, discount promotion, reward or loyalty program. Standard cancellation charges apply.