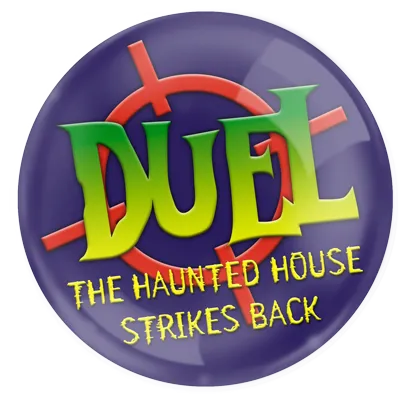 Duel: The Haunted House Strikes Back
Lock and load your laser guns and prepare to battle the undead. Ghosts and ghouls are about to attack, so you must stifle your screams and summon your nerve to save yourself by fighting back. Team up with family or friends to combat the fiendish hordes – or compete against each other to see who reigns supreme. Perfect for brave kids and fledgling thrill-seekers: can you keep a clear head and win the day?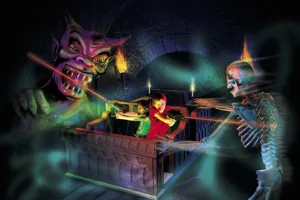 Spooky Family Fun at Alton Towers
When the ghosts and ghouls attack, this is your chance to fight back. Load your laser guns and have your wits about you. Prepare to duel with the undead!
This classic ghost train ride has been rebooted. This is a unique children's theme park ride for brave kids and budding thrill seekers. Families can work together to battle the ghouls with their laser weapons, or compete for the highest score. Battle against your family and friends to see who is the most fearless of them all.

If you survive the trip through the haunted house, pick up a ride photo to remember your family day out. Duel is one of just four family rides where you can pose for the camera and take home a unique souvenir.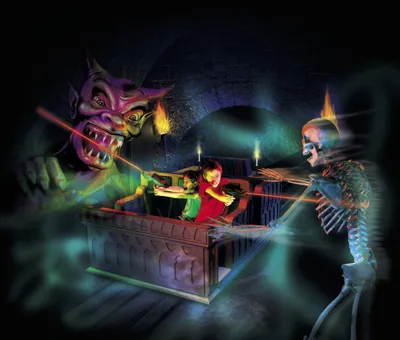 The Haunted House strikes back!
A legion of zombies have been drawn to the home of the controversial genetic surgeon, Dr Nicholas Roodyn.
His scientific experiments have woken the dead, and now they're ready to seek their revenge...
Brave guests are sent inside to investigate what Dr Roodyn has been up to for all these years. He may have vanished, but his experiments remain.
Ghosts, demons, ghouls and dark creatures await you!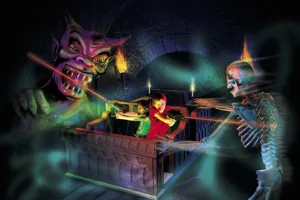 Haunted House meets Laser Tag!
This dark ride lets you take your fate into your own hands... Enter the Haunted House at your peril, as the zombies are awake and ready to fight back!
Every brave rider is armed with a laser gun, to protect themselves against the spooky creatures who attack the ghost train. This fully immersive experience is a haunted house ride like no other!

Bonus Tip: Aim for the yellow targets for extra bonus points to boost your high score!
Ride Stats
Location: Gloomy Wood
Capacity: 1920 riders per hour
Duration:

6 minutes

Can you ride? You must be 0.9m or over to ride, and 1.1m or over to ride without an adult.
This is a fantastic ride. Not only is it interactive, but the amount of detail is fantastic! [...] The busts, the models, animatronics and the dummies... it's just amazing how much there is to this ride.
Did You Know?
The Haunted House was originally designed by rollercoaster theming legend, John Wardley.
That means that this immersive experience joins a list of world-famous themed rides and attractions, including Nemesis and TH13TEEN.

The ride was recently given a spruce up and a new soundtrack as part of our Towers Loving Care programme!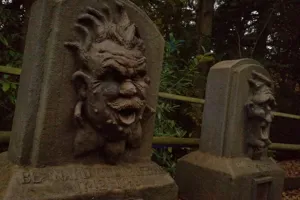 Other Haunted Rides and Attractions
If you're a fan of Duel, then there are plenty of other haunted rides and attractions at Alton Towers.
Have you explored Hex: The Legend of the Towers? Enter the iconic building at the heart of the theme park and fall deep into local legend.

Or journey deep into the Alton Towers Dungeon where you'll come face-to-face with ghosts of the past.
There are no laser weapons here though, so you'll have to find another way to survive!