What to expect at The Alton Towers Dungeon
A hilariously hideous journey through Staffordshire's darkest history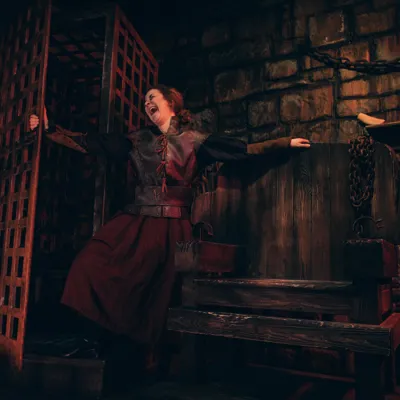 The Dungeons Experience
The Alton Towers Dungeon is a fully immersive, interactive experience that should only be visited by the bravest of people and those with the strongest stomachs.
Enter one of the UK's famous dungeon attractions, for a spectacular walk-through experience. Expect live actors, immersive scenes and striking special effects.
The Alton Towers Dungeon is an interactive journey through Staffordshire's darkest history, guaranteed to make you laugh and scream in equal measure.
This 45 minute experience leads you through 5 hideous, hands-on shows, one harrowing, haunted boat ride and 6 horribly historic themed areas.
From the frantically funny to the seriously spooky, each show will introduce you to a real historical person from a key moment in Staffordshire's history.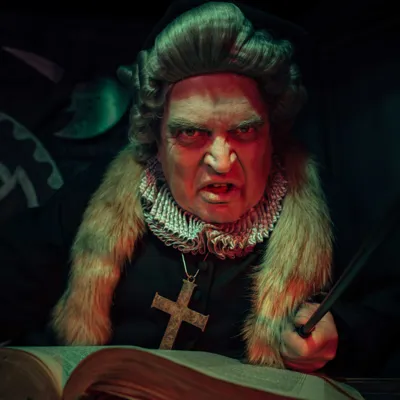 Live Shows
Blast into the past and meet some of local history's grizzly characters. Sharing a cell with fellow brave explorers, you can't help but get up close and personal with tyrants, criminals and traitors.
You'll be harshly judged in an Elizabethan courtroom and condemned to the torture chamber at Alton Castle. Escape to hide out at the Welsh Harp Inn, a historical pub with infamous clientele. You thought prison was bad? Stumble into the Plague doctor's surgery for an autopsy and find yourself in Burlem's haunted cottage, where the witch is seeking revenge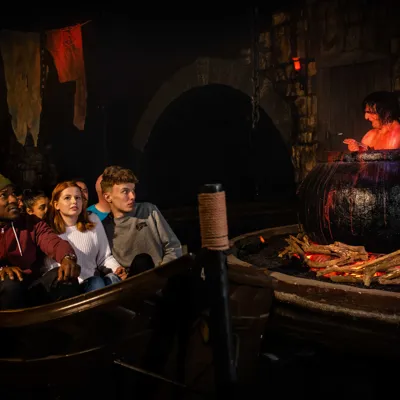 Ghostly Boat Ride
Forget Ghost Trains and Ghost Walks, the Traitors' Boat Ride is an unstable, sinister journey into the past. Ride the Black River, through a dark, smoky tunnel, where not everything is as it seems. What lies ahead? You'll soon find out, as there's no turning back!
Keep your wits about you, as unnerving sights and sounds may make you want to swim to safety! Expect scurrying whispers, tickling cobwebs and drip, drip, drip from above. But that's the least of your worries, as the impenetrable portcullis hangs precariously overhead.
Afraid of the dark? Amongst these sinister shadows, you certainly will be!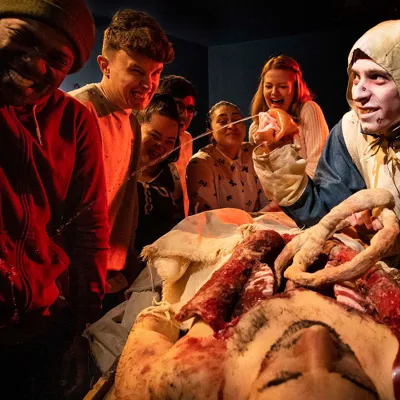 Hilarious Comedy Scenes
You'll be screaming with laughter whilst you encounter the most frightfully peculiar characters from the past. Whilst the Plague Doctor's clueless assistant will fumbles through the human anatomy, the resident Torturer is always looking for volunteers who are willing to enduring splintering humiliation.  
Gut-wrenching scenes will make your sides split. It's time to see the bright side of the dark ages: the Plague wasn't all doom and gloom!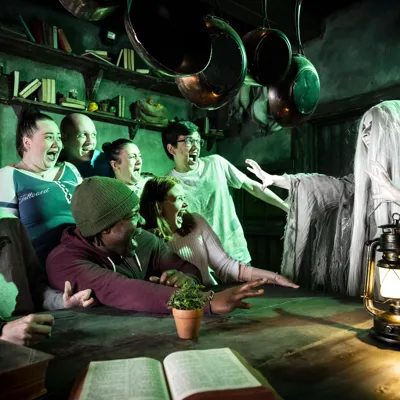 Historical Insights
Journey from Elizabethan England, in 1602, through the English Civil War in 1643,  and the Great Plague of 1665. Meet the people who lived through this turbulent century: from the notorious Dick Turpin, all the way to the Witch of Burslem's death in 1758.
Each chamber dives into a story closely connected to the history of Staffordshire and Alton Towers. Why read about history when you can live it?!
Alton Towers Dungeon FAQs
ARE THE ALTON TOWERS DUNGEONS INCLUDED IN A THEME PARK TICKET?
The scary fun of The Alton Towers Dungeon is not suitable for everyone. For that reason we have made The Alton Towers Dungeon an optional extra attraction inside Alton Towers Resort.
Standard Season Pass, Merlin Annual Pass holders and day ticket holders must all pay a small upcharge for this gruesome adventure. To enjoy the thrills, laughter and screams time and time again, simply upgrade to a Premium Season Pass. Enjoy days and days of theme park fun, including the Alton Towers Dungeons at no extra cost!
HOW MUCH DOES IT COST TO VISIT THE ALTON TOWERS DUNGEON?
Dungeons tickets must be purchased in addition to theme park entrance. The Dungeon experience costs £5 in advance, or £7.50 on the day. To experience a hilariously hideous trip to the Alton Towers Dungeon, at an unbeatable price, book online today!
For similar, scintillating, scary attractions at Alton Towers, explore Duel – The Haunted House Strikes Back, or the mind-boggling HEX.
CAN I GO INTO THE ALTON TOWERS DUNGEON AT ANY TIME?
Once you've purchased your ticket, you must reserve a time slot for your dungeon experience. You can book online, or on the day at the entrance to the Alton Towers Dungeon. You'll find it located next to the Dark Forest, behind the Tower Ruins.
Allotted time slots are every ten minutes, throughout the day. Be sure to arrive in plenty of time - we recommend allowing ten minutes leeway, otherwise the merciless courtroom judge may punish latecomers!
IS THERE AN AGE LIMIT FOR THE ALTON TOWERS DUNGEON?
Recommended for ages 10+, the Alton Towers Dungeons is intended to make you laugh, scream and recoil from the gruesome characters within. Please note that anyone under the age of 12 must be accompanied by a guardian over 16.
IS THE ALTON TOWERS DUNGEON ACCESSIBLE?
Although the Alton Towers Dungeon is accessible, some ride restrictions do apply. Wheelchair users can experience the Dungeon as usual but may prefer the alternative route if they are unable to transfer into the boat ride.
Due to the enclosed space, narrow pathways and small rooms, The Alton Towers Dungeon is not suitable for people who suffer with claustrophobia. We advise visitors to check before their visit, or ask for more information when reserving your Dungeons time slot.