Alton Towers Presents… An Autumn of Thrilliant Events
Wednesday August 31st 2022
Alton Towers Resort
Alton Towers Resort has announced that its series of fantastic celebrations and entertainment will continue this Autumn, with fantabulous live entertainment, spooktacular fun and thrills and so much more!  
Guests will get to kick off Autumn with the return of some oomptastic fun as the family-festival Oktoberfest is back for a third year. Then, as the night's draw in, the Resort will undergo its frightfully impressive transformation to celebrate 15 years of its spooktacular Scarefest. Closing off the season the theme park will be lighting up the sky with the UK's biggest and most sensational display, using a combination of dramatic fireworks and ground-breaking effects set against the picturesque Towers backdrop.  
The calendar of entertainment includes:  
Oktoberfest (10th September – 2nd October) 
Back by popular demand, an area of the 500-acre Theme Park will be transformed into a Bavarian-themed venue, complete with Lederhosen-clad hosts and an oompah band.  
Included in the admission price of a theme park ticket, the entertainment-led festival 'Oktoberfest' will take place from 11.30am. There will be two stages featuring vocalists, characters and an oompah band, Oomparty! As well as a jam-packed schedule of live entertainment, there will be additional street theatre including Beer and Bubbles, Alpine Horn Man and the popular Barrell Monks.  
There will also be delicious food and drink with a German twist, as well as the chance to enjoy a selection of the park's world-class rollercoasters and family attractions.  
It will offer the perfect setting for families and friends looking to explore new delicious dishes and live outdoor entertainment in a fun, family friendly atmosphere.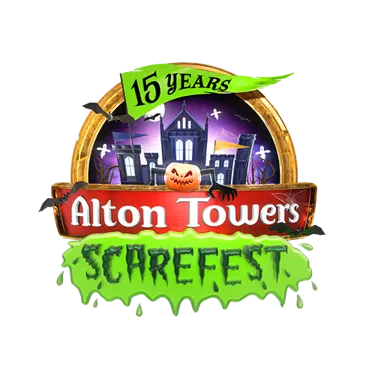 Scarefest (7th – 9th, 14th – 30th October) 
Alton Towers Resort will celebrate 15 years of its award-winning Scarefest and this year, guests can expect more creepy scares, shocks and spooktacular thrills than ever before. From the frantically funny to seriously spooky themed attractions, Scarefest returns for 2022 with even more live entertainment across the Resort for all ages, including a brand-new scare attraction for the bravest of souls, plus experience the head-spinning, hair-raising rides and attractions in darkness.  
The Resort has confirmed the return of three multi-award winning, terrifying mazes, and the family fave Trick O Treat Town, plus a brand-new scare attraction for thrillseekers. The new scare attraction, which will be fully unveiled next month, is the latest addition to the Theme Park's line-up of terrifyingly good scare mazes which will be completed with the return of:  
The Attic: Terror of the Towers

: An unforgettable and truly chilling experience set in the eaves of the Theme Park's famous and historical Tower ruins. Rumoured to be haunted by 'the Governess', local legend says she is eternally trying to avenge the death of her charges; taking the spirits of the living as penance…but who will be her next victim?

 
Darkest Depths:

Get ready for a terrifying new adventure aboard 'The Mutiny', a notoriously spine-chilling ghost ship. You'll truly earn your golden piece of eight by venturing into the darkest depths, avoiding the hazardous calls of the treacherous Sirens, dodging the swords of terrifyingly ghoulish pirate mutineers and coming face to face with the Kraken – the legendary monster of the seas! 

 
Altonville Mine Tours

:

Uncover The Legend of the Skin Snatchers

offering

a tale with a not-so-beautiful twist. Those brave enough can also head to 'Altonville', a recently re-opened mine at the Resort, which holds a deep dark secret. Enter the damp, disused mine, which is believed to have once been home to a family of village outcasts. Nicknamed the 'Skin Snatchers' by local residents, their spine-chilling secret is about to be unearthed. Remember 'Beauty is only skin deep'. 

 
Trick O Treat Town

where every day is Halloween and the townsfolk favourite pastime is trick-or-treating for the town's visitors. Guests will be given a tote bag upon entering the indoor attraction and start by taking a walk down Spooky Avenue before moving onto houses in Treat Street, Witchy Woods, The Graveyard and The Hill. Knock on the doors to collect lots of sweet treats and other spooky surprises but be careful as there will be tricks aplenty. 

 
Also returning for 2022 is the opportunity to experience the Alton Towers Gardens as it comes to spooktacular life. 'Garden Lights Walk: Whispering Souls' is free for guests to enjoy as part of the event's family friendly frights line-up of live entertainment including the Freaky Five and CBeebies Land Monster Ball. 
Open until 9pm each day, daring guests can also face the head-spinning, hair-raising rides and attractions in darkness including the Alton Towers Dungeon.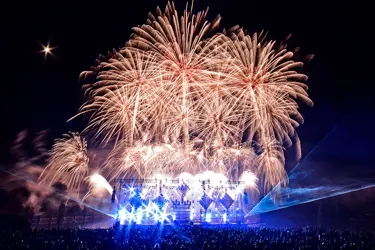 Fireworks (4th – 6th November) 
The season will end in style as the Alton Towers Resort fireworks display dazzles guests with the most astonishing display across the UK. With electrifying bursts, bangs and howls of amazing fireworks to music, lights and live action storytelling, the Resort's Fireworks Spectacular is not to be missed.  
With the famous Towers as the backdrop, this year's fireworks will evoke emotion and spark imagination using bespoke music, live action, state-of-the-art special effects, pyrotechnic elements and world-class fireworks never seen before in the UK.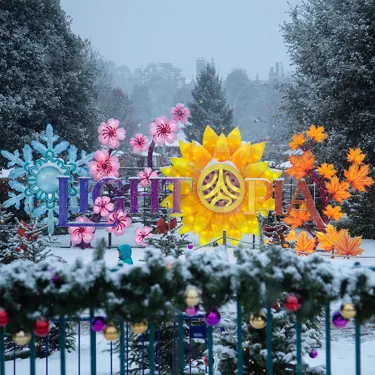 Christmas (selected dates from 25th November – 2nd January) 
This Christmas families can make magical memories with a Santa's Sleepover, or enjoy a festive day out with specially selected rides and attractions and visit the Towers Street Christmas Market. Returning for 2022 is the hugely popular Alton Towers Resort & Lightopia 'Seasonal Wonderland', providing a magical, immersive journey, the perfect Christmassy escape this festive season.  
If one day just isn't enough, guests can extend their stay with an overnight stay at the Resort's iconic themed accommodation. From the UK's only CBeebies Land Hotel and Caribbean themed Splash Landings Hotel, to enchanting log cabins and the eccentric Alton Towers Hotel, there are six delightfully themed accommodations to choose from, and with a buffet breakfast, live evening entertainment, free parking and a free round of Extraordinary Golf, it's the perfect escape for friends and families.  
Chris Carter, Events and Entertainments Director at Alton Towers Resort, said: "This year we are hosting even more non-stop fun and thrills for families and thrill-seekers throughout the season. We are thrilled to be celebrating 15 years of Scarefest, as well as seeing the return of our hugely popular Oktoberfest event and our mind-blowingly awesome fireworks show.  
"Our events are bigger and better than ever – we're bringing a great mix of rollercoasters, live entertainment and fabulous food and drink, plus so much more!  
"We remain committed to creating a much-needed form of escapism for families and thrill-seekers across the UK and beyond. We are so excited to welcome guests to the Resort and to share our incredible line-up of seasonal entertainment, which we're sure our guests will love."  
For more information and to book, visit: www.altontowers.com/explore/events/  
Notes to Editors Accompanying photo and video assets can be found here: https://www.dropbox.com/sh/2wq499ai8etxyso/AACHPRMEdgt_h-jAUAQFGNH1a?dl=0  
For more information please contact Louise.Eling@Alton-Towers.com or Sian.Alcock@Alton-Towers.com.  
About Alton Towers Resort  
Escape to Alton Towers Resort in 2022 and get ready to experience three new fantastical attractions at CBeebies Land! Hey Duggee's Big Adventure Badge, Andy's Adventures Dinosaur Dig, as well as JoJo & Gran Gran At Home will join the attractions in CBeebies Land; the perfect place for children to learn, play and inspire their imaginations, as well as meet some of their favourite CBeebies friends! Bingsters will also be able to enjoy the ultimate sleepover in brand-new Bing-themed bedrooms at the UK's only CBeebies Land Hotel. 
Throughout 2022, as well as launching amazing new attractions, the Resort will be hosting a season of thrilliant events for the nation to enjoy including celebrating 15 years of Scarefest, as well as the return of Mardi Gras, Oktoberfest and Fireworks Spectacular, plus an exciting brand-new event, Festival of Thrills.  
Alton Towers Resort provides the ultimate staycation option with five uniquely themed hotels and accommodation options for a truly unforgettable escape for friends, families and thrillseekers alike.  Alton Towers Resort will continue to have some additional hygiene and safety measures in place, designed to ensure a happy, safe and healthy experience for all guests and employees. The latest information on this can be found here.  
For more information about Alton Towers Resort or to book your fantastical escape, please visit www.altontowers.com