Seasonal Sundays at Alton Towers Resort
Light up your Sundays this Christmas with a Festive Day Out for the whole family to enjoy! Visit us on Sundays for a more relaxed atmosphere!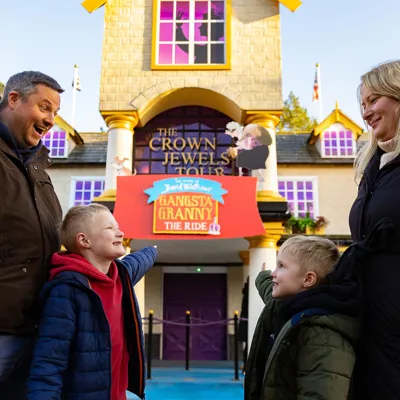 Festive Days Out
Make the most of the relaxed Sunday atmosphere with the ultimate Festive Day Out with over 20 festive family rides and attractions including the UK's only CBeebies Land, The World of David Walliams with Gangsta Granny: The Ride, as well as Mutiny Bay, plus HEX and Spinball Whizzer! 
You can also experience the award winning Lightopia Festival, with a new Christmas Wonder theme! Immerse yourself in a trail of lights and lanterns, see mystical dragons and be surrounded by tunnels of lights! 
For an extra festive treat, have a stroll through our fantabulous Towers Street Christmas Market! Get started on your Christmas shopping with unique gifts, tasty treats and festive delights!
Book your festive day out now!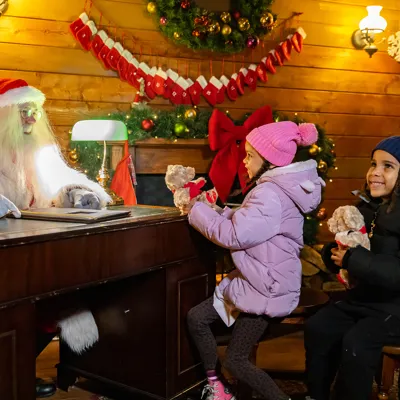 Santa's Sleepover
Extend the festivities and escape on an unforgettable Santa's Sleepover! Plus, book on a Sunday for the best value package, there's no better time to visit! Marvel at the award-winning Lightopia Festival light trail now included in your festive short break stay! Hop onto over 20 family rides & attractions and meet Santa in his grotto!  
But the fun doesn't stop there! Tuck into a deliciously festive evening meal before snuggling down for a cosy night in one of our fantastically themed hotel rooms. And the next morning, look forward to a scrumptious breakfast before enjoying a fun-packed day at our Whacky Waterpark and Extraordinary Golf! 
Journey through Lightopia: Christmas Wonder Light Trail
Enjoy the Towers Street Christmas Market
Access to family rides & attractions

Gangsta Granny: The Ride
Peter Rabbit Hippity Hop
Octonauts Rollercoaster Adventure
Go Jetters Vroomster Zoom Ride
Sharkbait Reef by SEA LIFE
Spinball Whizzer
Bugbie-Go-Round
Postman Pat Parcel Post
In The Night Garden Magical Boat Ride
Justin's House Pie-O-Matic Factory
Marauders Mayhem
Heave Ho
Hex - The Legend of the Towers
Cuckoo Cars Driving School
The Royal Carousel
Raj's Bouncy Bottom Burp
Flavio's Fabulous Fandango

Journey through Lightopia: Christmas Wonder Light Trail
Enjoy the Towers Street Christmas Market