Behind the Scenes of Mardi Gras
Monday May 16th 2022
Sania
Events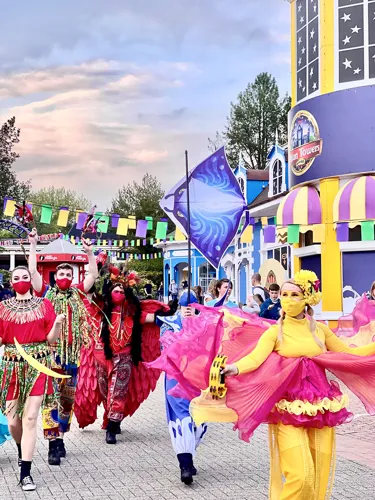 Mardi Gras is back for its second year and we are excited to take you behind the scenes to show you how we are making this thrilliant event bigger and better than ever!
Our costumes team have been working extremely hard this year to bring the essence of Mardi Gras to life once again, through the use of bright colours, themes and of course… the power of creativity!
We had a chat with Becky Barker, the Costume Production Supervisor, to see what exciting things are in store for Mardi Gras this year!
"Our team consists of three people in production who make the costumes, then we have a team of 10 who run the daily operations. I look after the entire team and I'm responsible for sourcing and buying materials, creating the mood boards, as well as the overall designs."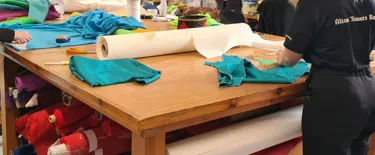 "Last year Mardi Gras was a great event, but this year we are making it bigger and better! We have a brand-new Krewe this year, the Towers Street Krewe, who will celebrate all things Alton Towers and fantastical!"
Mardi Gras 2022 will host six dazzling Krewes, all of which will be themed to different areas of the park. The costumes process is very similar to that of last year:
"The costume process for any event starts with a brief from the creative team. The brief outlines the specifics of the event and theme, along with casting requirements and what types of performers we will be providing costumes for."
Here's the lowdown of each Krewe for this year and what they will represent:
| | | |
| --- | --- | --- |
| Krewe | What they represent | Colour theme |
| Forbidden Valley Krewe | Discovery | Blue, Yellow, Green, Red, Brown |
| Katanga Krewe | Adventure | Red and White |
| Voodoo Krewe | Dark and Mysterious | Purple, Pink, Green |
| X-Sector Krewe | Science and Technology | Yellow and Black |
| Mutiny Bay Krewe | The Planet and Seas | Blue and Green |
| Towers Street Krewe | All Things Fantastical and Magical | All Colours! |
Becky then uses this information to create a mood board of what each Krewe's costumes will look like! All the colour palettes are extended to create a great big explosion of colour within these fantastic costumes! Inspiration was taken from the original Mardi Gras festivities over in New Orleans and the Deep South but with an added twist to make things more "fantastical"! ✨
Sneak peek: To bring the Mutiny Bay Krewe to life, the colour palette was extended to fit in a coral pink colour to represent coral reefs from the sea!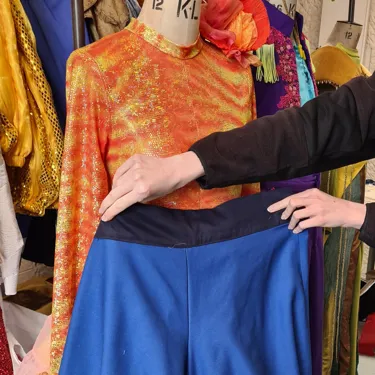 The costumes for the new Towers Street Krewe are set to include "absolutely mental shapes" and the idea behind it is to "be other worldly" and incorporate the idea of a "factory of fun" and "a traditional funfair ground".
For the existing Krewes, a lot of the flamboyant and colourful costumes that were used last year will be making a return with some exciting new updates and alterations! Be sure to keep a look out for them when you visit!
Sneak peek: Did you know the beads on the shoulders for one of the Forbidden Valley Krewe's costumes were individually hand sprayed by our fantastical costume production team?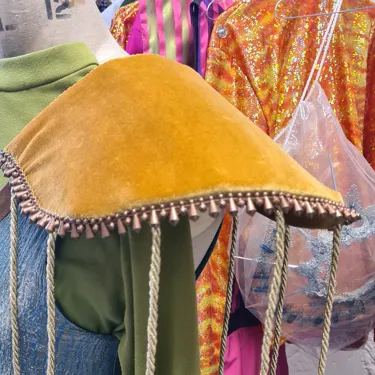 All the lace on one of the costumes for the Voodoo Krewe was also entirely hand sewn! Phew!
Sizing for all the costumes can be tricky! "Some of the costumes are set sizes and when it comes to fittings, we add panels in, so everything fits."
"Wherever we can, we make everything adjustable and alterable so we can make this bigger or smaller. We can do this by adding stretchable panels, adjustable waist bands and corsets which can be adjusted."
In total, there are 80 unique costumes for Mardi Gras this year, compared to just 55 last year. The entire process has taken our costumes production team over two months to complete!
Be sure to check out all the fantabulous costumes and more at Mardi Gras this year, including delicious food, thrilliant rollercoasters and high-energy entertainment, plus we'll be crowning two lucky guests to be carnival King and Queen in a lavish masquerade ceremony each morning, with the opportunity to win an exclusive 'money can't buy' VIP experience. Dress to impress to be in with the chance of noticed and chosen!
So, join the celebration from 21st May - 19th June 2022! We can't wait to see you!