Parent & Toddler Pass
Escape to Alton Towers Theme Park with your toddler on selected dates with our exclusive online Parent and Toddler ticket!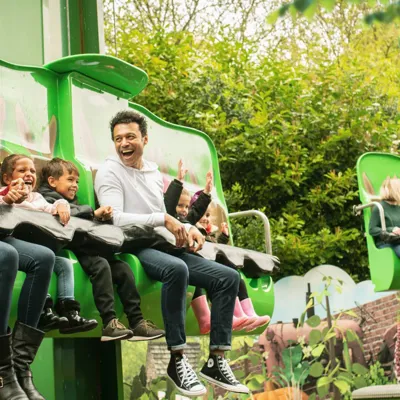 Make some fantastical memories with your toddler!
Your little ones will jump for joy with a trip to Alton Towers Resort! There's so much to see and do for a fantastical day out! Explore CBeebies Land and meet some of your favourite CBeebies friends from Postman Pat to Iggle Piggle!
This exclusive online offer is for visits on selected dates during off-peak periods for just £29 an adult and a toddler (under 5) can spend the day at Alton Towers Theme Park including CBeebies Land! This special ticket is not available during weekends & school holidays.
Benefits of booking online include:
This offer is only available online - book now for the best price for a Parent & Toddler
Add on an extra Under 5 for £5 and Under 3's go free!
Enjoy more fun - head straight to the turnstiles with a E-Ticket
Enjoy shorter queue times and a more relaxed atmosphere with a weekday visit!
CBeebies Land
Experience our 3 brand new attractions with your toddler. Hey Duggee, Big Adventure Badge, Andy's Adventures Dinosaur Dig, as well as JoJo & Gran Gran At Home have joined the attractions in CBeebies Land; the perfect place for children to learn, play and inspire their imaginations!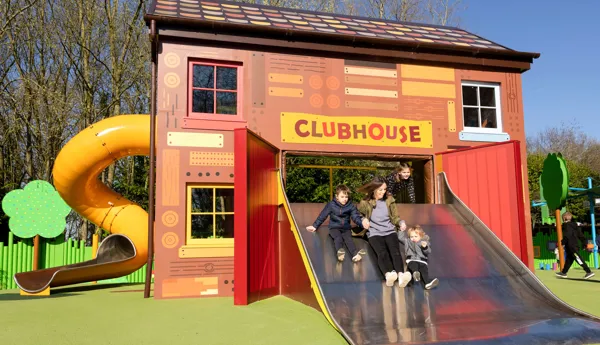 Hey Duggee's Big Adventure Badge
Join the Squirrel Club and go on a big adventure to all your favourite Hey Duggee locations! There's so much to see and do, which squirrel will you visit first? Get active and climb, slide and bounce your way through the interactive, sensory play areas. You'll also meet Duggee himself! Collect your Big Adventure Badge and get a big Duggee hug! Woof!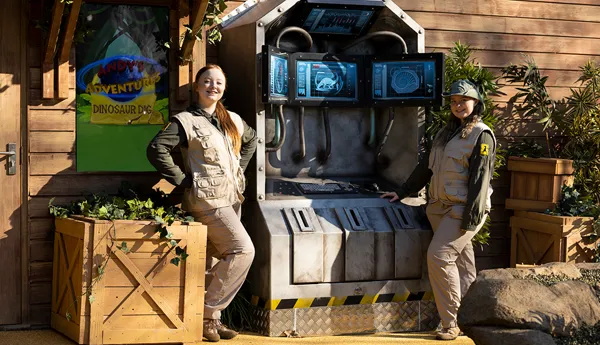 Andy's Adventures Dinosaur Dig
Visit Andy's Outpost and explore the prehistoric dig site; unearth fossils and have them analysed in the fossilator, help build a new exhibit with the Outpost Curator and learn all about your discoveries in this live interactive show. Discover amazing animals, help feed a very special baby dinosaur and even join in with one of Andy's raps!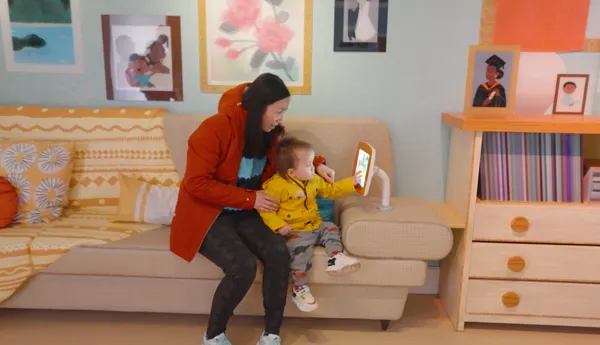 JoJo & Gran Gran At Home
It's time to visit Gran Gran's house! Let your curiosity run wild as you play, make, and explore. Use the tablet to call Great Gran Gran in the sitting room and help bake Gran Gran's famous banana bread in the kitchen. Then head out into Gran Gran's garden to kick autumn leaves, see spring flowers grow and explore a maze. Make sure you find JoJo too – she's hiding in the garden just for you!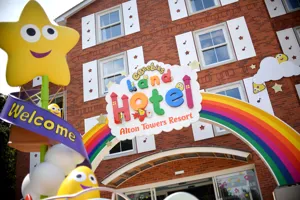 Don't let the fun stop there!
Why not treat your little ones to a short break at Alton Towers Resort? The fun and giggles never stop at the CBeebies Land Hotel! Explore one of our exciting, themed rooms! Maybe it's a Bugbies room, or one of our wondrous character rooms. How about a deep sea Octonaut adventure or a nap In the Night Garden? And new for 2022, Bingsters can enjoy the ultimate sleepover in Bing-themed bedrooms!
Book now
Entry for an Adult & a Toddler
Under 3's go free to the Theme Park
Excludes weekends & school holidays