A Santa's Sleepover is the most magical, wonderful Christmassy Escape. Jump onto specially selected rides, dive into the Waterpark, tuck into a lusciously festive evening meal, meet Santa – and more! There's even more dates than ever before to experience your magical Christmas escape!
4th - 6th, 11th - 23rd December
Short breaks from £290 per family
Ideal for families with young children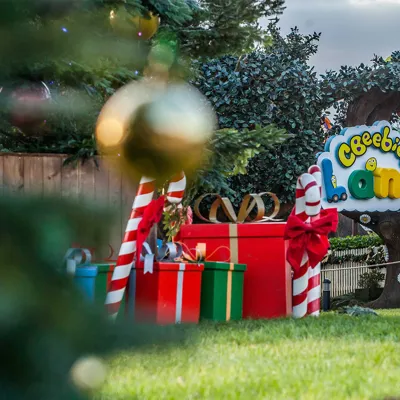 Your Santa's Sleepover short break package includes
Arrival Day
1 Day Entry to the Theme Park & Gardens Lights Walk: Twinkling Stars with a selection of family rides and attractions
A unique visit to Santa's Grotto (with a delightful gift for each child)
Entry to the NEW Garden Lantern Trail from 4pm - 8pm
Light evening entertainment
A fantastically festive evening meal
An overnight stay in one of our fabulously themed hotels
Check-out Day
A delicious buffet breakfast
Entry to the wacky Caribbean themed

 

Waterpark
9 holes of crazy, zany

 

Extraordinary Golf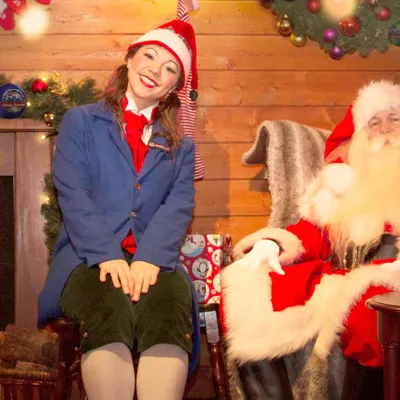 Santa's Woodland Grotto
Come to Alton Towers theme park and look very carefully all around and you will see Santa's Elves! Follow them into Santa's cosy Woodland Grotto, where he's having a little rest from all his preparations and is super thrilled to spend some Christmassy time with you. Don't forget to ask Santa' Elves to capture this magical moment with a family photo of you with Santa Claus!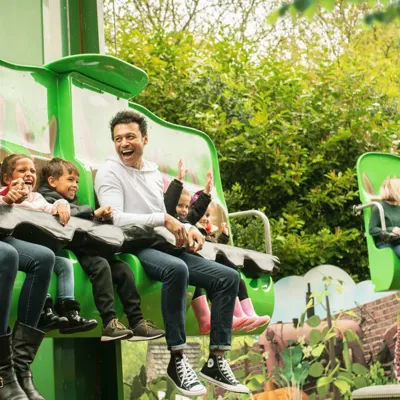 Theme Park
Selected rides & attractions in the Theme Park will be open between 11am and 6pm, rides & attractions include:
CBeebies Land (Bugbie-go-round, Postman Pat Parcel Post, In The Night Garden Magical Boat Ride, Peter Rabbit Hippity Hop, Octonauts Rollercoaster Adventure, Go Jetters Vroomster Zoom Ride, Mr Blooms Allotment, Tree Fu Tom Training Camp)
Mutiny Bay (Sharkbait Reef by SEA LIFE, Marauders Mayhem, Heave Ho)
Spinball Whizzer
Hex - The Legend of the Towers
Cuckoo Cars Driving Schools
Duel - The Haunted House Strikes Back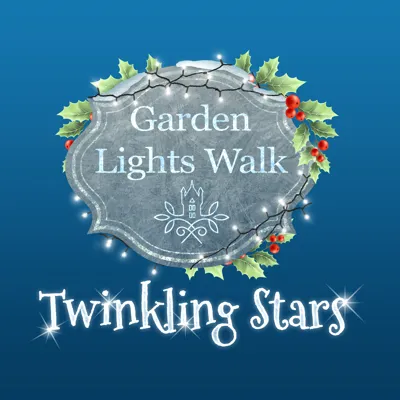 Garden Lights Walk: Twinkling Stars
Add a sparkle of enchantment to your Christmassy Escape and get ready to take the most wondrous stroll of your life in the Alton Towers Gardens!
With luscious stretching lawns, vibrant beds and conservatory areas Alton Towers Gardens are well worth a visit in the daylight but wait till nightfall to be dazzled away by shimmering, shiny lights, that will fill you with wonder and Christmassy feelings! Have a magically merry Christmas! 
4pm - 8pm
Garden Lantern Trail
After a fabulously fun day it's off to the Alton Towers Resort Gardens where you're about to go on our brand-new, mega-magical Garden Lantern Trail!
Follow the enchanting trail of lights through a secret path that will lead you to the most fantastical corners of the Gardens where a host of surprises await! Expect endless fun and Christmassy delights in this truly spellbinding experience!
Exclusively for short break guests - 4pm to 8pm
Our Accommodation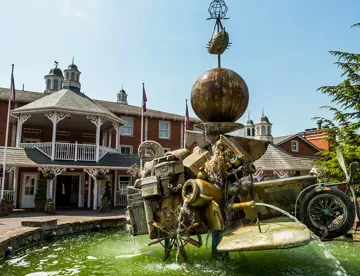 Alton Towers Hotel
This unique hotel is themed around the incredible explorer Sir Algenon, who has made the Alton Towers Hotel his home.
CBeebies Land Hotel
Step inside the rainbow and straight into the colourful world of the UK's only CBeebies Land Hotel, all uniquely designed for young families.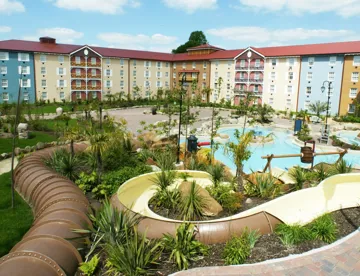 Splash Landings Hotel
For a hotel with fun at its heart, check in to the wonderfully wacky Splash Landings Hotel. There's tonnes of fun to be had, including a fabulous disco hosted by the amazing Calypso Crew.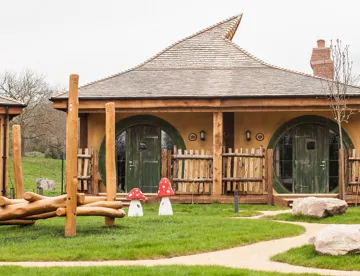 Woodland Lodges
Enjoy an enchanting short break in one of our log cabins, designed for young families and groups of friends. The Enchanted Village offers a comfy and quirky option for your escape.
Terms and Conditions
Terms and conditions apply. Event and entertainment is subject to change and availability. 

Please note: a £50 hold on a debit or credit card will be required upon arrival when staying at the Alton Towers Resort.

Important information regarding your Santa's Sleepover experience:
Your Santa's Sleepover package will include 1-day access to the Theme Park which is to be used on day of arrival. Also included is 1-day access to the Alton Towers Waterpark which can be used on any day of your stay that the Waterpark is open.

The Theme Park will be closed on the 24th December 2020.
Please note: the full Alton Towers Theme Park is closed during this time, and there will only be access to a selection of rides and attractions. Open rides are subject to availability and will be weather permitting. Additional charges apply for upgrades. Room prices vary and are subject to change. All rooms are subject to availability at time of booking. Package includes 9 holes of Extraordinary Golf.

Alton Towers Waterpark:

Waterpark access is included in our Santa Sleepover Package. Your Waterpark ticket is valid for one visit  on either day of your stay depending on your stay date. Time slot entry will be in operation, time slot booking information will be available in pre-arrival information. Please be advised, due to social distancing, entry to the Waterpark will be staggered and if capacity is reached at any point during operation a one out-one in operation will be implemented. For more information please visit our Help Centre. Guests wishing to use the Alton Towers Waterpark must adhere to the terms and conditions and strict adult to child ratios. Please see the Waterpark page for more details. 

Resort benefits, extras and activities are subject to change and availability. This offer cannot be used in conjunction with any other offer, discount promotion, reward or loyalty program. Standard cancellation charges apply.
Please note: guests will be required to reserve dinner and breakfast times, Waterpark entry timeslot and Santa's Grotto timeslot (to be taken on the same day of visit to Alton Towers Resort theme park) as part of their pre-arrival process. Information will be sent via email closer to arrival date