Premium Resort
Woodland Lodges
Enjoy an enchanting log cabin holiday in one of our Woodland Lodges
Early access to selected rides
Free round of Extraordinary Golf
Amazing evening entertainment
Early access to selected rides
Free round of Extraordinary Golf
Amazing evening entertainment
Book an overnight stay in relaxed and quirky accommodation at Enchanted Village school aged children.
Journey to a far corner of the Resort and stay overnight in one of the Alton Towers Enchanted Village Lodges. You'll be well looked after as your woodland lodge holiday will be attended by forest sprites. Alton Towers lodges are home to fable folk who are never seen and never heard, but make your stay extra special.
Enjoy a charming break
These cosy lodges have everything you need for a truly enchanting short break at the Alton Towers Resort. Each lodge comfortably sleeps up to five people with a separate children's sleeping area, with bunk beds and truckle bed.
Alton Towers Woodland Lodges offer a log cabin escape with a difference: enjoy the great outdoors, from the comfort of a cabin with all mod cons. Each lodge comes complete with an flat screen TV and free WiFi.
Your UK Woodland Lodge Holiday
After an adrenaline filled day at the UK's biggest theme park, you'll return to your private, luxury log cabin. Relax on your outdoor decking area as children discover the delightful play areas around the village.
Before settling down in your cosy lodge, you can enjoy family friendly entertainment at the Resort Hotels. Make your way to the Alton Towers Hotel or Splash Landings Hotel for a night of fabulous entertainment. You can expect children's shows, live bands, magicians and more!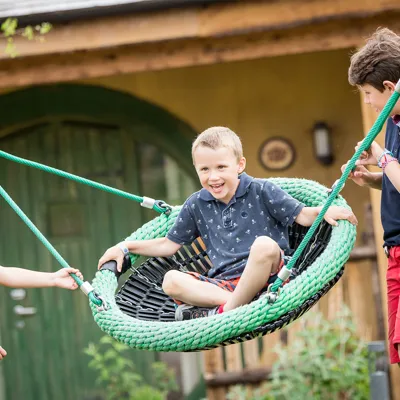 Your package includes
An unforgettable overnight stay
A full English breakfast buffet
Fantabulous evening entertainment
Early Theme Park access to selected rides*
A 9-hole round of Extraordinary Golf
Free Car Parking
*Early Ride Time is not available after 02/10/20. Theme Park Admission required.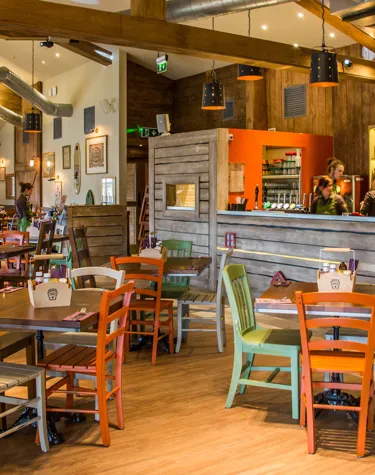 The Crooked Spoon
Breakfast, lunch and dinner are served in this quirky restaurant with a delicious menu on offer. Choose home-cooked favourites and unusual alternatives, as well as a three-course kids menu. Whilst there, keep an eye out for the Enchanted Village's mischievous little folk on the gallery wall!
After a fantastic night's sleep in your comfortable log cabin, head to the Crooked Spoon for breakfast. Start your day right with a wide ranging breakfast buffet, included in the price of your short break.
The cutest accommodation! I've been lucky enough to visit Alton Towers 3 times and have enjoyed staying at many of the hotels but this one is by far my favourite!
There's more than just a Theme Park...
Alton Towers Waterpark
Our Waterpark boasts loads of fantastic interactive water features, from lazy rivers to the sensational speed of the Master Blaster water coaster.
Extraordinary Golf
Our crazy golf course is beyond crazy, it's extraordinary!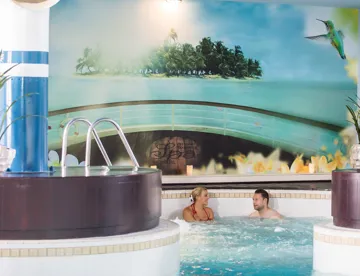 Alton Towers Spa
Spoil yourself with our exclusive range of signature therapies and experience unique treatments for ultimate relaxation.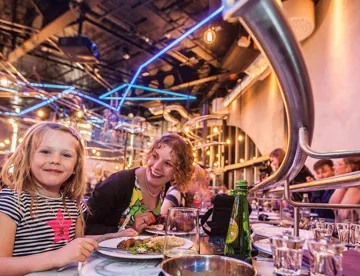 Rollercoaster Restaurant
Rollercoaster Restaurant is set below a vast rollercoaster track, where you can watch as orders tackle two gravity defying loop-the-loops before dropping 8 metres