Premium Resort
Alton Towers Hotel
Stay overnight at Alton Towers Resort in this unique, themed hotel near Alton Towers Theme Park. Families, friends and couples love short breaks at the original, eccentric theme park hotel
Add extra wows and wonders to your Alton Towers Resort experience as you stay at the Alton Towers Hotel. Its extraordinary combination of splendiferous accommodation, quirky class and fantabulous eccentricity guarantees rocket-loads of giggles and glee for the whole family!
The hotel features the delightments of our bewitching Secret Garden Restaurant and our super-special Dragons Bar and Atrium. All of which means – Fun! Bring the kids for a day at Britain's favourite theme park then kick back with an awesome dinner and phenomenal show – and be sure to spoil yourself in our soothing, serene Alton Towers Spa.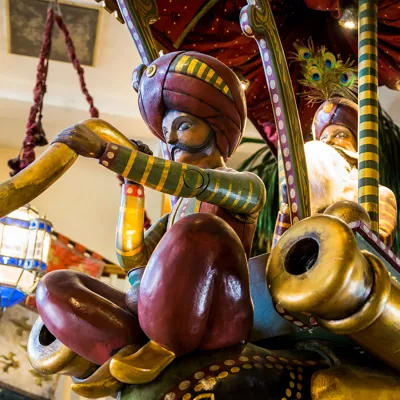 An explorer's paradise
BOOM! That's the ear-splitting noise made by an incredible flying ship when it crashed bang-slap in the middle of the hotel. The ship belongs to Sir Algenon, the daredevil explorer who then made this his home. The hotel still reflects his bold personality and outrageous shenanigans – look around closely during your stay and you'll discover all sorts of stonkingly bonkers features throughout the hotel. Have fun!
Iconic Themed Rooms
For an extra special treat book a unique themed room! Every Alton Towers Hotel room is designed to wow your senses. Choose to sleep in a bed like a bathtub, a hot air balloon or a princess carriage. A short break in one of our themed rooms is extra special and something you'll remember forever. Book the ultimate girly celebration in our Sleepover Room, perfect for birthday parties and hen parties alike. Or embark on a treasure hunt in the Chocolate Room, to find the hidden Cadbury treats throughout.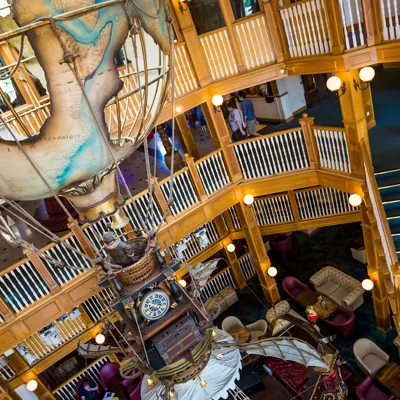 Your package includes
An unforgettable overnight stay
A Full English breakfast buffet
Fantabulous evening entertainment
A 9-hole round of Extraordinary Golf
Free Car Parking
Alton Towers Hotel Rooms & Suites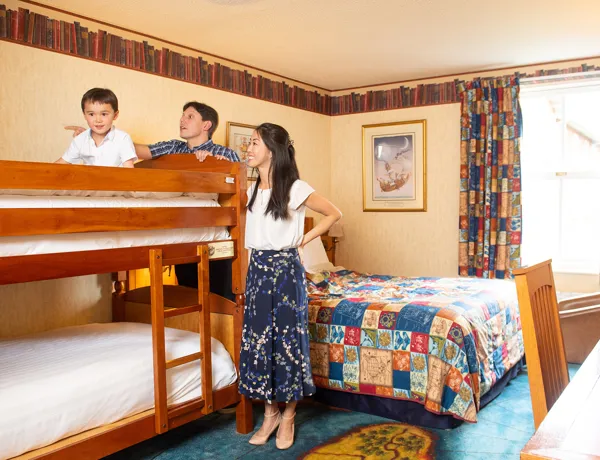 Explorer Room
Inspired by Sir Algenon's travels around the world, The Explorer Rooms are the perfect base to explore the Resort.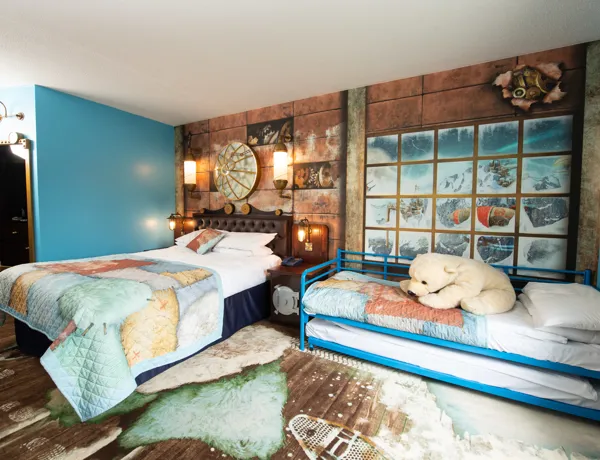 Arctic Explorer Room
Join Sir Algenon in his latest adventure through the arctic. These themed rooms will take you to a mountain expedition.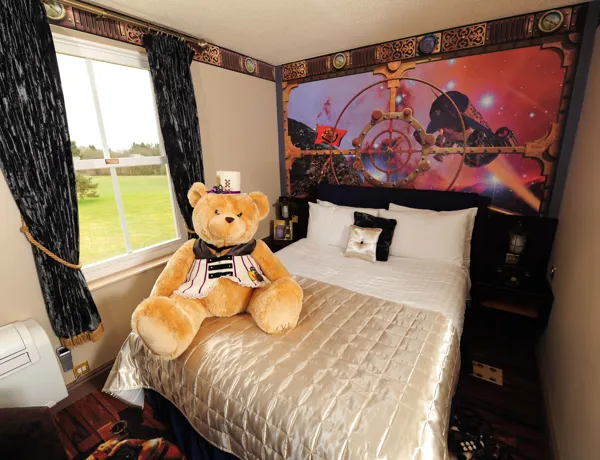 Moon Voyage Room
Travel above and beyond in these galactic themed rooms inspired by Sir Algenon's travels to the moon.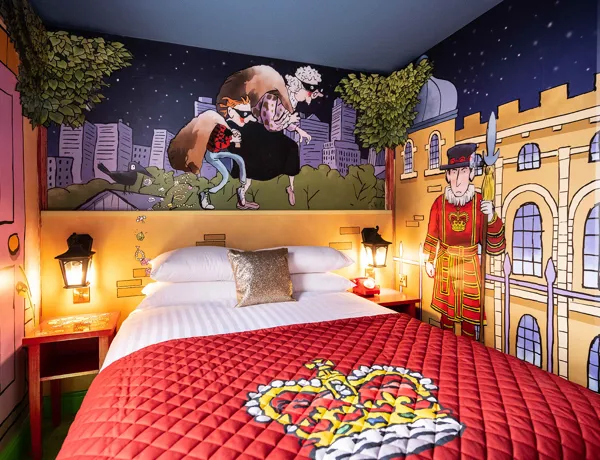 Gangsta Granny Room
From The World of David Walliams, stay and enjoy a fully immersive Gangsta Granny overnight experience!
Secret Garden Restaurant
The Secret Garden Restaurant, at Alton Towers Hotel, is a brasserie-style restaurant with beautiful, themed surroundings. Enjoy an eclectic mix of British and International dishes. We also have a healthy children's menu, to suit discerning young taste buds. A delicious buffet breakfast is served each morning between 7:30am and 10am, to fill you up ahead of a day at the theme park!
For a more casual place to enjoy a leisurely drink, coffee or snack, visit the opulent Dragons Bar.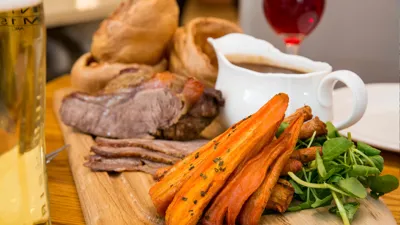 We enjoyed three nights at Alton Towers Hotel in the Arctic Explorer room. It was spacious, comfortable and clean. Perfect for a family of four... The hotel staff were cheerful, friendly and helpful throughout our stay. The experience was relaxing and just what we needed after a busy day in the park.
There's more than just a Theme Park...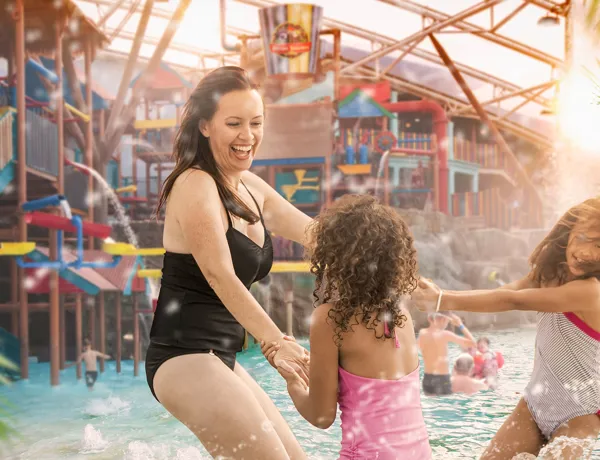 Alton Towers Waterpark
Our Waterpark boasts loads of fantastic interactive water features, from lazy rivers to the sensational speed of the Master Blaster water coaster.
Extraordinary Golf
Our crazy golf course is beyond crazy, it's extraordinary!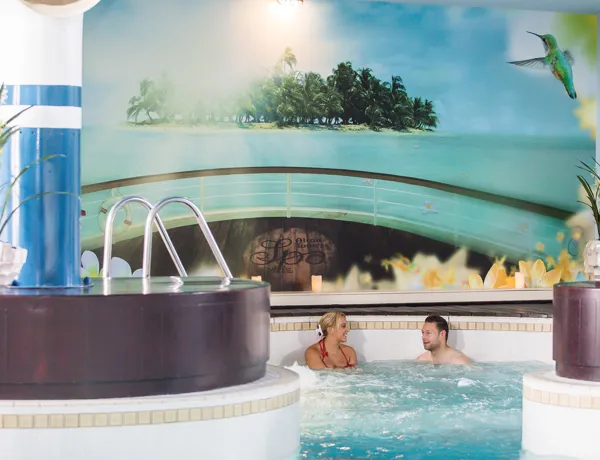 Alton Towers Spa
Spoil yourself with our exclusive range of signature therapies and experience unique treatments for ultimate relaxation.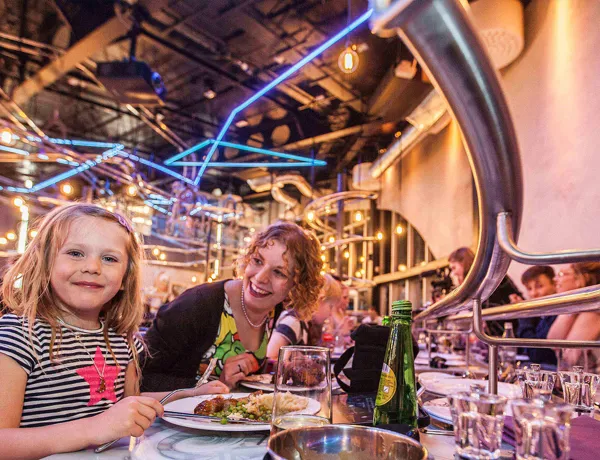 Rollercoaster Restaurant
Rollercoaster Restaurant is set below a vast rollercoaster track, where you can watch as orders tackle two gravity defying loop-the-loops before dropping 8 metres