We are sorry, but we have no rooms matching your filters. Please adjust your filters.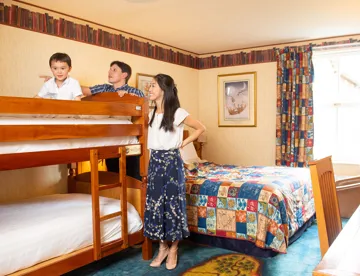 Explorer Room
Inspired by Sir Algenon's travels around the world, The Explorer Rooms are the perfect base to explore the Resort.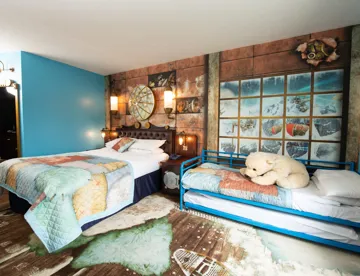 Arctic Explorer Room
Join Sir Algenon in his latest adventure through the arctic. These themed rooms will take you to a mountain expedition.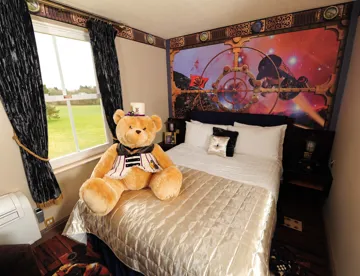 Moon Voyage Room
Travel above and beyond in these galactic themed rooms inspired by Sir Algenon's travels to the moon.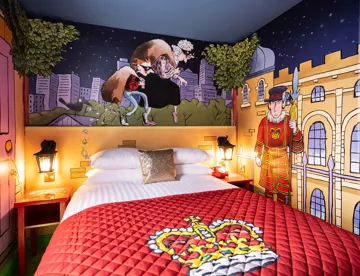 Gangsta Granny Room
From The World of David Walliams, stay and enjoy a fully immersive Gangsta Granny overnight experience!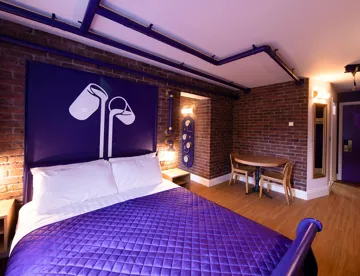 Chocolate Room
Welcome chocolate lovers to your ultimate sleepover dream! Step inside this sensational Cadbury chocolate factory themed suite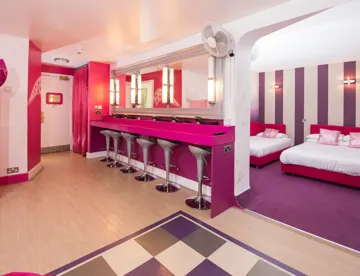 Sleepover Room
Get the girls together for the ultimate sleepover party! This gorgeous girlie room provides all you need for a night to remember, before snuggling down in the bedroom for a dreamy night's sleep.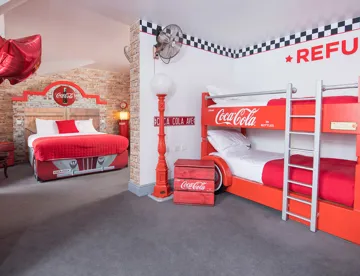 Coca-Cola Room
With streamers, balloons and a fridge full of ice-cold Coca-Cola, this room is perfect for a party! There's also a games console for everyone to enjoy and stunning views of the lake.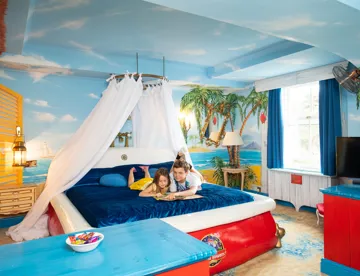 Splish Splash Room
Jump right in to the amazing Splish Splash Room and set sail on your very own castaway adventure.
Big Pyjama Room
Drift away to seventh heaven in the dreamy Big Pyjama room that can sleep up to a family of 6!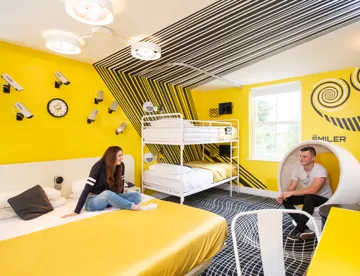 The Smiler Room
Prepare to test your nerves and explore the interactive features in this mind-bending bedroom.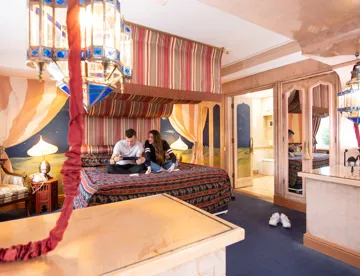 Arabian Nights Room
Loved-up couples can escape to the ultimate luxurious hideaway, complete with whirlpool bath in a magnificent marble bathroom.
Princess Room
Perfect for princesses who love all things pink! This room is fit for little royalty, with a little princess-sized dressing table, carriage themed bed and more sparkly, pink surprises inside.
Dreamy Den Room
Perfect for a romantic retreat, this room features beautiful furnishings, pretty pastels and stunning views over the lake as well as all you need for the perfect relaxation escape.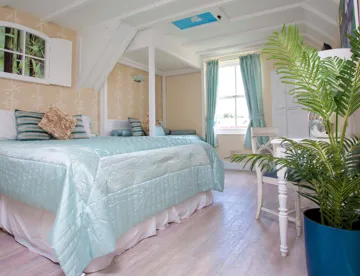 Hidden Hideaway Room
Escape to a Hidden Hideaway room where you can enjoy stunning views of the lake, lush furnishings and all you need for a pampering sleepover.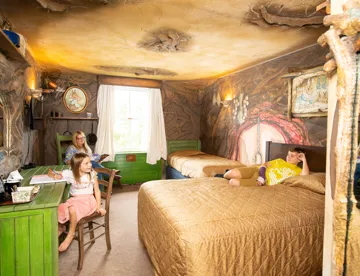 Peter Rabbit Room
Step into the world of Beatrix Potter and spend the night in Peter Rabbit's charming little burrow. Perfect for any Beatrix Potter fan!
Benjamin Bunny Room
The enchanting world of Beatrix Potter brought to life in this beautifully themed room, complete with exquisite landscapes and loveable characters.