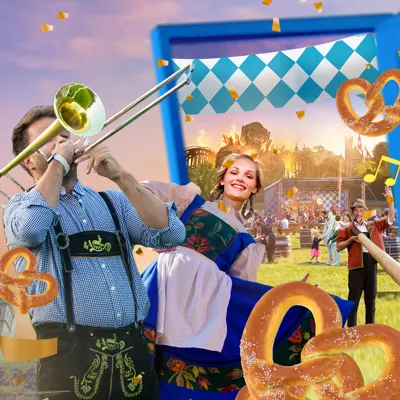 Going all out Oomptastic with Bavarian festivities!
This Autumn get ready! Join us for Oomptastic fun during Oktoberfest at Alton Towers Resort! Ride our exhilarating world-class rollercoasters and experience fantabulous family favourites as the front lawns against a breathtaking backdrop of the Towers are transformed into a Bavarian-themed venue, complete with exclusive entertainment and our very own oompah band! Stay longer and try some utterly delicious food, whilst our fantastical performances continue after the rides close! All that in a cheerful, family-friendly atmosphere...with a German twist! Don't miss out! 
Family Friendly Entertainment for all
Lawn Stage
Catch the Oomparty Band performing classic Oompa sounds with a modern-day twist to keep you dancing all night long! Or pop along to the Oktoberfest sing-along show and join in for some Oktoberfest classics.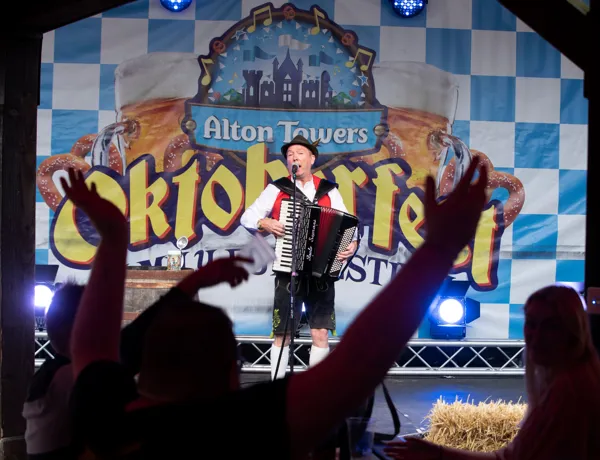 Bierkeller Stage
For those looking for a more laidback Bavarian experience, our second venue located in Mutiny Bay's Courtyard will be the perfect place to relax and unwind while singing along to German tunes.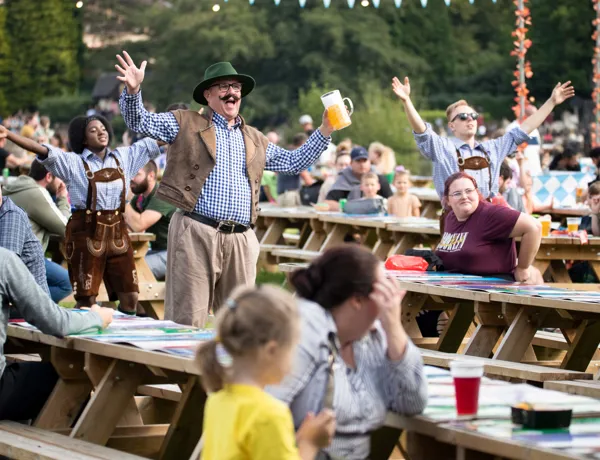 Roaming Entertainments
Be on the lookout, there are plenty of characters roaming the area excited to meet you! As our funtastic Oktoberfest Street Team have returned!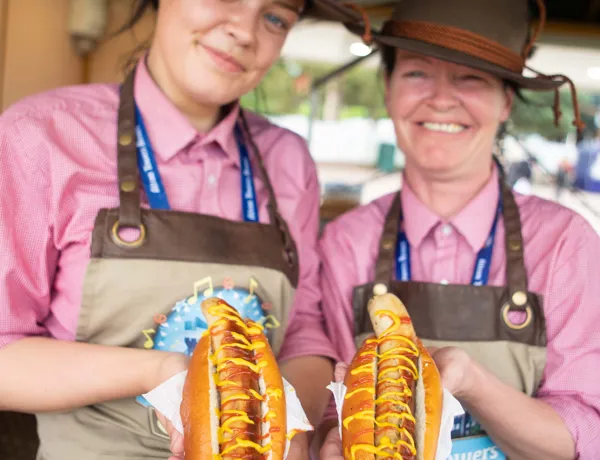 Fantasmical Food and Drink
Explore new dishes and indulge in some deliciously themed traditional German food or treat yourself to Alton Towers Resorts' very own beer!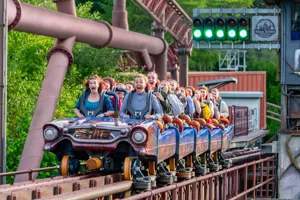 Rides and Attractions
Are you bold enough to take on the Resort's awesome choice of head-spinning, heart-pounding, world-class rollercoasters. With over 40 rides and attractions across the resort for everyone to enjoy! 
Let the fantastical fun continue with an Oktoberfest short break
Complete your great Oktoberfest escape by letting the fantastical fun continue with an amazing short break at Alton Towers Resort! The Alton Towers Resort offers three fantastically themed hotels, as well as our Stargazing Pods, an Enchanted Village, a wonderous waterpark, a luxury spa and extraordinary golf.