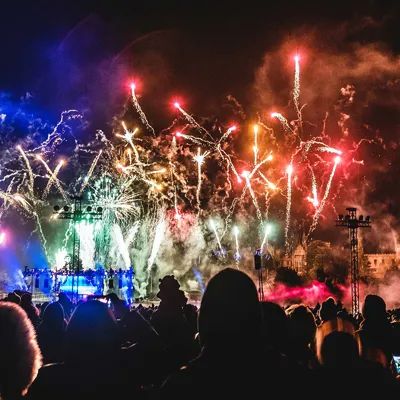 Thrills, Fireworks & Family Entertainment
The Alton Towers Ultimate Fireworks Spectacular takes electrifying bursts, bangs and howls of amazing fireworks to another level with music, lights and live-action storytelling.
This is one of the UK's most fantabulous fireworks spectaculars, so book your tickets, grab some warm food and drink from our stalls and watch our iconic, historic Towers brought to spectacular life with a brand new story that lights up the sky and stays in your memory forever.
What does this mean? It means spectacular sights, incredible sounds – and making sure you book well in advance to avoid missing out on this amazing experience.
Every year, we welcome families and thrill seekers of all ages to our spectacular fireworks. Our fireworks event has always been popular with locals from Stoke on Trent, Staffordshire; but we're fast becoming known as one of the best fireworks displays in the UK!
Hosted on the closest weekend in November, our Bonfire Night fireworks events span three whole days! Be sure to book in advance to avoid missing out.
Because it's much more than whizz-bangs. Our Fireworks nights provide a final chance to enjoy our mind-blowing, heart-pounding, record-breaking rollercoasters, rides and family attractions before we bid our season goodbye. And because we're open late for the fireworks, you can ride our coasters in the dark for extra scares, screams and shrieks. For a truly head-spinning, mega-grinning experience, book your ticket today!
What's more, as the theme park stays open late for the fireworks display, you can even ride in the dark!
Top Tips
We know this is a firm favourite event amongst families and thrillseekers, so we've put together all the information you need to know before you make your way to The Ultimate Fireworks Spectacular!
Extend your Fireworks day out into a Short Break
One day just isn't enough! Let the fantabulous fun continue with an amazing short break at Alton Towers Resort. Choose from five themed accommodations - deep inside the woods in a faraway corner of Alton Towers lies the Enchanted Village. Here you can sleep inside a woodland lodge, watched over by forest sprites – fable folk who are never seen and never heard, but make your stay utterly fantabulous.
The fireworks started at 7pm as advertised and they were literally out of this world! The music was fabulous, lighting was great and as always the tales of Alton came to life for bonfire night.
Frequently Asked Questions
Due to the popularity of this event, pre-booking online, in advance is essential to guarantee entry.
Platinum Annual Passes include entry to the Fireworks; however, prices apply to all other pass holders. Pre-booking online, in advance is essential to guarantee entry.
Blue Badge parking
Saturday is fully booked for Blue Badge Parking. However, there is still limited availability for Friday & Sunday.
To reserve Blue Badge parking for our Fireworks Spectacular, you must email ParkingReservations@alton-towers.com with the all of the following information:
- Badge Holders Full Name
- A picture of both sides of the blue badge being used
- The full registration plate of the vehicle
- The date of your visit
- Your theme park entry ticket confirmation, or pass information
Important information: Blue Badge parking spaces are limited and must be booked in advance for this event. We cannot guarantee the location of your parking space and the space may not be specifically marked as a Blue Badge parking space. Guests attempting to park without pre-booking may result in guests being directed to park on other car parks. Spaces are only reserved until 4pm on the day. Arrival after this time will not guarantee a space. On the day of your visit, follow signage for our Express / Blue Badge parking. Please follow our team members directions to a parking space.
Calling all Platinum Passholders!
Platinum Passholders can pre-book now for our Ultimate Fireworks Spectacular!
Book now