February Half Term
The infamous pirates of Mutiny Bay are taking over the Resort for February half term. Batten down the hatches for an unforgettable short break!
You and your little scallywags won't want to miss an unmissable escape full of pirate adventures, family favourite rides, sea chanteys aplenty and so much more.
18th - 27th February 2022
From £185 per family
Ideal for families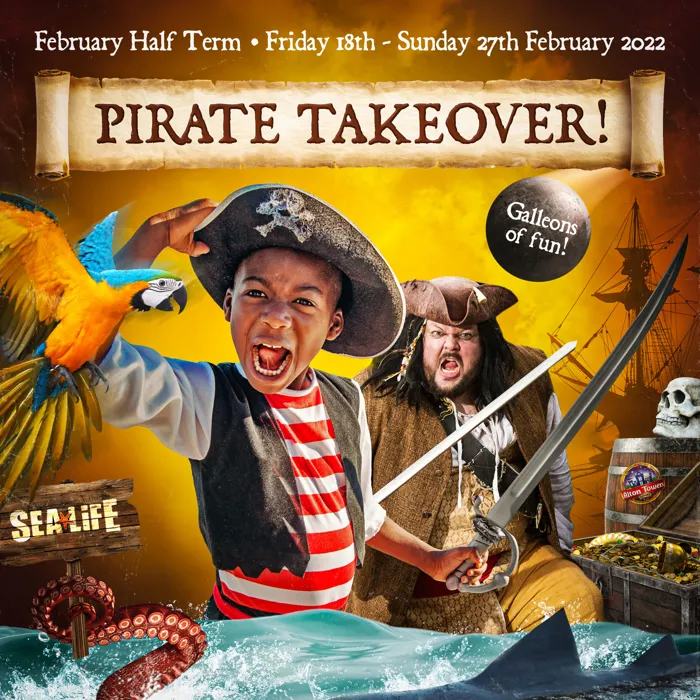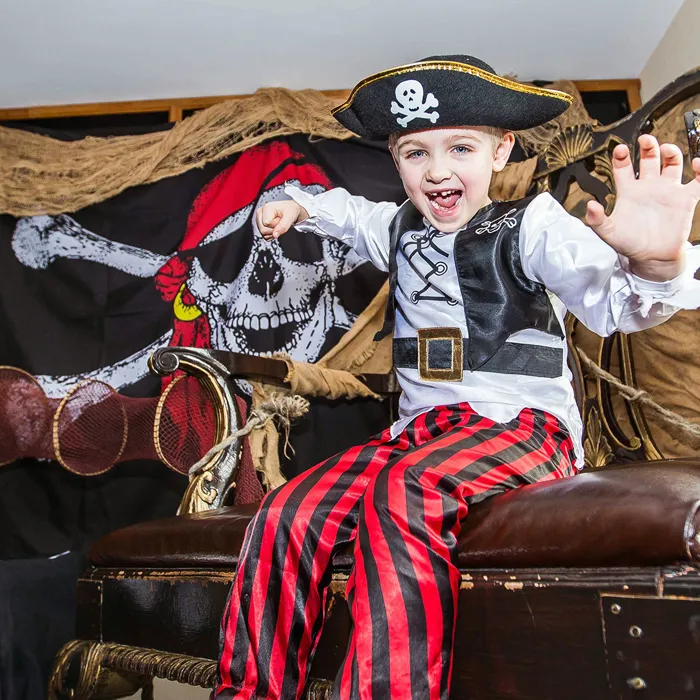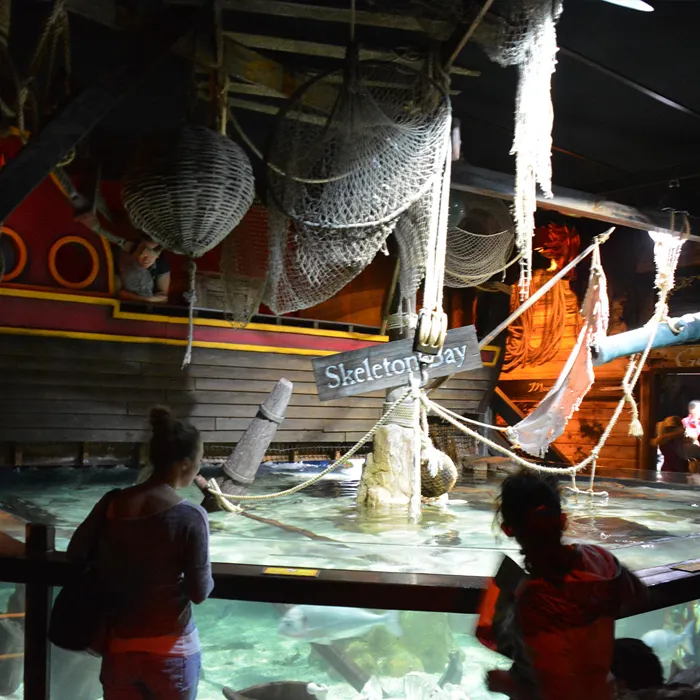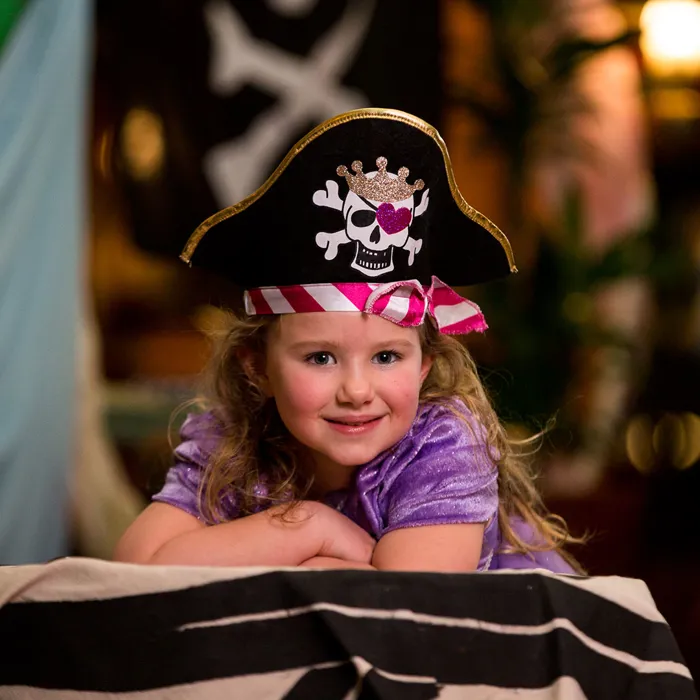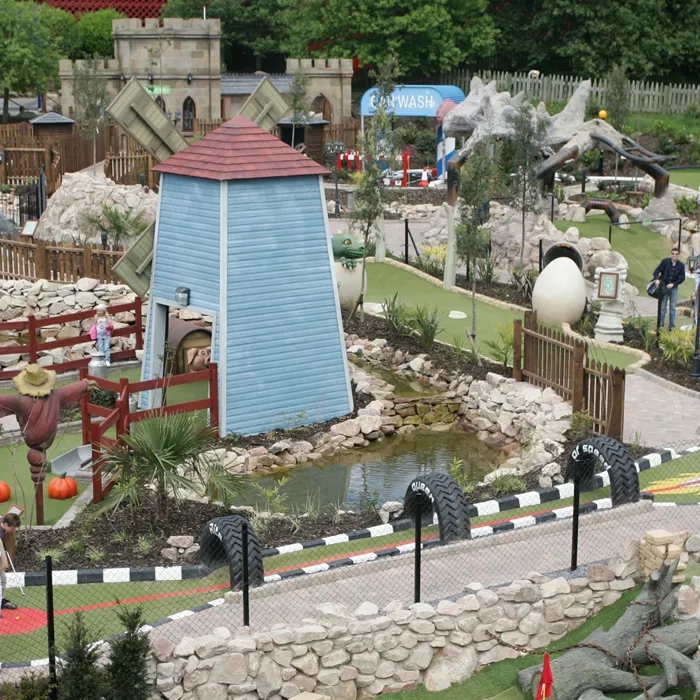 Your swashbuckling package includes
An overstay at the Alton Towers Resort
Budding buccaneers can visit Sharkbait Reef by SEA LIFE
Entry to our whacky Waterpark
Access to Towers Street & Mutiny Bay
9 holes at Extraordinary Golf
A scrumptious breakfast
Welcome to Pirate Town!
Interact and meet the spectacular inhabitants of Mutiny Bay and our Resort hotels. Live out your own pirate story as Mutiny Bay and our Resort hotels come to life. During your stay, explore our pirate outpost, full of bumbling buccaneers, sly scurvy dogs and a whole host of colourful characters. Don't miss family favourites, Marauder's Mayhem and Heave Ho whilst out adventuring!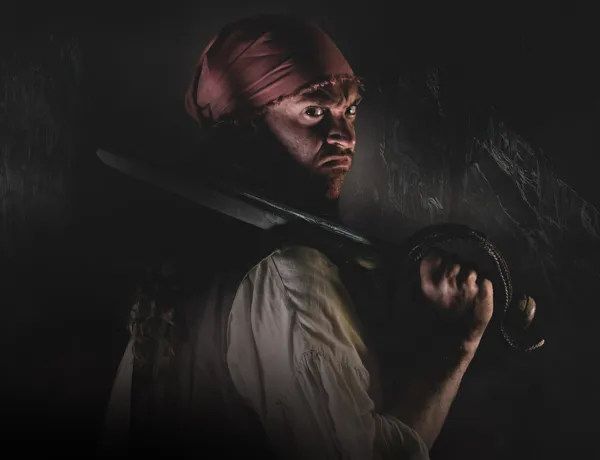 The Pieces of Eight Treasure Trail
Solve the interactive adventure trail for an exclusive prize. All aboard! You have been recruited to find the Long Lost Treasure of Mutiny Bay! Search high, low and in hidden chests. Solve peculiar puzzles and interrogate the locals to complete the trail and secure your exclusive pirate plunder.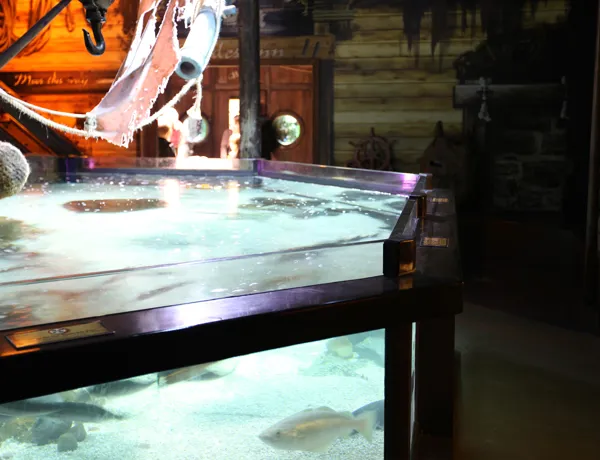 Explore the Depths of the Seven Seas
A brand new SEA LIFE experience where our pirate characters will educate and entertain with tales of sea monsters and adventure. Meet infamous lads and lasses as you explore Sharkbait Reef by SEA LIFE. Your pirate hosts will be ready and waiting to explain the marvels of the deep and share a few tall tales along the way!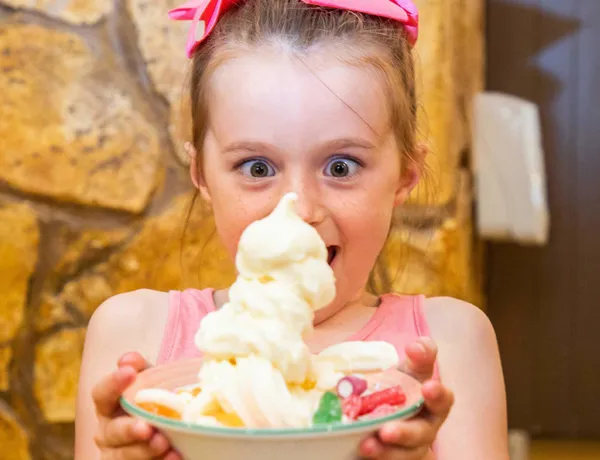 Davy Jones' Drinks & Dishes
No pirate getaway would be complete without exclusive drinks and dishes. The entire family can toast to a successful day of privateering or sink their teeth into tasty buccaneer fare. Whether you're a scoundrel or scallywag, you won't want to miss a thing!
Entertainment & Shows
Don't miss a moment - all of our shows and entertainment offerings are available multiple times a day.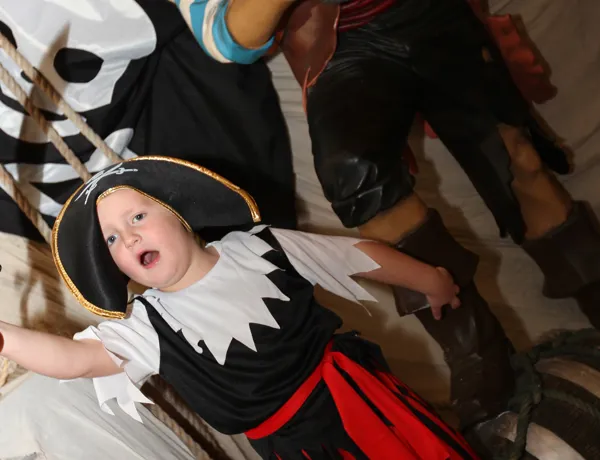 Pirate-Fest!
Attention all Buccaneers! Swashbucklers have taken over the Alton Towers Resort for Pirate-Fest, a global gathering of Pirates from across the Seven Seas!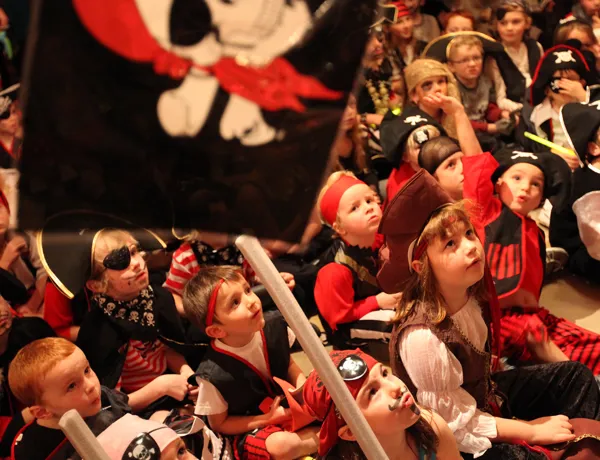 Pirate Pantomime
Experience the new action-packed pirate pantomime located in the courtyard of Mutiny Bay, a fun-filled pirate show with back-to-back features full of treasure, high jinks and misadventure. Be ready for laughs aplenty no matter your age!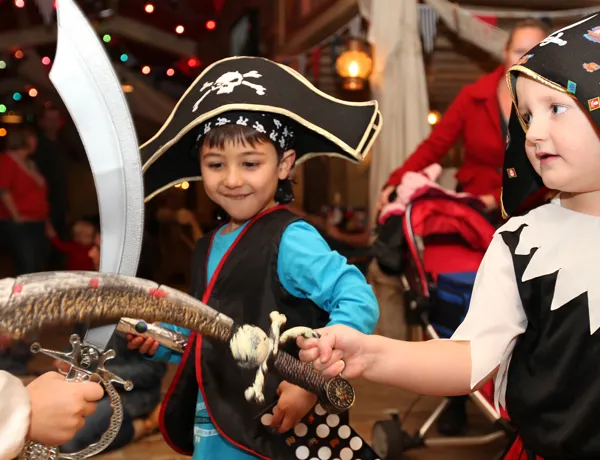 Pirate School
Join our loveable local shark, Fin, as he takes budding buccaneers through his pirate school. Students will prepare for life on the high seas, adventuring and searching for treasure!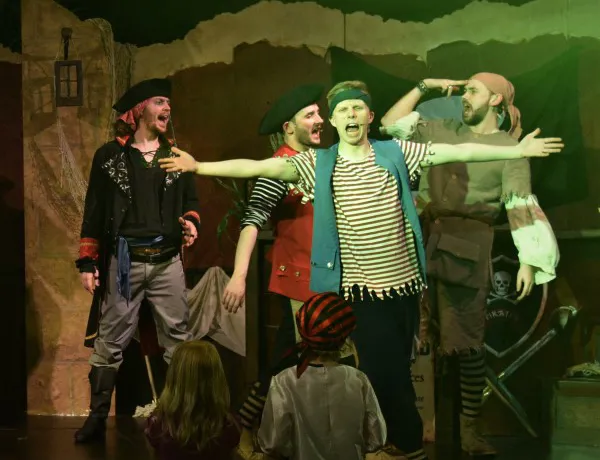 Pirate Disco
Get ready to party, pirate-style! Join the fun and games as our pirate lads and lasses host a disco packed full of chanteys and activities!
Our Accommodation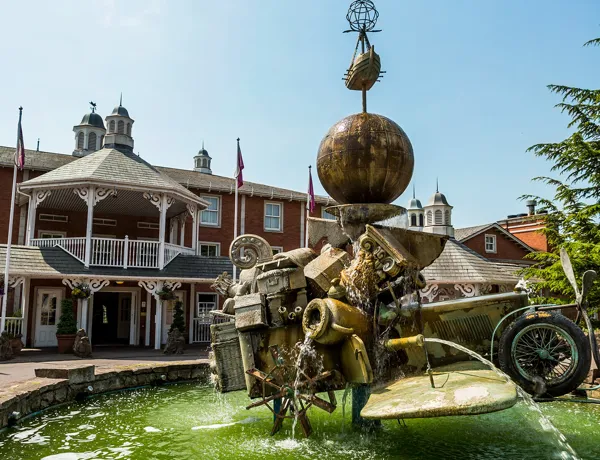 Alton Towers Hotel
This unique hotel is themed around the incredible explorer Sir Algenon, who has made the Alton Towers Hotel his home.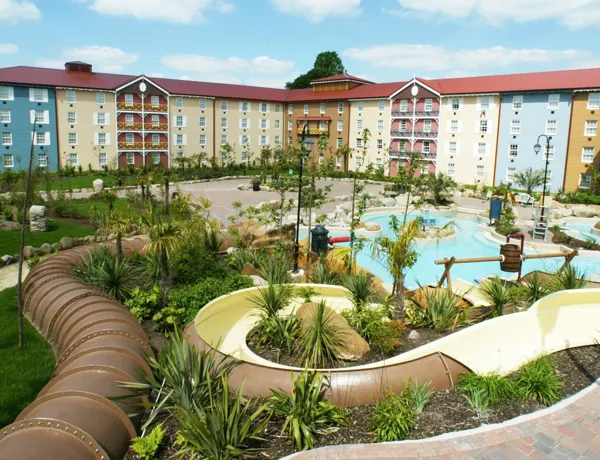 Splash Landings Hotel
For a hotel with fun at its heart, check in to the wonderfully wacky Splash Landings Hotel. There's tonnes of fun to be had, including a fabulous disco hosted by the amazing Calypso Crew.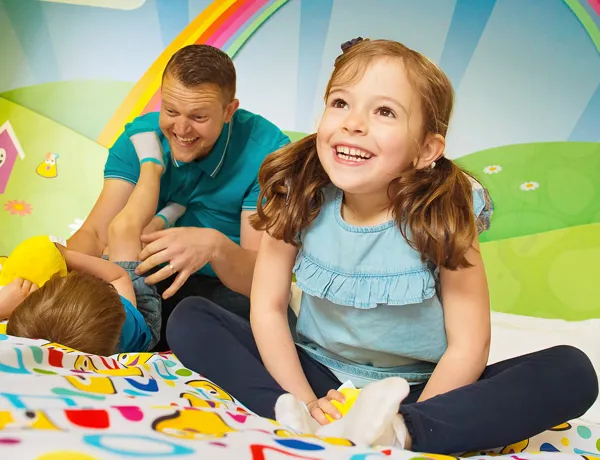 CBeebies Land Hotel
Step inside the rainbow and straight into the colourful world of the UK's only CBeebies Land Hotel, all uniquely designed for young families.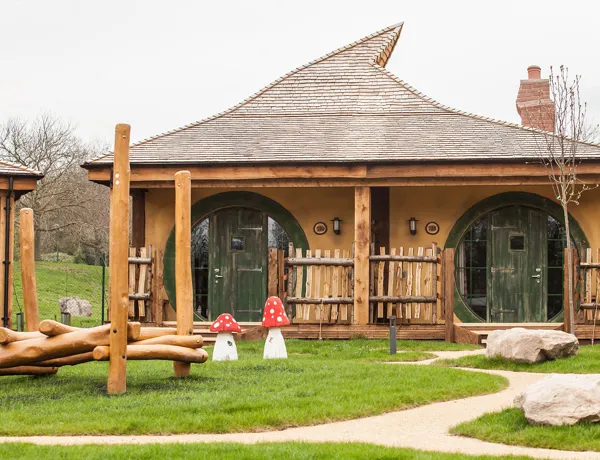 Woodland Lodges
Enjoy an enchanting short break in one of our log cabins, designed for young families and groups of friends. The Enchanted Village offers a comfy and quirky option for your escape.