Fastrack
Reduce your waiting time and enjoy the most popular attractions!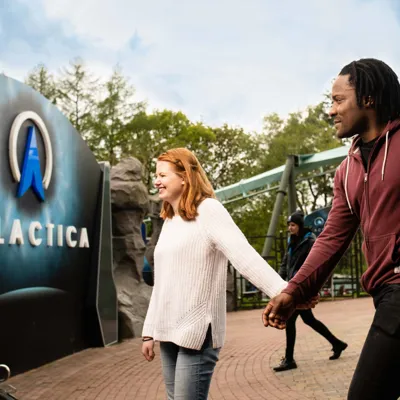 Benefits of an Alton Towers Fastrack
Less Time Queuing.
Exclusive fastrack queue lines offer reduced waiting time on some of our biggest rides and attractions. That means you have more time to explore and enjoy everything that we have to offer.
Help Planning Your Day Out.
Single shot fastracks come with a specific time slot to enjoy your favourite ride. Set up your fastrack slots to help plan an efficient thrill-seeking route around the park.
Unbeatable Package Deals.
Our packages combine some of our biggest thrill rides and family favourites. Book your Alton Towers fast track as part of a package deal to enjoy big savings.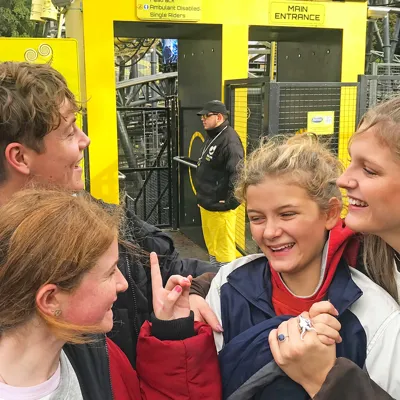 What is a Fast track ticket?
Fastrack tickets are your priority pass to access our most popular rides and rollercoasters. A fastrack pass gains you access to a dedicated ride entrance.
The fastrack priority line means that you can maximise your time at the UK's biggest theme park.
Fastrack FAQs
Please note, all Fastracks are subject to availability, and are valid for one day only. We highly recommend guests book in advance to avoid disappointment.
Can I buy Fastrack tickets at Alton Towers Resort?
All Fastracks are subject to availability and are available on a first come, first serve basis, so book online to avoid disappointment. Book your packages in advance to plan your theme park day out. Fastracks are also available to purchase on the day from the Resort Box Office or Information booths around the park.
Do Fastrack tickets cover the whole Family?
Fastracks are only valid for one person, so please ensure that you book enough to cover your whole party.
How much does an Alton Towers Fast Pass cost?
Fast track passes at Alton Towers are available in a range of packages, customised for your favourite rides. Prices start from £8, for a single shot Fastrack pass.
Do Fastrack Tickets include admission to Alton Towers Resort?
Fastrack tickets must be purchased in addition to a valid theme park ticket or annual pass.
Do I receive a discount on Fastrack if I am a Pass holder?
We do not offer any discounts on Fastrack at Alton Towers.
Does my Fastrack Ticket give me unlimited use on the ride(s)?
Our Fastrack packages and Solo Fastrack tickets can only be used once per ride. To experience unlimited thrills, upgrade to the Platinum package: the ultimate Alton Towers priority pass.
Is Fastrack available on every ride?
Not all rides at Alton Towers have a Fastrack entrance. With over 40 rides and attractions to choose from, some rides experience longer queues than others. That's why our Fastrack passes are aimed at the most popular rides on the resort. See our package deals for details on which rides offer priority access.
Do you offer any Fastrack packages for any of the CBeebies Land attractions?
We do not offer Fastrack tickets for any of the rides in CBeebies Land. However, if you stay at Alton Towers overnight you will be staying on-site on the doorstep of the Theme Park. Book a short break and reduce your queuing time by arriving before the crowds!