The UK's first Rollercoaster Restaurant is set below a vast rollercoaster track, where you can watch as orders tackle gravity defying loop-the-loops before dropping to the table
Theme Park, Forbidden Valley
View menu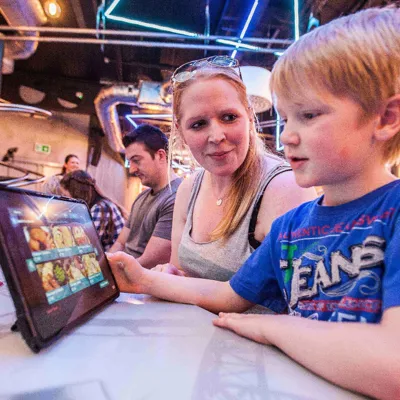 The UK's first Rollercoaster Restaurant!
The Dine Of Your Life - The UK's first Rollercoaster Restaurant!
Located at Alton Towers Resort the Rollercoaster Restaurant is set below a vast rollercoaster track, where you can watch as orders tackle two gravity defying loop-the-loops before dropping 8 metres - the equivalent of two double decker buses - down the tornado spiral to the table.
Enjoy a full 360 degree dining experience and select from a brand new premium dining menu.
Get together with family and friends and make it even more special at the Rollercoaster Restaurant.
Lunch time booking is not essential, visit the restaurant on the day for the next available table. Booking for dinner time is essential to secure your table.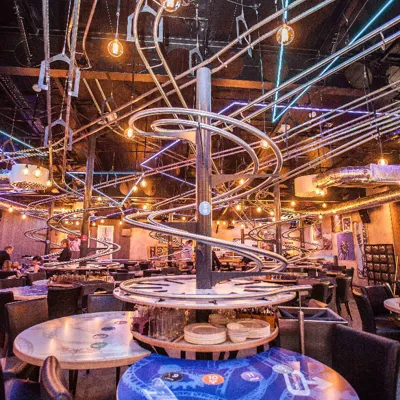 Dining Experience
The essence of Rollercoaster Restaurant is delivering incredible, tasty food along a vast rollercoaster track before dropping 8 metres down a tornado spiral to the centre of our large circular tables, so everyone shares the fun.

There may be cases of diners sharing their experience on the same tables as other guests.
Will your group's food speed to you before your neighbouring group?
How to find us
The restaurant is located in Forbidden Valley and can be accessed inside the theme park if dining during normal theme park opening hours (Theme Park ticket or Merlin Annual Pass required).

If dining in the evening the restaurant is accessed via a new walkway with entry via an access gate near the hotels. Enter through the main entrance and follow the signs for Rollercoaster Restaurant.
So glad we decided to dine at the Rollercoaster Restaurant, really added something special to our weekend at Alton Towers. The kids loved it.