Resort Activity
Extraordinary Golf
Our crazy golf course is beyond crazy, it's extraordinary! Putt your way around two wacky 9-hole golf courses, past miniature versions of our most famous rides and attractions. Mini golf takes a turn towards the extraordinary at Alton Towers!
Extraordinary Golf
Players of all ages are welcome to join in the wild and wacky fun. Start or end your day with 9 or 18 holes. If you're a crazy golf pro, you could complete the full course in around an hour. Play just for fun or make it a competition.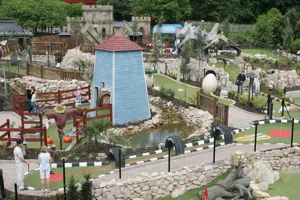 FAQ's
What is Extraordinary Golf?
Extraordinary Golf is a crazy golf course with more wild and wacky features than you can imagine. This theme park themed miniature golf course re-imagines together 18 of our wildest rides and attractions. Most importantly, Extraordinary Golf is a fun activity for all the family!
Do I need a theme park ticket to play Extraordinary Golf?
Alton Towers' golf course is a separate attraction to the iconic theme park. You don't need a theme park ticket to experience the crazy fun! Visitors can come to the crazy golf course for the day, or as an addition to their theme park short break.
Where is Alton Towers Extraordinary Golf located?
Our wacky golf course is located next to Splash Landings Hotel.
When is Extraordinary Golf open?
Extraordinary Golf is open almost all year around. However, opening hours vary depending on the season. Check our website before visiting for up to date opening times. Usually, Extraordinary Golf opens earlier than the theme park and stays open after the final rides have closed.
Is Extraordinary Golf included in my Short Break?
If you're staying at one of our Resort Hotels, you will receive a complimentary 9-Hole Extraordinary Golf ticket. There is no need to book a time slot, your Golf ticket is valid for one visit throughout the duration of your stay. We recommend checking our opening times before arrival.
Extraordinary Golf Tickets