Unlimited Digital Photos
Add all your groups' ride photos to one smartphone!
imagic is the easy way to enjoy unlimited digital photos captured at numerous locations throughout Alton Towers Resort – including our 7 world-class rollercoasters, all your family faves and much more! 
Get onboard by downloading the Alton Towers App and add your digital photos as you go. After each ride, simply note your unique photo reference and input it into App to add the photo to your gallery.  
You can then conveniently view, download and share your photos directly from your phone!
Valid during the main theme park season between March and November.
Which rides are included?
Ride photos are available on our biggest thrill rides, as well as some of our family theme park attractions. Take home a unique theme park souvenir from any of the following rides and attractions:
Thrill Rides: Wicker Man, TH13TEEN, Galactica, Rita, Oblivion and The Smiler.
Family Rides: Gangsta Granny: The Ride, Congo River Rapids, Runaway Mine Train, Spinball Whizzer and Sharkbait Reef by SEA LIFE.
Purchase today and receive all your digital photos direct to your phone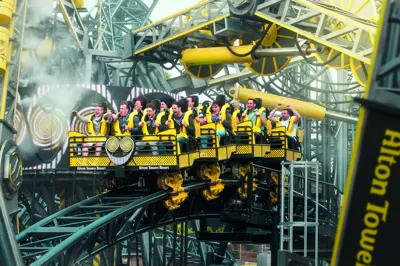 The imagic holder must appear in the photo they wish to claim.

 

You must be over 16 to use this service.

 

It is important that you read and understand the Privacy Policy before using our service. Please see our 

privacy policy

 

All monetary transactions conducted outside of the attraction are through a third party, any billing or banking problems please contact your bank or credit card provider. Once purchased, any concerns regarding quality or the imagic photos themselves, please fill in a 

Contact Us

 form.

 

It is the imagic Holders responsibility to download their associated photos within 90 days of the picture being taken. Any photos not redeemed within this timeframe will not be available to view and download as per our privacy policy and data retention policy.

 

Access to imagic is only valid on the specified date(s) and location of purchase.

 

Access to imagic cannot be transferred to an alternative site or date.

 

Photos are only available to be purchased for seven days from the date they were taken.

 

Ride and photography locations are subject to change and may not be operational every day. No compensation is available should you not be able to claim a photo at a specific location.

 

Once photos have been purchased and the watermark removed, no refund will be given.

 

Photo quality can be affected by environmental and technical factors. Picsolve accepts no liability where this is the case.

 

If photos are missing, please submit a Contact Us form via pomvom.com along with a clear, passport style selfie photo.

 

Walkabout and Studio photographers (subject to availability) will take a photo of an individual or group but must consider the needs of other guests and are therefore not obligated to take more than one photo.

 

If imagic is used by someone other than the holder, it may be cancelled without compensation. If we detect that an account has been used without the consent of the account owner, we reserve the right to remove the account without compensation.

 

Compromising or inappropriate images, such as (but not limited to) nudity, offensive gestures or actions, or other content that could be deemed offensive, will not be issued. This decision will be made by the staff at the photo retail counter and this decision is final.

 

Photos incorrectly added to your gallery must be reported and deleted using the 'This Isn't Me' or 'Report Photo' links found underneath your photo in the album gallery.

 

Access to imagic pre-purchased online before your visit must be collected by the purchaser and a form of ID will be requested to verify your voucher.  For refunds please refer to the website where you purchased the imagic from.

 

Terms and conditions are applicable from August 2021 and may be modified at any time.

 

Your statutory rights as a consumer are not affected.

 

Printed photos can be purchased from site at the photo retail counter only.

 

Attempts to subvert, manipulate, probe or otherwise interfere the digital operations of our service will result in suspension of involved accounts, up to and including legal intervention. 

 

Unauthorised access or attempts to gain access, such as to our public API, or other physical or digital assets will result in blocking, suspension and other actions as deemed necessary.

 

You will not attempt to decompile, reverse engineer, or otherwise manipulate any part of our digital or physical estate.

 

Our services are hosted on Google cloud web services, by using our service you are agreeing to their terms and conditions also 

Google Terms and Conditions

.

 

We are not responsible for Google Cloud Services, we cannot and will not bear responsibility for any outages or data loss caused by these services. 

 

You agree to remain within the boundaries of established use of our platforms, attempting to exploit our systems will result in deletions of account and associated photography, 

 

Picsolve do not tolerate abuse. Any evidence of abuse will be forwarded to the appropriate authority for investigation.

 

Account or user accounts are tied to your mobile phone number. We will not ask for a password or other traditional user account details. We will send authorisation codes to the phone number that you provide. You are responsible for ensuring provision of a correct number at time of purchase.