The Alton Towers Resort strives to make sure that the Theme Park, Hotels, Waterpark and other extraordinary attractions are easily accessible to all our guests.
The downloadable leaflet below has been created in order to help guests with additional needs have a fabulous and unforgettable experience at the resort!
BALPPA Statement on public safety for disabled people:
Members of the British Association of Leisure Parks, Piers and Attractions (BALPPA) welcome visits by disabled people and will do all that is possible to ensure a safe and pleasurable stay. However, certain rides/attractions in our parks can be physically demanding and vigorous. We therefore reserve the right to refuse admission to certain rides/attractions should we feel there is a danger to a particular individual or individuals for whatever reason. We have been advised by the Health and Safety Executive that refusal on the grounds of health and safety does not constitute discrimination. We hope that you understand and accept the decisions made in the interest of your safety.
Ride Access Guide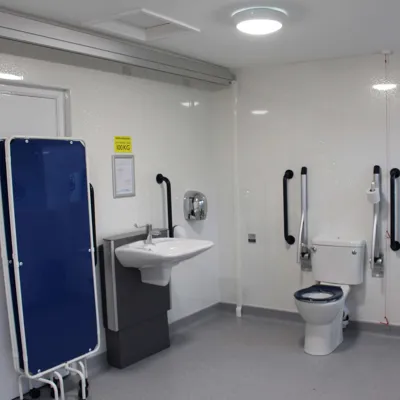 All New Changing Places
Alton Towers Resort has teamed up with an external accessibility expert who has provided the Resort Excellence team with incredibly useful recommendations to help make our Resort even more inclusive for guests.
Ride Access System
Alton Towers Resort offers a Ride Access system, however to ensure the system remains beneficial for those who rely on it, our Guest Services team must see certain documentation before they are able to arrange it. By completing this form we hope to save you time on the day.
We will accept the following documentation as proof of eligibility:
Disability Living Allowance or Attendance Allowance award letter (dated within the last 24 months) showing that you receive the higher rate mobility component.
Personal Independence Payment letter (dated within the last 24 months) showing that you receive enhanced mobility component.
A current and valid Blue Badge.
A current and valid Access Card.
If you believe you are unable to stand in a queue line for any other reason, we are happy to arrange a Ride Access Pass upon presentation of a letter from your GP or Consultant on header paper (dated within the last 24 months) which clearly states that you are unable to queue and why (we do not need a letter of diagnosis).This, or any of the documentation above, must be presented alongside valid photographic ID for the named recipient.