The Alton Towers Resort strives to make sure that the Theme Park, Hotels, Waterpark and other extraordinary attractions are easily accessible to all our guests.
The downloadable leaflet below has been created in order to help guests with additional needs have a fabulous and unforgettable experience at the resort!
BALPPA Statement on public safety for disabled people:
Members of the British Association of Leisure Parks, Piers and Attractions (BALPPA) welcome visits by disabled people and will do all that is possible to ensure a safe and pleasurable stay. However, certain rides/attractions in our parks can be physically demanding and vigorous. We therefore reserve the right to refuse admission to certain rides/attractions should we feel there is a danger to a particular individual or individuals for whatever reason. We have been advised by the Health and Safety Executive that refusal on the grounds of health and safety does not constitute discrimination. We hope that you understand and accept the decisions made in the interest of your safety.
Ride Access Guide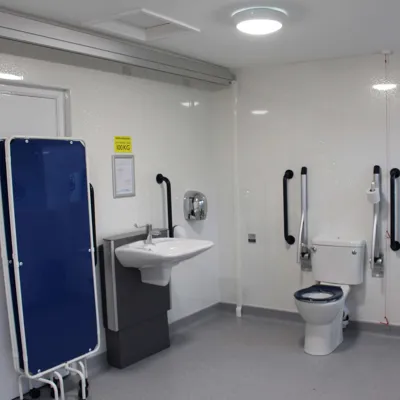 All New Changing Places
Alton Towers Resort has teamed up with an external accessibility expert who has provided the Resort Excellence team with incredibly useful recommendations to help make our Resort even more inclusive for guests.
Ride Access System
Alton Towers Resort offers a Ride Access system, however to ensure the system remains beneficial for those who rely on it, our Guest Services team must see certain documentation before they are able to arrange it. By completing this form we hope to save you time on the day.
We will accept the following documentation as proof of eligibility:
Disability Living Allowance or Attendance Allowance award letter (dated within the last 24 months) showing that you receive the higher rate mobility component.
Personal Independence Payment letter (dated within the last 24 months) showing that you receive enhanced mobility component.
A current and valid Blue Badge.
A current and valid Access Card.
If you believe you are unable to stand in a queue line for any other reason, we are happy to arrange a Ride Access Pass upon presentation of a letter from your GP or Consultant on header paper (dated within the last 24 months) which clearly states that you are unable to queue and why (we do not need a letter of diagnosis).This, or any of the documentation above, must be presented alongside valid photographic ID for the named recipient.
Frequently Asked Questions
As our environment is changing, we are responding to these changes and are committed to keeping our guests safe, whilst still offering a fantastical experience. We would like to reassure all our guests with additional needs that we will still be offering our Ride Access Pass option and want to provide some information on what to expect prior to and during your visit.
Some of our queue lines may be in a slightly different areas to what you remember. However, please be assured that new signage has been installed in all our queue lines to direct you safely. We are practising social distancing measures within our queue lines so please remember to queue together in your party and follow the markers provided.   There may also be longer waits on many rides and attractions due to our enhanced cleaning measures that will take place at regular intervals throughout the day.
Please speak with our guest service team upon your arrival to the Resort. They will advise of any restrictions or closures at the time of your visit.
We are asking our guests to pre-register your documentation at least 14 days before you plan to visit the Resort. This is to keep our staff and our guests safe, and to make our processes quicker for you. To register in advance of your visit, please visit https://www.altontowers.com/plan-your-visit/before-youvisit/disabled-access./ If you have not pre-registered your documentation prior to your visit, we will be unable to process your pass on the day.
You will be issued with a wristband and timecard when you arrive at the Resort. You will need to collect these from our Resort Box Office located on Towers Street. This is the only place that we will be issuing these.  Our team will be equipped with the necessary PPE to protect you and themselves. We will also ask guests [you or your carer] to put their [your] own wristbands on themselves.
We will still be hiring our wheelchairs and mobility scooters; however, we will only be able to accept card deposits/payments when completing this. We will also be enhancing our cleaning routines on our wheelchairs and mobility scooters, and these will be deep cleaned after each use.
The number of carers you can bring will depend on which Ride Access Pass you qualify for.  . If you qualify for our RED Ride Access Pass, you can have up to three Carers with you (one of whom needs to be over the age of 14). If you qualify for a YELLOW Ride Access Pass, then you can ride alone – however you can bring up to three Carers (one of whom needs to be over the age of 14). For full information on carer requirements, please visit our 2020 Accessibility Guide here
Guests will be required to wear a face mask in order to go on a number of rides and rollercoasters at Alton Towers Resort.
We encourage guests to bring a suitable mask with them when they visit our attraction.   Only securely fitted face masks should be worn on rides for safety reasons and we would recommend removing face masks on water rides in case they get wet. Face masks are not required for children under the age of 6 or for people with certain health conditions and/or disabilities.
To be safely admitted into the Resort, employees and guests are required to take part in a temperature check with a non-touch thermometer. These non-invasive temperature checks are being applied as a condition of entry. Our teams will be on hand to reassure anyone who feels uncomfortable with this process.
Anyone who is displaying a temperature above 37.8 degrees Celsius will unfortunately not be go ahead with their visit. Those showing COVID-19 symptoms are also requested not to visit the Resort until they feel better.
Those guests who do not wish to consent for a temperature check may have a refund. Those people with certain health conditions and disabilities related to high temperatures should speak to the customer services team before visiting. Please email gs.feedback@alton-towers.com at least 7 days before you plan to visit the Resort to discuss.
Guests who are staying in the hotels, once temperature checked, will be asked to wear a wristband for the duration of their stay.  This is to help our staff recognise that you have already participated in a temperature check and to avoid the inconvenience of being asked to do another one. 
In order to keep our guests and our teams safe, you will notice our teams will be wearing protective equipment such as gloves, face coverings or shields.  This is for your protection, and that of our employees. We still have a friendly smile behind these and we can't wait to see you!