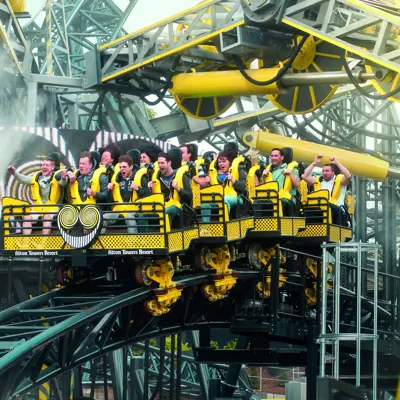 Festival of Thrills returns in 2023, but this year with a twist - The Smiler Takeover
Ministry of Joy, The Smiler's secretive organisation, will take over X-Sector to conduct a series of mind-bending assignments! From laughter therapy with the Smiling Advocates and optical illusions to boggle the brain in The Lab, to facing your fears in their unique fear test.
Celebrate our rollercoasters as they reawaken this Spring
Wicker Man
Join the chosen ones on the world's most immersive rollercoaster experience to date, unifying cutting edge special effects with classic wooden coaster technology for the first time! Speed towards the six-storey Wicker Man and feed the flames as he spectacularly ignites when the train bursts through his chest.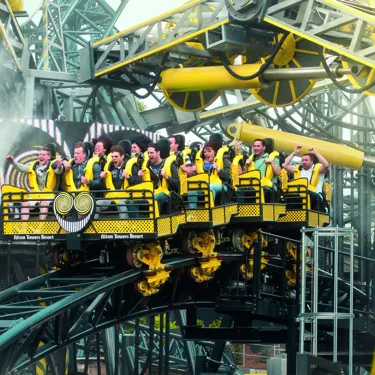 The Smiler
The Smiler is the world's first 14 loop rollercoaster. Its twisting track combines the world beating 14 loops with a speed of 85kph and a track length 3x longer than Oblivion! This will challenge your body and mind - You Belong To The Smiler!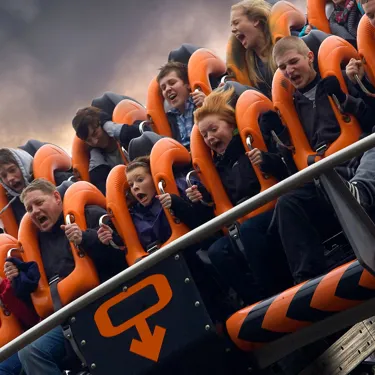 Oblivion
Oblivion beckons you to face your fears. As you're held, overhanging the edge of the world's first vertical drop rollercoaster, you get a moment to savour what's to come! You know you shouldn't but don't look down at the colossal vertical 180' drop!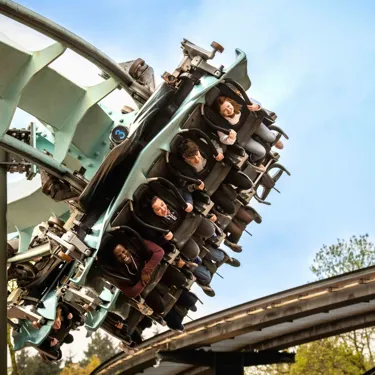 Galactica
Journey Beyond as you blast through an advanced launch portal to a dimension beyond your wildest imagination. Break free from the earth's atmosphere and glide through the air on our iconic flying rollercoaster.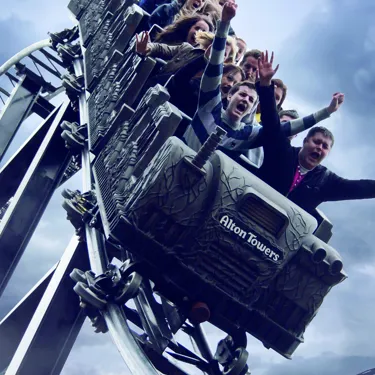 TH13TEEN
The dark and mysterious TH13TEEN is the world's first vertical free fall drop rollercoaster. Speed round the track, enter the ancient crypt and face the horror that lies within. Don't go alone!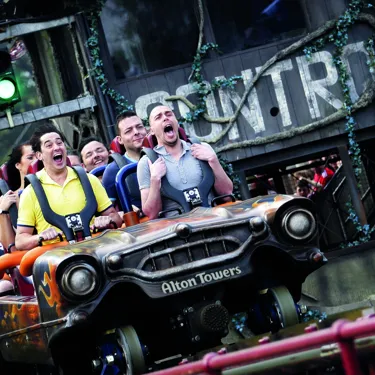 Rita
Brace yourself for the lights to turn green! Rita powers you straight to 100kph in just 2.5 seconds, putting your body through 4.7 G-force. At lightning pace, Rita navigates every twist and turn of the track, as you break free from the clutches of the Dark Forest. You must escape!
Extend your Festival of Thrills day out into a short break
One day just isn't enough! Let the fantabulous fun continue with an amazing short break at Alton Towers Resort. Choose from five themed accommodations including the Alton Towers Hotel - its extraordinary combination of splendiferous accommodation, quirky class and fantabulous eccentricity guarantees rocket-loads of giggles and glee for the whole family!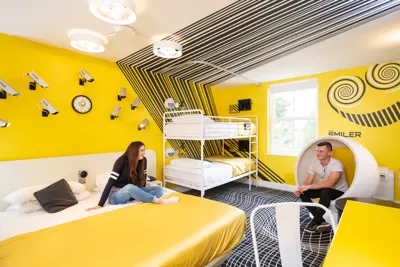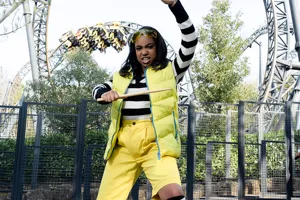 Alton Towers Annual Pass
Enjoy all the excitement of the Alton Towers Resort for a whole 12 months! Visit as many times as you like because no escape is the same*! Our thrilliant Theme Park is open from March to November and we offer a choice of Passes including NEW for 2023 Silver Annual Pass so you can enjoy a year-full of fun for less. With so many reasons to visit including our world of thrilliant events and live entertainment from the adrenalin-awakening Festival of Thrills and show-stopping Mardi Gras to Oomptastic Oktoberfest and our spooktacular Scarefest!

Your Alton Towers Pass includes:
Access to more than 40 rides and attractions
Up to 20% off food and drinks
Up to 20% off Waterpark and Alton Towers Dungeon
Exclusive access to special offers and discounts
Plus loads more benefits
*some dates are excluded
Buy now
Experience over 40 rides & attractions
Save up to £33 when you book in advance
Under 3's go free to the Theme Park
Enjoy a stay in our on-site hotels
Bed, breakfast, entertainment & Extraordinary Golf
Add tickets for guaranteed entry
Visit the Theme Park again and again with an Alton Towers Annual Pass
Or the UK's best attractions with a Merlin Annual Pass.
Great Passholder perks
Exclusive discounts including dining, shopping and special events
Calling all Annual Passholders!
Tickets for the Festival of Thrills are now available for you to pre-book.
Pre-book now