All new Changing Places at Alton Towers Resort
Friday March 10th 2017
Chris
Archive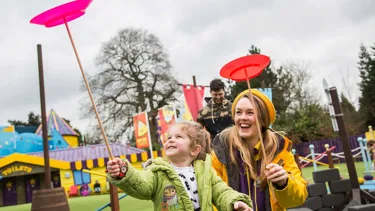 Alton Towers Resort has teamed up with an external accessibility expert who has provided the Resort Excellence team with incredibly useful recommendations to help make our Resort even more inclusive for guests.
Using the information provided, as well as the recommendations of guests made throughout the year, we decided to make a significant investment to install a modern Changing Place (Located in X Sector) and Space to Change facility (located in Fountain Square). They have been installed due to in key areas of the Resort, near to the main entrance and SkyRide, so that guests can easily reach the facilities no matter where they are on the park. These fresh, new facilities include hoists, adult changing beds, height adjustable sink and plenty of floor space to allow room for two helpers.
We have also made improvements to our Accessibility Guide, available online and from the Resort Box Office, so that all accessible facilities at Alton Towers Resort are easier to find out about. The Guide, which has been specifically designed to ensure the font style and size is better for guests with visual impairments, also includes our incredible 'Something Special Sensory Garden', which is supported by Makaton signage and designed to help children with language development.
For the 2017 season,  we have also further enhanced our map and on park signage to highlight the accessible routes around the park, as well as clearly sign posting the Changing Places and Space to Change areas, making everything even quicker and simpler to find – giving you even more time to enjoy the Resort!