Alton Towers Resort host the Commonwealth Games Queen's Baton Relay!
Friday July 22nd 2022
Elle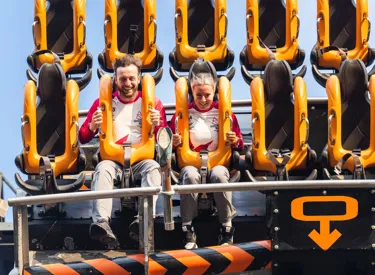 As part of the batons latest leg of the relay ahead of the 2022 Birmingham Commonwealth Games, we welcomed two baton bearers, the Commonwealth Games team, staff and local residents to witness a monumental milestone, as the Baton took a 4.5G drop down Oblivion! 
A cheering crowd warmly welcomed our baton bearers; Jason Mould and Marnie Woolrich, as they started the baton relay at Towers Street, through CBeebies Land, and finally down to X-Sector, where they took to Oblivion. This was a truly fantastic event to be a part of, and we are so proud not only to have hosted the baton relay but of our brilliant baton bears too!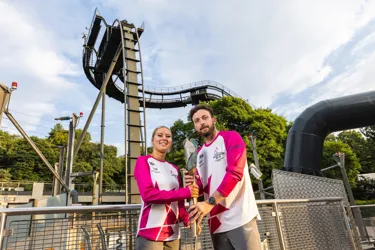 Before we begin recalling the exciting details of the milestone event, here is a little more information about the baton itself, and why this year is set to be extra special! The Queen's Baton for Birmingham 2022 has been created out of copper, aluminium, and steel in the West Midlands, but of course, in celebration of The Queen in her Platinum Jubilee Year, a platinum strand was added to the baton, making it unique and one of a kind. The baton will finish its nationwide tour in Birmingham ahead of the 2022 Commonwealth Games, which will be held from 28 July until 8 August 2022.  
Now we know just how special this unique baton is, we knew we had to do something with a true Towers twist to celebrate this event in the best way we know how… by putting the baton on one of our iconic world-class rollercoasters!  
With a cheering crowd of local residents, friends, and family of the baton bearers, members of the Commonwealth team, and our hard-working staff, the Resort was filled with a great atmosphere ready to welcome the arrival of the baton! Our two baton bearers arrived with their families, and it was wonderful to meet them both and hear their stories of how they got nominated to partake in the relay event. 
Our first baton bearer, Marnie Woolrich, a 19-year-old support worker from Newcastle-Under-Lyme. Marnie was a former Great Britain gymnast until she was diagnosed with Perthes disease and had to undergo a hip replacement, Marnie was awarded the honour of being a Commonwealth baton bearer for her determination and positivity in overcoming Perthes disease. A huge well done to our first baton bearer Marnie, who carried the baton down Towers Street and through CBeebies Land!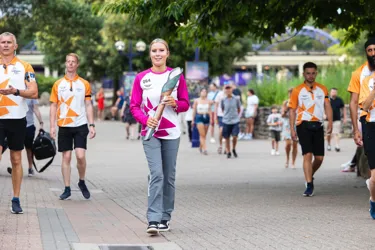 Marnie then handed the baton over to Justin Mould, a 35-year-old teacher who during the lockdown raised a tremendous £4,500 through his start-up charity 'Food For Our Families'. Through the charity, they support children who aren't eligible for free school meals and have created a doorstop delivery service. We can certainly see why Justin was selected as a baton bearer, what a fantastic achievement! Justin led the baton to X-Sector, where he and Marnie made their way down to Oblivion... ready to make history! 
It's time for the drop! With the baton securely attached to the ride and Marnie and Justin strapped in tight, the ride set off and we all watched in anticipation as we all knew we were about to witness something very special. The Oblivion drop did not disappoint and within a flash the ride carriage had dropped down and the crowd let out a cheer.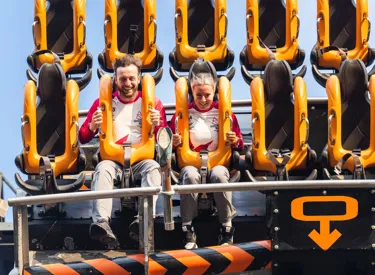 We are so truly thankful to have been involved in the Commonwealth Games Queen's Baton Relay and to have hosted such a special event. We would like to say a huge thank you to everyone involved, the brilliant Commonwealth Games organizers who have worked so hard to pull off this nationwide event, all our staff members who worked the event or came to cheer on and support the occasion, and of course our fantastic baton bearers, of who we are so proud of. Finally, we'd like to wish good luck to all those competing in the 2022 Commonwealth Games in Birmingham this year!