Exciting developments for our 2016 season
Friday February 26th 2016
Wayne
Archive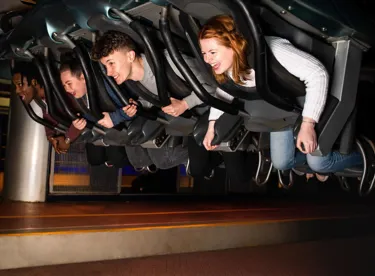 Preparations are now well underway for the start of the new theme park season which is just three weeks away and we are delighted to bring you the latest news on our new attractions and Towers Loving Care programme.
Hot off the press today we can bring you the opening date for our out of this world new ride experience. Blasting into space on 24th March is Galactica, a brand new ride experience that will launch our guests into space.  As the first rollercoaster in the world fully dedicated to virtual reality, Galactica transforms riders into astronauts, plunging them into outer space with a g force more powerful than a space shuttle launch!
The exhilarating new ride experience uniquely combines the physical exertion and adrenaline rush of Alton Towers Resort's iconic flying rollercoaster, with the breathtaking emotive experience of travelling through space. Cutting edge technology launches riders into a different world, complete with virtual space suits, stunning visuals and an exciting space adventure. The visuals have been perfectly synchronised to the thrilling twists, turns and loops of the rollercoaster to recreate the sensation of hurtling through space.
Goodbye to some old favourites
As the Resort prepares for even more exciting new developments, this means we do have to say goodbye to some classic rides. After 34 years of soaking our guests, it's time for The Flume to retire. It is never an easy decision to take out rides, however, as we look to our long term future, it is essential that we continue to invest in thrilling new attractions and experiences and we'll keep you posted with news of what will replace The Flume as soon as we can but for now, our exciting plans for the site are still top secret!  We would like you to share your memories of The Flume with us so send us your pictures and memories using #goodbyeflume. 
As Forbidden Valley gets a makeover with the arrival of Galactica, Rollercoaster Restaurant and a brand new coffee shop, we will also be saying goodbye to Ripsaw.  As we look at a complete regeneration of this area, we are extremely excited about the new developments coming to the Valley.
Towers Loving Care update
Last year we brought you news of our new initiative which is being rolled out during the season.  We are committed to providing our guests with the best possible experience which includes continued investment. We have been around the Resort with a fine toothcomb, reviewing areas where investment is needed and putting our guests at the heart of this.  We have an extensive plan of work to complete including revitalising areas such as the Dark Forest and Cloud Cuckoo Land, adding an extra sprinkle of magic to all the areas that need a bit of TLC.
We are well underway with a complete re-paint of the Nemesis track. We have brought in a specialist company who were able to shot blast the whole track, right back to the base metal. An anti-corrosion paint was first applied before we then gave Nemmy a further two coats of specialist track paint to get her looking as good as new! Meanwhile, we have commenced with the first stage of a two year station monster refurbishment, with the front elevation of the station being restored to its original themed concept.
Follow @AltonTLC for all the latest updates on Towers Loving Care and we'll bring you pictures and news of how it's progressing.