Final Preparations for Galactica
Thursday March 3rd 2016
Laura
Archive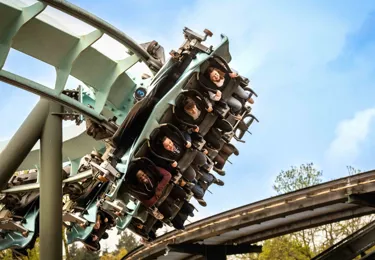 On the 24th March 2016 the world's first rollercoaster fully dedicated to virtual reality will be ready for take-off!
It's taken our technical team 3000 man hours to prepare for the maiden voyage of Galactica, our exciting new experience for 2016.
The newly installed Galactica portal stands 10 meters tall and is a multi-dimensional gateway which will propel Galactinauts through to another dimension to explore the wonders of space and even experience the birth of a new star!
Watch the video for a taster of what you can expect to see as you prepare for a journey into another dimension.
DID YOU KNOW?
Galactica reaches speeds of 75km per hour around its 840 metre long track
Astronauts normally experience a maximum G-force of around 3gs during a rocket launch. Riders on Galactica will experience a maximum G-force of 3.5gs
Galactica is a multi-million pound investment for the Resort and has taken over two years to develop
Come back tomorrow to find out more about preparations for the launch of Sharkbait Reef by SEALIFE and Congo River Rapids!