Pretzels, lederhosen and bratwurst can only mean one thing…. it's Oktoberfest!
Friday September 17th 2021
Louise
Oktoberfest
What is Oktoberfest?
Back by popular demand, Oktoberfest has returned to Alton Towers Resort and this year it is bigger and better than ever! An area of the 500-acre Theme Park has been transformed into a Bavarian-themed destination, complete with Lederhosen-clad hots, lots of oomptastic live entertainment, delicious German themed food to tickle those tastebuds and brand-new for 2021, guests can drink in the amazing atmosphere in the Resort's first ever double decker Alpine themed bar.
Throughout this month, guests can tuck into a delicious selection of traditional wursts with pretzel bread, mouth-watering hog roast sandwiches and brand new for this year, German street food including 'bratkartofflen' (meatballs) and 'kartoffelpuffer' (onions and potatoes) are being dished up. Giant toasted marshmallows, lebkuchen heart sweet treats, speciality coffees and hot chocolate, are also amongst the tantalising treats on offer as guest enjoy the festivities each day, from 1pm, until October 3rd.
Brand-new for 2021, the Theme Park is also showcasing a double decker Alpine themed bar, Wunderbar. On the first floor, there is a mix of standing tables and picnic style benches, with patio heaters and ambient lighting so guests can drink in the thrilliant atmosphere. The chalet roof has a balcony area where guests can enjoy a beverage whilst watching the spectacular stage shows. For those looking for a more laidback Bavarian experience, the new Bierkeller located in Mutiny Bay's Courtyard is the perfect place to relax and unwind while singing along to German tunes and sampling authentic German biers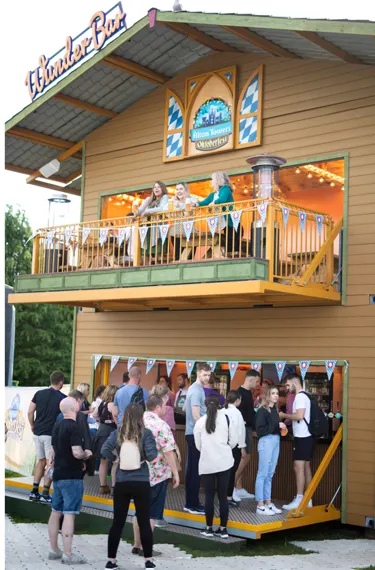 A jam-packed line-up of German themed live entertainment and acts across several stages, is also on offer into the evening after the rides have closed. The front lawns and the whole of Mutiny Bay have been transformed into a Bavarian wonderland. Back by popular demand, there is a traditional oompah band, the German Juke Box, as well as a host of other live musicians, including street performances by Bavarian dancers and an Alpine horn player!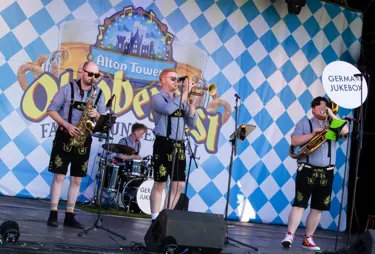 Making of Oktoberfest
After a thrilliant opening week of oomptastic fun and delights, we wanted to share some behind the scenes insights into the hard work from the teams here at the Resort who have brought this celebration to life.
The Oktoberfest celebrations have been extended from the front lawns to the whole of Mutiny Bay – with two different stages, brand-new photo opportunities, theming and decorations, a group of creative, tech and construction teams worked through the night to bring to life the ultimate Bavarian wonderland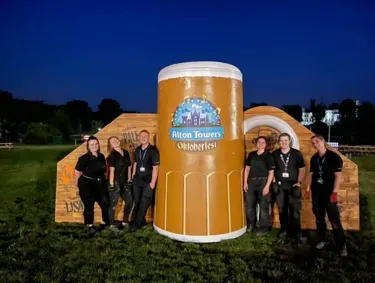 And if that wasn't enough, more than 150,000 traditional Bratwurst sausages, 3,000 gallons of ice cream, over a quarter of a million traditional Belgian chocolates and 200,000 giant marshmallows arrived at the Resort to bring our guests the ultimate German-themed feast.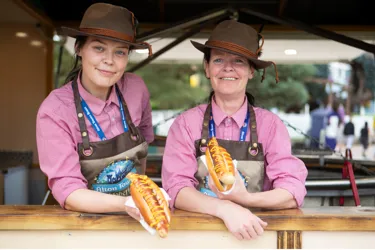 Our Entertainments team have conducted hundreds of auditions for new Oktoberfest actors, spent hours in the studio rehearsing choreography for a series of exciting new shows, and for the last 2 months, the Costume team have been working hard to create brand new character costumes exclusively for the celebration!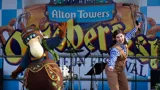 Finally, to celebrate our exciting, oomptastic Bavarian takeover, we're delighted to share with you our brand-new video for 2021! We hope to see you soon!
Experience over 40 rides & attractions
Save up to £27 per adult when you book in advance
Under 3's go free to the Theme Park
Rainy Day Guarantee - get a free return visit