Making Mardi Gras
Monday May 24th 2021
Sarah
Mardi Gras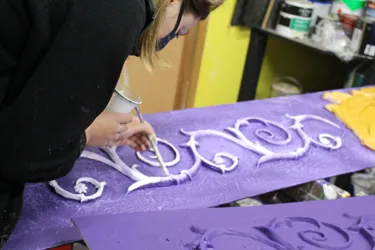 It's finally time to party at Alton Towers Mardi Gras! After a thrilliant opening weekend of dazzling delights, we wanted to share the incredibly hard work completed by teams here at the Resort to bring the celebrations to life! Dressing both our performers and the Resort has been a humungous collaborative effort which itself encapsulates the togetherness and community spirit that the traditional Mardi Gras celebrations are all about.
First of all, we spoke to Alice Amesbury, our Scenic Construction Team Leader about the Resort set pieces and superb static floats for our Krewes:

"For each event our design brief comes from the Entertainment Creative Managers, Simon Allen and Kieran Kimberley, who will create event booklets to express their vision for the event. We have many meetings discussing the look, feel and atmosphere that is wanted. For larger set pieces, such as the krewe float stages – we have custom artistic designs created showing renderings of what these floats will look like. Our team works from these pictures, and with some small practical adjustments they're able to create the beautiful set pieces you will be able to see over the event!
Our team has grown over the last few weeks to 10 people in total to help produce set and scenery for our events this year, but they will have collectively already worked 2880 hours to produce Mardi Gras alone! Not to mention we have had additional helpers who have worked over 300 hrs to help produce and install the theming for the event: that's 3180 hours on set, scenery and theming!
We will have over 15 piece including photo opportunities and stages being added for this event, as well as decorations and theming being added across the park!


To bring the Krewe stages to life, we have collaborated with our Entertainments Technical team to incorporate lighting, sound and SFX into our scenery!
A challenge for us has been some of the park theming. We wanted to create ribbon bunting, so all the ribbon bunting (over 200m) has been hand made on site, with thousands and thousands of hand tied strands of ribbon!

Working together we are able to combine our wide mixture of skill sets to work out what the best materials, processes and methods are to create them, while working to our budget and deadlines. We hope that everyone enjoys the Krewe floats and snaps them for their social media!"
We've also spoken to Becky Barker, our Costume Production Supervisor into the creation of our charismatic costumes, including those you may have seen on our social media channels:

"The costume process for any event starts with a brief from the creative team. This brief outlines the specifics of the event and theme, along with casting requirements and what types of performers we will be providing costumes for. For example, if they are going to be dancing, they will need a costume that they are able to move in.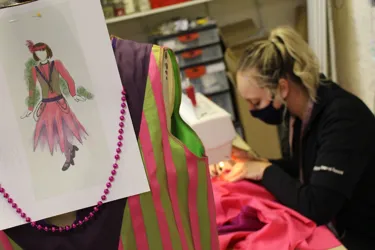 From there, I will create mood boards which capture the briefs from a costume perspective. The mood boards are normally split into characters and I collate visuals from a mix of media, to show the character textiles, silhouette/ structure, Pantone's/colours and I will always reference the set and stage designs too, as you want the costumes to look like they belong to the same world as the staging. 
For Mardi Gras the mood boards have been divided into areas/ Krewes, to bring uniformity to the characters, so the costumes will reflect each other. 
There will be a total of 55 whole costumes/ characters for the celebration! The Costume team have been working towards Mardi Gras for the last 2 months. The costumes will be a mixture of producing costumes in house from scratch, making costume pieces/ accessories, pulling costumes from storage and altering for Mardi Gras, along with buying, hiring and sourcing costumes.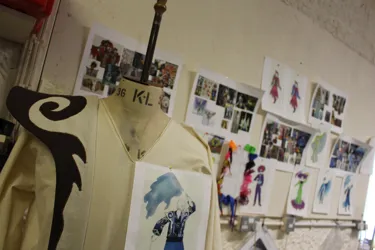 Some of the challenging aspects to the costumes in preparation for Mardi Gras has been sourcing fabrics - in which a lot was brought online due to lockdowns. The fabric choices can make or break a costume so it's crucial to get the right fabrics; we get samples before committing to choices. We try to think in advance about maintaining costumes and make them as easy as possible to care for. For the 1920s flapper dancers, we have made organza boas, as feather boas aren't as durable and all-weather friendly for the performers.
With costume designs we always review through the making process to check costumes are on track and they look as close to the design being brought to life as possible. When pulling a whole costume together, we have slightly more creative freedom to interpret the mood boards. The whole process is always team effort and I'm really proud of everyone's efforts as we bring Mardi Gras to life!"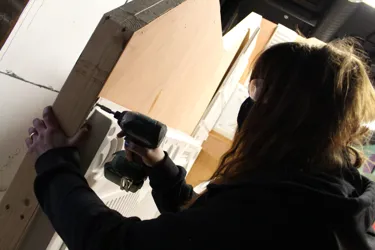 Phew! So, there you have it folks, that's just a snippet into the creation of our summertastic Mardi Gras celebrations. We truly hope that you have a great time if you're partying with us. Don't forget to take plenty of snaps of our Krewes and share which is your favourite.

If you enjoyed this behind the scenes blog, please do let us know on our social channels! Who knows… we may do this again for our Oktoberfest and Scarefest celebrations too.

Speak to you all soon!