Rollercoaster Restaurant
Friday May 6th 2016
Liz
Archive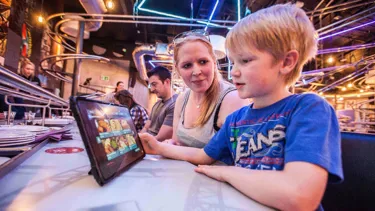 Just one week to go until the UK's first Rollercoaster Restaurant twists and turns into action!
With just one week to go until the official opening of the UK's first Rollercoaster Restaurant here at Alton Towers Resort, we have been busy putting the dishes through their paces!
To ensure the new attraction provides more thrills than spills, Alton Towers' resident adrenaline experts have put each dish through rigorous testing this week, which has seen them take on gravity-defying loops, free-falling drops, and speeds quicker than Mo Farah's Olympic feat in 2012.
Tests have included extensive speed trials and a unique 'FoodsEye View' camera which captured the twist and turns each dish will travel when the restaurant opens its doors for real.
Speaking from the test centre, Resort Executive Head Chef Dan Wilbraham, commented: "We've been overwhelmed by the buzz that's been building around the Rollercoaster Restaurant as we gear up to open next week.
"We've worked hard to ensure the excitement found at the restaurant is a close match to many of its neighbouring attractions – and we can't wait to see the reaction from visitors when they experience it for the first time!"
For more information or to book a table visit https://www.altontowers.com/activities/places-to-eat/rollercoaster-restaurant/