Sharkbait Reef and Congo River Rapids
Monday March 14th 2016
Laura
Archive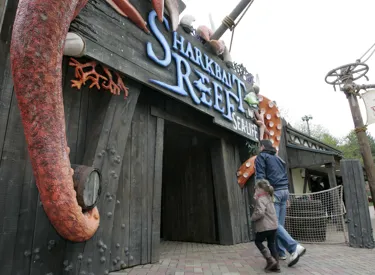 Our Sharkbait Reef by SEA LIFE team are on call 24/7, every single day of the year (including Christmas Day) for our 2839 fish… with 252 different species to care for!
The winter months are the perfect time to re-vamp our tanks and give the fish exciting and enriching new environments to enjoy, as well as introducing our new fish to their fresh surroundings.
As we prepare to open on the 19th March, we have been settling in our amazing new and very social Land Hermit Crabs. These super cool crustaceans squeak to each other when they get excited and love to take baths in our touch pools as well as snacking on bananas!
Over in Katanga Canyon, during the winter months the winding rivers and waterfalls of Congo River Rapids run dry while we bring every boat ashore for checks and a good clean before they set sail for some splashtastic family fun on March 19th!
DID YOU KNOW?
Sharkbait Reef holds 294,945 litres of water in total! Our biggest tank is the Ocean tank which holds 175,000 litres.
It takes a whopping 2 MILLION LITRES of water to fill the twists and turns of the Congo River Rapids.
Come back tomorrow to find out more about preparations for the launch of Oblivion and Spinball!