Student artwork takes pride of place during Mardi Gras at Alton Towers Resort!
Friday May 27th 2022
Laura
Events
Primary and secondary school students across the Staffordshire area have been hard at work producing another fantastical piece of artwork to be proudly displayed during our Mardi Gras event.  
In 2021, we launched our Mardi Gras inspired community art project and invited our wonderful local schools to get creative! This year's task was to take a regular umbrella and turn it into a fabulous representation of school community with beads and bling galore! Why umbrellas? Umbrellas are the accessory of choice (and an opportunity to look extra fabulous) at Mardi Gras parades due to the seasonal rainy weather in the southern American states, which is something we all know too well in Staffordshire, so this project was a match made in heaven!  
Each school's umbrella has been joined to form one large spherical, eye dazzling structure. A representation of united community spirit and the things that make each school special. The Mardi Gras umbrella globe is being displayed on the lawns of the theme park throughout our event.   
Our Entertainments Creative Manager, Simon Allen, came up with the concept and has championed the project since 2021, he said: "After 2020 we knew how important it was to continue to build on a sense of community in our local area. Getting schools involved in a creative, inclusive project was something we really wanted to do, and we had a great opportunity with Mardi Gras and its values of togetherness and love of life. I'm thrilled with the engagement from local schools. Staff and students have been so supportive and enthusiastic to join in".  
Students at All Saints CE Academy in Denstone have been jazzing up their umbrella with an explosion of Union Jack colours. Year 2 teacher Fiona Tomlinson said, "we decided to go for a simple Union Jack design to celebrate the Queen's Platinum Jubilee but keep it in the Mardi Gras spirit with lots of sparkles and glitter!" 
Students from Abbey Hill School and Performing Arts College in Meir have enjoyed their research on Mardi Gras and coming up with their own take on the festival for their umbrella. Bursts of creativity and commitment ensued as lots of design challenges were overcome while working on the umbrella, the goal being it must be colourful like a rainbow and still waterproof! Whilst other options were considered and decided against (we won't go into the issue with feathers), a solution was found in the form of bright, foam flowers. Hundreds of carefully cut flowers were adorned all over the umbrella, to produce a vibrant, fun filled representation of the spirit of Mardi Gras. Students said the thing they enjoyed most about the project was "working together and chatting while we worked, it was very calming. We're looking forward to seeing our work on display at Alton Towers!"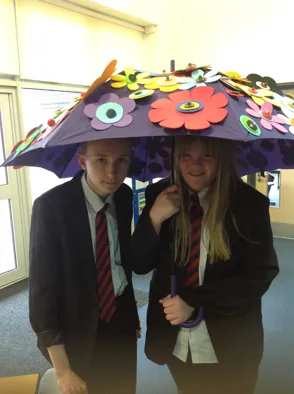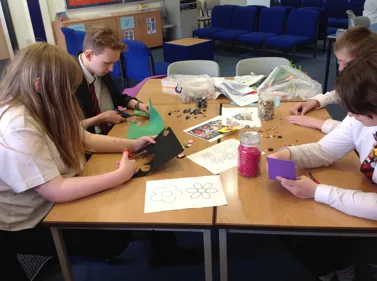 Many schools have used the project as an opportunity to de stress and kick back with friends, giving students some much-needed relaxation during the exam period. Some Year 11 students at JCB Academy have used it as a stress buster in between GCSE's. Ms Alston at Ryecroft Middle School in Rocester has joined the project for a second year and finds it beneficial to students in many ways saying, "the immediate impact of this project has been how enthusiastic and excited pupils were to take part. It has given us an opportunity to work on a 3D project and year 6 pupils have enjoyed taking part during SATS week as a mindful stress reliving activity." The school is working towards a prestigious art award which involves engaging pupils in a variety of creative projects. The Mardi Gras umbrella is an addition to their portfolio and allows them to cite their work as being on public display.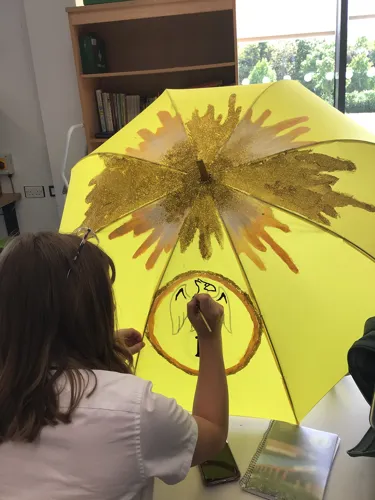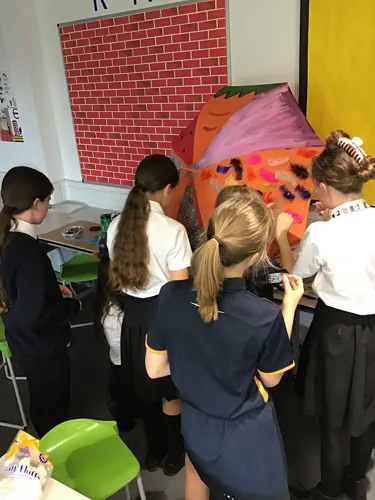 Students at Blythe Bridge High School have been enjoying how creative the project allows them to be. Connie Dean said, "I like this project because it has no limitations to what we can design." Keira Tabbimor said, "I enjoy drawing and painting imagery based around the Mardi Gras theme because it's very bright, colourful and expressive". Mrs Johnson leads the project for Blythe Bridge High School and said, " I really enjoy working with Alton Towers Resort on their community art projects. The project really develops our students creative thinking and allows them to be very expressive. I think it's important that students work on community projects so that they see their artwork viewed by the wider community outside of their school setting."  
Students at Queen Elizabeth Grammar School in Ashbourne have enjoyed being involved in a project with the unusual medium of an umbrella. Their umbrella represents the love of life element of Mardi Gras. Students put their sewing skills to the test by personifying the umbrella, sewing on its very own eyes, mouth and hands as well as covering it in bright symbols and drawings! A sight not be missed, no we mean it, you cannot miss it, it waves to you as you go past!)  
The Year 2 and Year 4 Art Club at Forsbrook Primary School joined forces to make the ultimate art club Krewe bringing the life of the Mardi to their school! They got fancy covering the edges of their umbrella with fluffy orange feathers and created magnificent masks to adorn the remainder of their umbrella. "I can't wait to tell all of my friends about our fantastic umbrella. I'm going to tell them to look out for it when they visit Alton Towers," said one excited student.  
The new piece has been installed in front of the iconic Alton Towers backdrop, alongside last year's pilot community project of guitars.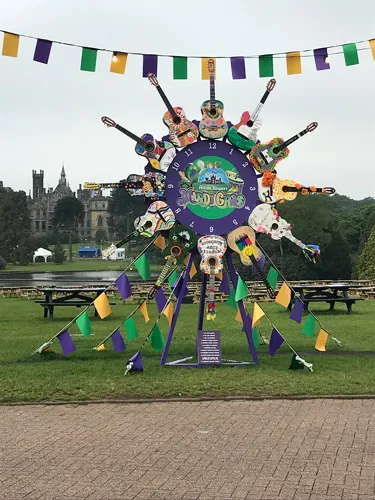 The community art can be viewed by guests coming to Mardi Gras at Alton Towers Resort from 21st May to 19th June. Tickets are on sale now.  
Experience over 40 rides & attractions
Save up to £33 when you book in advance
Under 3's go free to the Theme Park
Rainy Day Guarantee - get a free return visit
Enjoy a stay in our on-site hotels
Bed, breakfast, entertainment & Extraordinary Golf
Add tickets for guaranteed entry