The Making of Scarefest
Tuesday October 13th 2015
Rich
Archive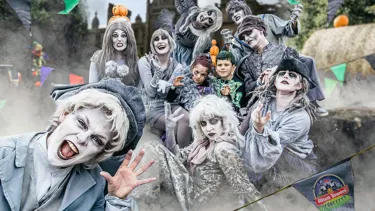 We are now less than one week away from the most Spooktacular event in the Alton Towers Resort calendar – Scarefest! With this year's event debuting 5 brand new products plus a new route to Terror of the Towers and new takes on your favourite family entertainment, it has taken even more planning than ever to pull it off! We took time out this week to catch up with the people that make it happen.
"Believe it or not, planning for this year's Scarefest started before the end of last year's event…" explains Resort Creative Manager, Pete Cliff, "Alongside the marketing team we experience the current attractions, evaluate what has gone well, look at what we can improve on and get a plan of action together to make that happen."
Head of Marketing, Katherine Duckworth is in charge of setting the brief for the event. "We knew that we wanted to make this year bigger and scarier than ever. Scarefest is now in its 8th year and it was time to shake up the event – and not just with new mazes, this event needed to feel different, from the way we talked about it to the actual experiences on the night. We've never played with our guests' senses as much as we are this year, from blindfolds to actors that can touch you and splitting up large groups, Scarefest will feel much more personal this year…"
Pete, who manages the creative process for Scarefest; from imagining concepts and writing scripts to hiring actors and directing the action expanded on this, "From the first meeting for this event, we knew that this we could do something a bit more special for our guests this year, but also that it was going to be one of the most challenging events that we have ever staged. Some of the products have multiple routes, meaning multiple storylines and scripts were needed – not to mention the additional actors, sets and costumes that would be needed to make it happen.
"By far the most complex product this year is Sub Species: Operation Lockdown. It's our premium product for the event and as such it needed to be even more spectacular than ever. It has eight possible endings depending on the actions that our guests take while inside, so each junction in the story had to be planned to perfection to make sure that each ending makes sense when you follow your personal journey back through the experience! On top of this, there are a number of challenges for the guests to complete and three escape rooms, all of which we have written specifically - and that's on top of the regular scares that you'd expect as part of the experience!"
Getting the story and actors spot on is, of course, only a fraction of the work that goes into creating the event, as Head of Entertainments, Chris Carter explains, "We have a fantastically talented team here that allows us to create everything we need for the event in house, from building sets and props through to making the costumes and setting up the special effects and lighting across the Resort. We even direct, produce, film and edit all of the videos shown at each of our mazes as well as the blockbuster trailers that you will have seen on social media this year."
With all of this new product, it was only natural that the marketing for the event would also see a step change, as Katherine explains "This year, we are very much leading with a 'social first' strategy for Scarefest. Our guests love the interactivity that they can have with the product on social media and we have used the trailers produced by our Entertainments team as a hub for this activity; building complementary content around these to make the launch of the event much more of an interactive story than ever. We are, of course on television too with our new Scarefest ad, which is on air now!"
Experience Scarefest for yourself from 17th October – 1st November including the all new 'Haunting of Molly Crowe' and 'Sub Species: The End Games' Scare Mazes plus 'Dark Apocalypse' and 'Nox:Infernus' Scare Zones. Pre-book your tickets now at for the best prices, including a combined Theme Park entry and Scare Maze ticket for just £50 per person.