The Power of the Towers
Monday January 21st 2019
Ian
Archive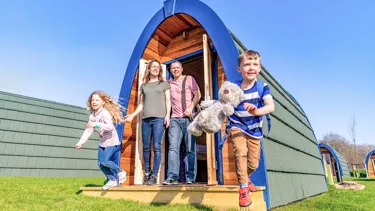 Since the very first time I visited Alton Towers, nearly 60 years ago, I felt the magic of the place.  For decades, generations of families have visited the Towers to enjoy family time and escape from the worries of daily life.  And there's never been a greater need for a place where families can escape and spend time together.
Earlier this month, we conducted a nationwide poll which shows that families, facing the uncertainty created by Brexit, will prioritise doing the things they love with the people they love in 2019.  As a distraction from their worries, they'll be spending more time and money on leisure activities, like visiting theme parks, to share happy memories with their loved ones.
Here are some of the things we found:
73 percent of Brits say that worries and uncertainty over Brexit have drastically changed how they plan to spend both their time and money in 2019
Three quarters (73 per cent) of Brits spend time with loved ones to distract themselves from the things they are worried about
64 per cent of respondents predicted they will prioritise their financial spending on quality time with loved ones in 2019
In 2018, British adults spent an average of £90 per month on leisure activities.  This is set to almost double to £163 per month in 2019, equating to a whopping £8.2 billion across the UK, up 81 per cent on 2018's £4.5 billion.
The Power of the Towers campaign is our response to this need for family escapism.  It's all about reminding people why they love Alton Towers precisely because:
It helps you escape your day to day lives
And brings you together with the people you love
Because nowhere else makes you feel the way a visit to Alton does
So you leave with amazing memories and can't wait to return
Our new products for 2019 will also help families of all ages have even more fun together whilst they're visiting.
New for 2019, the Alton Towers Dungeon is a hilariously hideous journey through Staffordshire's darkest moments in history and promises scorchingly scary fun for families who dare to enter.
We're pleased to be opening the Alton Towers Stargazing Pods: our new, great value accommodation. AND we've introduced our best entry pass EVER with the new Alton Towers Premium Season Pass which includes entry to the theme park and the Dungeon all season, even during Summer and Scarefest.  With these innovations, we hope even more families will be able to enjoy the Power of the Towers in 2019.
Throughout the year our Power of the Towers campaign will be celebrating all the thrills, laughs and joy that bring people together and help them forget the stresses of everyday life.  From rushing through the burning Wicker Man, to laughing and screaming your way through the new Alton Towers Dungeon or a small child's pure delight when they disco dance with Ubercorn in CBeebies Land.  All the emotions you feel that only a visit to Alton Towers can deliver: THAT is the 'Power of the Towers'.