Top Tips for Scarefest 2018
Thursday October 11th 2018
Justine
Archive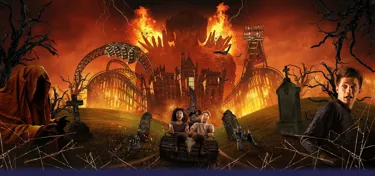 Scarefest is our most spook-tacular time of the season when thousands of ghoulish guests visit us and fill their day with all the fun, frights and thrills on offer. To make sure you can maximise your fun and make the best of Scarefest we have provided some helpful hints and tips for you to follow!
Pre-book! Get ahead of the queues and pre-book your Entrance tickets, Fastracks and even your Maze tickets. Not only because tickets are limited but also this allows you to save time on the day and just show your barcode on your phone
Arrive early… before 12pm if you can so it gives you plenty of time to arrive, park your car and make your way to the turnstiles
If you're a Season Pass holder be sure to pre-book your £10 entry ticket for Scarefest dates to save queuing to collect them on the day
Early scares! Mazes are usually quieter (and still dark and scary inside!) before 4pm, so book an early time slot and keep the evening free for riding in the dark
Plan ahead! Familiarise yourself with opening and closing times. Don't forget, there's no Early Ride Time during Scarefest so Theme Park opens to everyone at 9.30am and most rides at 10am so plan your day to fit the maximum number of rides and attractions in!
App-solutely! Download the Alton Towers Resort App to help plan your day. The app contains up to date queue times, an interactive map and a handy planner where you can plan your day ahead of time and see all ride details
Plan again! There's so much extra entertainment on during Scarefest so we recommend checking on the website and on the park map for full details. Give yourself plenty of time on park to squeeze it all in!
Car share! Try and share the journey with friends or family. It ensures there is plenty of space for everyone, it's better for the environment and car parking is £6 per car so it's better for your wallet too!
Eat outside of peak times – plan to eat early or later than usual as our restaurants and outlets will be most popular between 12.00 – 14.00 and 17.00 – 19.00 so use the extra opening hours to eat outside of these times
Smoke in the zone! We don't at all mind guests smoking/vaping during their visit, however, as family friendly Resort we do ask that you use the designated areas. These are highlighted on the park and on the map with a red 'S'.