Welcome to 2020!
Friday January 31st 2020
Chris
40th Birthday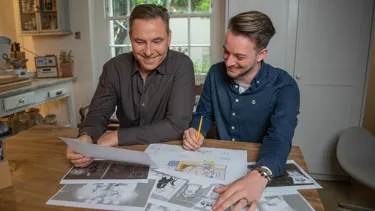 Welcome to the newly relaunched Alton Towers Resort blog, we will be here to bring you the latest news, top tips and take you behind the scenes at Britain's greatest escape! 2020 at Alton Towers Resort is going to be truly splendiferous – stay tuned for more details in the coming weeks… 
2019 was an awesome year for Alton Towers Resort, we opened our minimalist Stargazing Pods, the scary but funny Alton Towers Dungeon, plus little guests could hop aboard Peter Rabbit: Hippity Hop or dance along with the Teletubbies. Once again, we celebrated our jaw-dropping Scarefest, Fireworks and Christmas events – a truly spectacular end to the 2019 season! 
Earlier in January, we announced our brand-new attraction for 2020 – Gangsta Granny: The Ride. Opening in Spring, Gangsta Granny: The Ride is a brand-new family attraction that brings to life David Walliams' most popular children's novel. Guests will step on-board a Royal Carriage, before setting off on a Crown Jewels tour only to be caught up in Ben and Granny's audacious adventure.  We'll be announcing more details about the attraction based on David Walliams' first children's number one best seller as the Spring 2020 opening date approaches. 
Four new Themed Rooms at Alton Towers Hotel are available this year, themed to Gangsta Granny (and you can save up to 20% on stays in those rooms this season when you book by 29 February 2020). 
The eagle-eyed amongst you may have spotted our fantasmical new logo, celebrating our 40th birthday in 2020 (featuring a wondrous waving flag!). We'll have more news about our 40th birthday celebrations coming soon! Over the winter, we also launched a brand-new website so it's easier than ever to plan and book your Alton Towers Resort escapades. 
Also new for 2020 is our updated Premium Season Pass, which now includes free standard car parking! Priced at just £75, the Premium Season Pass grants you entry to the Theme Park throughout the season (including summer weekends & Scarefest), The Alton Towers Dungeon alongside the new free standard car parking perk. We'll be bringing you the latest news and passholder perks throughout the season on the blog. 
We hoped you enjoyed a little insight into 2020 at Alton Towers Resort and we will be back soon further exciting updates!