What's New for 2021?
Monday April 12th 2021
Sarah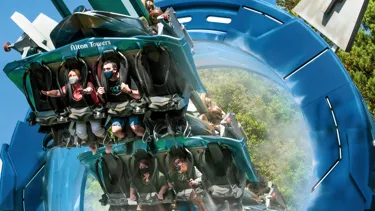 Over the winter months, our team has been busy ensuring over 400 acres of our Resort are in fantastical tip-top condition and set to welcome you back for a fun-packed season. There's plenty of exciting updates to share with you all before you return, so settle in, make yourself a cuppa in your favourite Alton Towers mug, and discover what is new in store for your visit…

A Season of Celebration

As you may have seen on our official social media channels, we're excited to bring you a season jam-packed with celebrations. I'm delighted to share that our fan favourites such as our brilliantly Bavarian Oktoberfest, spooktacular Scarefest and our Fireworks Spectacular are returning, PLUS the arrival of Mardi Gras at the Alton Towers Resort! We're takin' it to the Streets as this Carnival inspired takeover will dazzle you with an explosion of colours, sounds, high energy entertainment and so much more!

Chris Carter, Events and Entertainments Director, said: "This year we are planning to host ongoing fun and thrills for families and thrill-seekers throughout the season. We are excited to be able to offer something new and we are really looking forward to welcoming guests back to the Resort – we've got a team of essential workers currently on site preparing for reopening to ensure we create a safe, memorable, exciting and family-friendly atmosphere that our guests know and love."

There will be plenty more information about our season of celebrations over the coming weeks, but best believe that there's something for everyone to enjoy during our 2021 season as you reunite with friends and family in a safe, Covid-secure environment.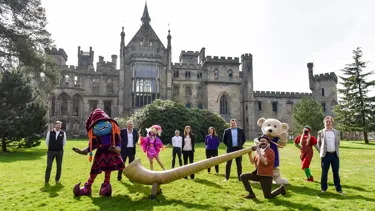 A Season of Safety

Like before during our 2020 season, we have additional hygiene and safety measures in place throughout the Resort including temperature checks on arrival, enhanced cleaning, one-way systems and social distancing markers in our ride queues, shops, restaurants and more. If you haven't visited us since 2019, these measures are in line with the latest UK Government guidance, and we will continue to review and follow local authorities and central Government advice to keep our guests and team members safe – we ask that all our guests do their part to help protect themselves and each other with our top tips:
Familiarise yourself with our super handy guide ahead of your visit here.
Download the NHS COVID-19 smartphone App if you've not done so already – we encourage you to scan the NHS QR code on arrival at our attraction
We know the Resort could be the first time you'll be seeing friends or family this year (which is super exciting!) but we ask that you adhere to all Government guidelines on social distancing and hygiene measures at all times to protect yourself and each other
Please ensure you have a suitable face mask during your visit. All guests (over 11 years old) will now be required to wear masks on all our rides (excluding water rides) and any other locations where they are required. People with certain health conditions and people with a disability are exempt. Government exemptions are outlined here.
With enhanced safety and hygiene measures implemented, our Monorail will be operational from opening day on Monday 12th April, along with select theme park opening times up until a whopping 8pm – take a look at our opening times for more, so you can twist, spin and fly through until dusk!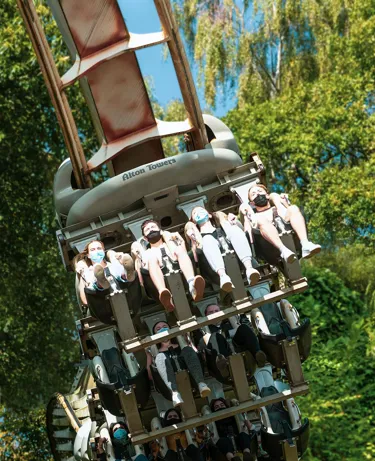 A Season for All

In addition to enhanced safety measures, we've also made some awesome updates to accessibility across the Resort. You'll notice as you head down Towers Street, that No.1 Towers Street serves as a new Guest Service and Accessibility Centre. There, our dedicated team will be able to assist with accessibility requirements, take receipt of lost property and deal with any other general requirements you may have, as well as hosting our wheelchair hire. I'm delighted to share that wheelchairs will be free to hire for guests who require them. Also situated on Towers Street is our newly renovated Quiet Room, should guests require it for medical or religious reasons for example – just speak to a member of the Guest Services team if you require access during your visit. Over in Gloomy Wood, we have installed a new accessible toilet block, plus a brand-new accessible ramp at Duel so it's easier than ever to access the evil that lurks in the heart of the house! Ear defenders and Radar Keys will also be available at retail kiosks across the Resort for guests to utilise during their visit. We're committed to providing an enjoyable escape for all guests, so please do visit our Guest Services or any of our accommodation receptions for further information or assistance throughout your escape with us.
A Season for Memories

Why not take home a piece of the magic with our new 2021 merch? That's right, marvellous merchandise will be available from 12th April so if you're a pin badge completist or a hoodie hoarder, we have something for you. I've included some snaps of some of my favourite items available from when the theme park reopens, but there's oodles available at Towers Trading and our other retail outlets at the Resort.

If taking home some magic through fabulous flora is more of your thing, our lovely Garden Centre situated in The Conservatory will remain open when the theme park reopens on 12th April, due to popular demand! Here, you'll find some boomingly beautiful plants and flowers akin to those found in our historic Gardens.


A Season of Nostalgia

This week, we have announced the arrival of The Retro Squad to the Theme Park! Bounce, slide and fly on 3 new totally awesome and wickedly retro pop-up rides here at the Alton Towers Resort – but "why?", I hear you cry!

41 years ago, a message asking for help to bring more funktastic thrills for the nation to enjoy was sent out into the galaxy and the cry for help was answered by The Retro Squad: Mixtape, Roller Disco and Funk'n'Fly! Together, they set course for Alton Towers Resort but never arrived; the memory of them got lost in time… Until now! These totally rad rides have officially arrived and ready to help guests reach retrotastic new heights!

So, there you have it – you've been updated with what's new for 2021 season! Naturally, we've got oodles of surprises still in store, with more tantalising details on our season of celebration reaching you soon. We absolutely can't wait to welcome you back for what is set to be an unforgettable season, so whether you'll be taking on the greatest jewel heist in history, embarking on funktastic thrills or feeding the flames, we look forward to seeing you soon!