Oblivion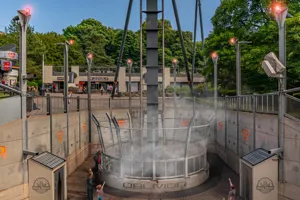 The world's first vertical drop rollercoaster
Oblivion beckons you to face your fears. As you're held, overhanging the edge of the world's first vertical drop rollercoaster, you get a moment to savour what is to come.
You know you shouldn't look, but you won't be able to stop yourself from taking a peek at the colossal vertical 180 feet drop - the tallest at Alton Towers Theme Park.
Prepare yourself - the drop into Oblivion is imminent.
Don't look down!
Putting your body through an intense 4.5G drop, Oblivion is amongst the highest g force roller coasters in the UK. This iconic thrill ride saw the world's introduction to the Dive Coaster.
Going where no ride had gone before, this is the world's first vertical drop roller coaster.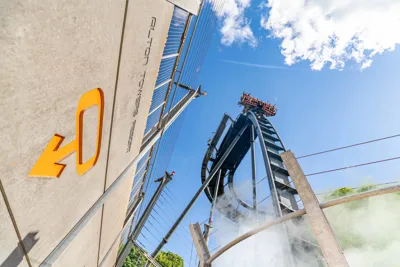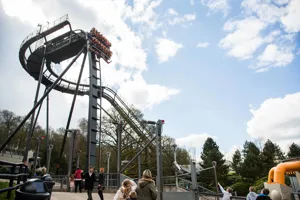 Taking Shape
Oblivion, Alton Towers' Secret Weapon 4, was the fourth of the Ministry of Joy's experiments in X-Sector. Following The Black Hole, Enterprise and Energizer, Oblivion was designed to surpass its neighboring thrill rides.
In an attempt to make the world smile, the Lord of Darkness oversaw his most extreme of experiments, pushing candidates to their mental and physical limits. A near 90-degree drop sees this steel roller coaster giant plummet deep into the ground below.
Thrill Seekers Top Tip: Embrace the force of gravity and let your arms and legs hang beneath you.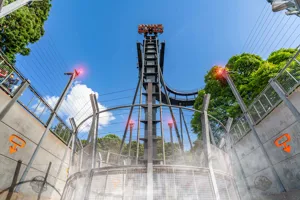 Ride Information
The iconic Oblivion was the world's first vertical drop rollercoaster. That's a 180 feet drop, straight down!
It's no surprise that the rollercoaster gains unrivalled momentum, because an Oblivion shuttle weighs the same as a large elephant.
Since opening in 1998, Oblivion has scared and delighted 1700 Alton Towers visitors every hour that the theme park is open.
Oblivion was built by Bolliger Mabillard, as the first ever dive coaster. After cranking brave thrill seekers 65ft up on a chain lift hill, they wait… before they drop!
Ride Stats
Location: X-Sector
Maximum Height: 60m
Top speed: 110kph
G-Force: +4.5G
Track Length: 373m
Duration: 1:15
Capacity: 1700 riders per hour
Can you ride?
You must be at least 1.4m to ride
It just hangs there for four bone-chilling seconds, that make your blood run cold enough to freeze.