Runaway Mine Train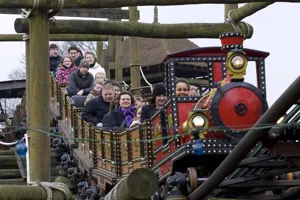 Choo choo!
Deep underground, through the tunnels and around the turns of Katanga Canyon, the old mine train twists and shifts, getting faster and faster after an explosion caused it to break loose. Will it slow down? Can it stop? Nobody knows – so get ready for a knuckle-clenching escapade that's ideal for all ages.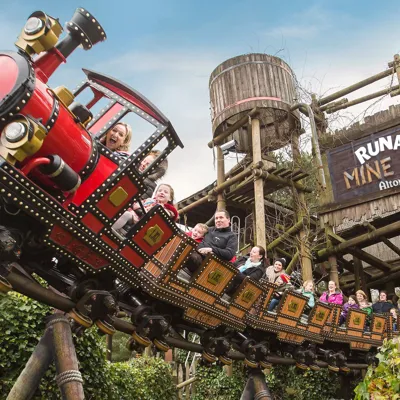 Rollercoaster rushes through Katanga Canyon
Sit two-by-two in the long, winding train carriage as you whizz round and round the track. Riders can expect at least two runs around the 1000ft track, to make the most of every twist and turn. Learn the route, lean into the turns, and get ready to smile for the camera!
Since opening in 1992, the Runaway Mine Train is now the oldest rollercoaster at Alton Towers resort. The big thrill rides might get all of the attention, but this family rollercoaster has been delighting theme park goers for decades. Young thrill seekers can get a taste for rollercoaster adventure on this gentle g-force ride.
Located in the Katanga Canyon area of Alton Towers, this powered steel roller coaster shares a tunnel with the water ride next door! You can wave to riders on the Congo River Rapids from the train!
Ride Stats
Location: Katanga Canyon
Maximum Height: 11m
Top speed:

22.4mph

G-Force:

+2G

Track Length:

456m

Duration:

1:50

Capacity:

1061 riders per hour

Can you ride?
You must be at least 0.9m tall to ride.
If you are under 1.1m, an adult must ride with you.
I have never seen anyone not enjoy it. A great family ride that hurtles through the woodland, through a tunnel and round quite a few fast paced bends.
Did You Know?
The Runaway Mine Train was designed by John Wardley, the rollercoaster designer behind iconic rides like Oblivion, Galactica, Th13teen and Wicker Man.
 This family rollercoaster is a beginners ride for junior thrill seekers, before they brave our biggest attractions!
Theme Park Top Tip: This is a great ride to get funny rollercoaster photos with family and friends! Look out for the camera before you enter the tunnel.