Couples' Getaway Resort Itinerary
Alton Towers Resort is the perfect location for an alternative couples' getaway. Combine a day of thrills at the UK's biggest theme park with a romantic overnight stay and a luxurious spa break.
Treat Yourselves Midweek
Couples often visit for a midweek short break during school term time, so they feel as though they have the theme park to themselves.
But, with over 40 rollercoasters, rides and attractions to explore, it can still be tricky to plan the ultimate day trip.
Make the most of your getaway at Alton Towers with our recommended theme park itinerary.
Make the most of your day by arriving early. The gates open at 10am every day that Alton Towers theme park is open. Before that, our car parks and monorail open from 9am. This allows you to arrive at the gates ahead of opening and enjoy the quietest time of day at the theme park.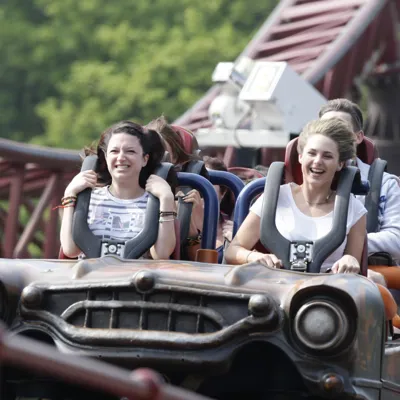 Main Rides Checklist
Rides to Sit Two-by-Two:
Be poised for the perfect couple's photoshoot with a difference, on our two-seater rollercoasters.
Eager visitors will jump straight on the nearest rides in the morning. Instead, head straight to the Dark Forest, to arrive before the crowds. Start your day with a rush on Rita!
Next door to Rita, TH13TEEN is a psychoaster to scare all ages. You'll be thankful to have a partner to cling to in the dark!
Escape the fearsome forest for a family-friendly spin on the Spinball Whizzer. This may look playful, but be warned: the bigger you are, the more you spin!
Head towards the iconic wooden Wicker Man, for an unrivalled immersive experience. In the heart of Mutiny Bay, it's also a great place to stop for lunch.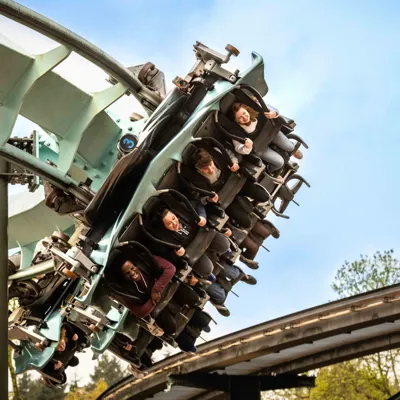 Brave the Major Thrill Rides
Rollercoaster enthusiasts won't want to miss our iconic, record-breaking rides.
Our biggest rides sit side-by-side, so it's easy to jump from one to the next before the buzz wears off!
Forbidden Valley: Home to our inverted rollercoaster, fly to another dimension on Galactica.
X-Sector: Two of our highest g-force coasters, Oblivion and The Smiler, offer record-breaking thrills for any coaster-mad couples. Check the App to see which ride you can get on quicker!
Time to chill out
After experiencing g-force thrills on our biggest rollercoasters, couples love the chance to sit, chat and float down our Congo River Rapids.
Stop for lunch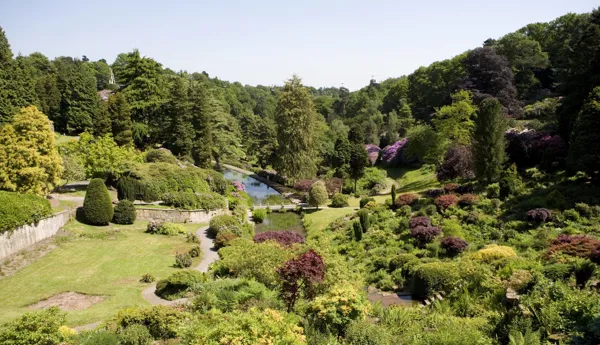 Romatic Picnic
Enjoy a romantic picnic in the Gardens. When the sun is shining, the grade 1 listed Alton Towers Gardens are at their finest. The Gardens date back to 1810, inviting you to step away from theme park mayhem and take a stroll through time. Why not take time out of a thrill-filled day for a scenic stroll and a picnic?
Cosy Tavern
Get cosy at the Welcom-Inn. Our folkloric tavern is the perfect spot for grown ups to enjoy a wide variety of alcoholic and non-alcoholic drinks. On a cold day, there's no better place to snuggle in a sheltered corner. When the sun is shining, make the most of the beer garden, with views over the iconic Wicker Man.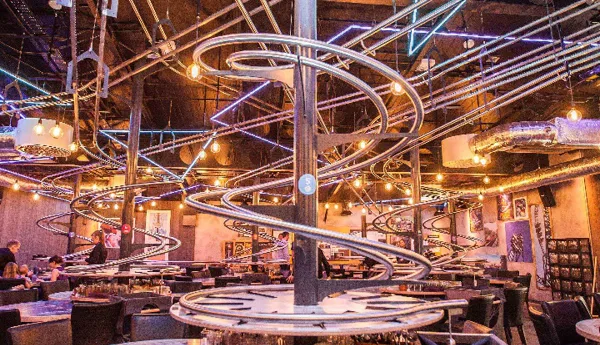 Dinner Date
Or stop for lunch at one of our great theme park restaurants. There's no need to reserve a table to enjoy everything from juicy steaks at Woodcutters Bar and Grill to taste-tingling curries at Eastern Express or Forest Feast. Check our resort map or download the app to find out what's available nearby.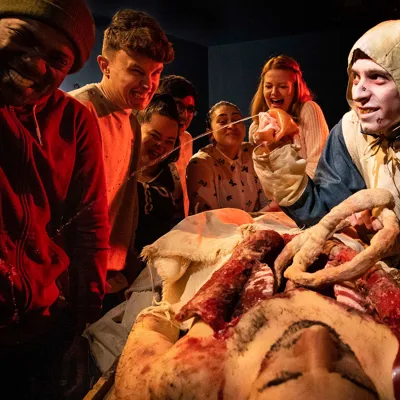 Lunchtime Top Tip
Most theme park visitors tend to break for lunch between 12-1.30pm. If you try to eat before or after this peak time, you can make the most of shorter ride queues!
Try something a bit different...
Take a trip into the gruesome past at The Alton Towers Dungeon. If you're a fan of all things horror, but your partner is more into comedy, you'll both love this immersive experience. You'll laugh, you'll scream and you'll be glad to have a loved one to cling to in the dark indoor attraction.
Did you know:  We have an award-winning conference centre for major events as well as fabulous hotel accommodation and venues. 
Make the Last Ride Count
Most big groups tend to leave the theme park between 3.30-5pm. This clears the way for you to enjoy one last ride together. Remember: the official 'ride closing time' marks the moment the queue shuts, not the ride itself.
On sunny days, ride opening hours can be extended into the evening. So keep an eye on social media or the Alton Towers App for the latest updates!
You could even take a relaxing trip on the Skyride, to fly high above the resort on your way out.
Extend your Getaway
Alton Towers Resort is so much more than a theme park day out: it's the ideal location for an alternative couple's short break. Extend your full day out into a romantic break in our luxurious accommodation.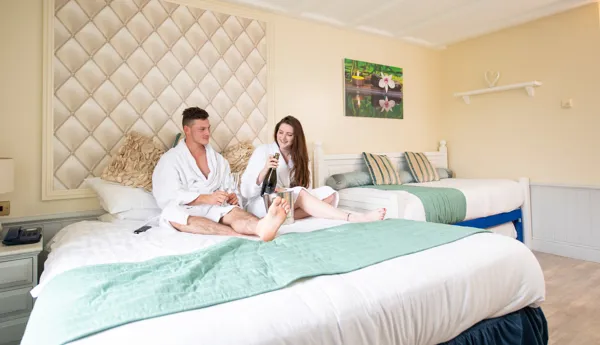 Alton Towers Hotel
This iconic theme park hotel is home to our luxury spa and the opulent Dragon's Bar. Amongst a range of themed hotel rooms, the Dreamy Den Room is ideal for couples to escape reality.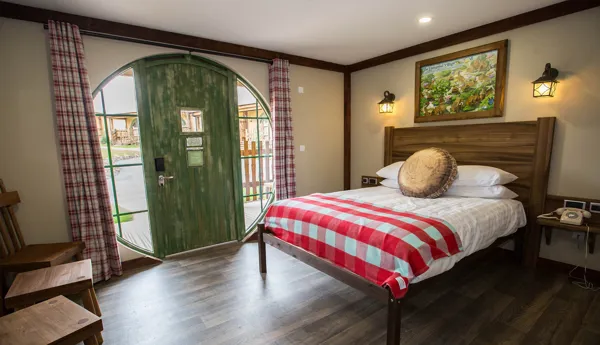 Woodland Lodges
Enjoy luxurious privacy in our individual Enchanted Village log cabins. Venture to one of our restaurants, or just enjoy a cosy night in with a large flat-screen tv.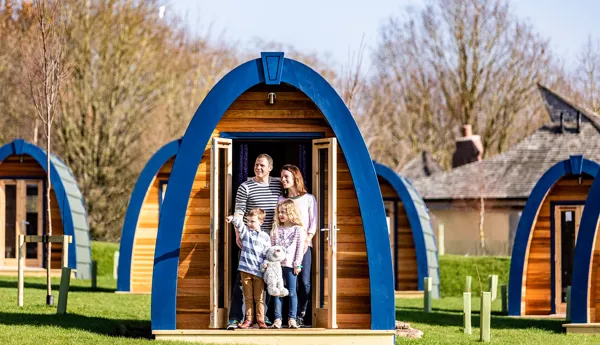 Stargazing Pods
Couples on a budget can still enjoy a romantic weekend break. Enjoy quality time just the two of you as you get back to nature in our rustic sleeping pods.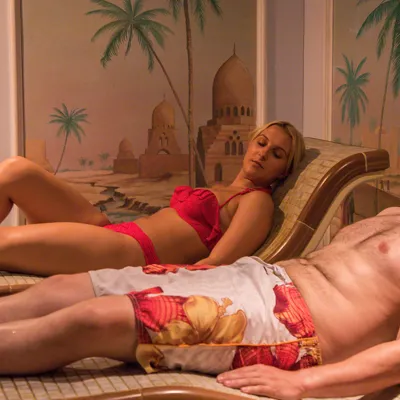 How about a Spa Day?
Complete your couple's short break with a trip to the Alton Towers Spa. With a range of spa treatments to choose from, you're guaranteed to find a package that suits you.
Feel closer than ever with a DIY exfoliating rasul treatment for two. Or treat yourselves to a luxury 'Feel the Fire' package, designed to be enjoyed as a pair. Unwind in our Aqua Relaxation Rooms before a two-course lunch and sumptuous massage.
Contact our Spa directly to book a couples package. Plan your getaway together, or surprise your loved one with a short break they'll never forget.
If you're more into wet and wild than relaxation rooms, we also offer great couples' deals on escapes to our water park. Enjoy quality time together in our blissful, bubbling hot tub pools, on a midweek short break.