Family Theme Park Itinerary
With such a wide variety of family friendly rides and attractions to explore, it can be hard to know where to start! We're here to help you with planning a trip to Alton Towers. Our family day trip itinerary includes something for everyone.
Arrival at Alton Towers
With so much to explore at Alton Towers Resort, make sure to arrive early. The gates open at 10am every day that Alton Towers theme park is open. 
The car park and monorail are open from 9am - so you can arrive at the gates for the moment they open. The first hour of the day is usually the least busy, so plan your day trip itinerary accordingly...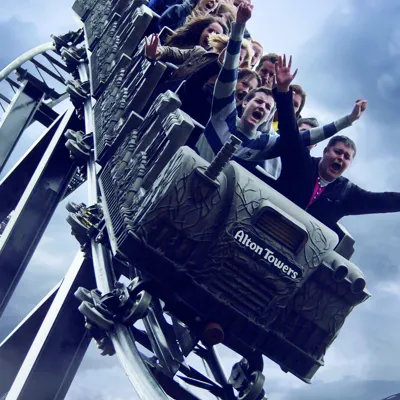 Main Rides Checklist
The main checkpoints for your family day out at Alton Towers Resort may depend on how tall your children are. Some of our rides have height restrictions in place to make sure that everyone stays safe. To make it easy to choose, here's a run down of our biggest and best family rides...
If you're over 1.2m tall: 
TH13TEEN

: the world's first 'psychoaster' was designed as an immersive themed experience. With no inversions and a relatively tame thrill rating at 3.2G-force, this is a great ride for young thrill seekers. The ride is located in the Dark Forest, far from the theme park entrance. This makes is an ideal place to start your day; get there before the crowds!

Wicker Man

: Burst through the flames at the centre of the giant wooden effigy. Wicker Man is the world's most immersive rollercoaster experience, which makes it an exciting adventure for thrill seekers of all ages.

Marauder's Mayhem

: This spinning fairground classic is bound to make you dizzier and dizzier. It's just next door to Wicker Man, at the heart of Mutiny Bay.

Spinball Whizzer

: Take on the Spinball Whizzer towards the end of the day, when the initial rush has died down.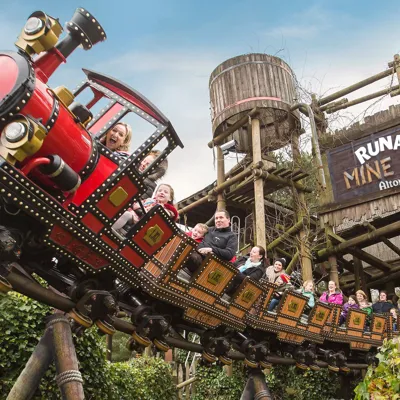 If you're under 1.2m tall:
Don't worry, there are still plenty of wild rides and family fun to enjoy, no matter how tall you are.
The Blade

: Leave your stomach in the air as you swing high and fast on this rusty shard. Sit at the back to reach the highest heights and experience the greatest excitement. After experiencing thrilling g-force on The Blade, you'll be perfectly positioned to head for lunch at the Rollercoaster Restaurant.

Heave Ho

: Heave Ho is a pirate ship like no other. Unlike traditional swinging ship rides, this boat takes to the waves as it spins and swerves, back and forth, round and round…

Runaway Mine Train: Now the oldest rollercoaster at Alton Towers, everyone enjoys a trip on this family-friendly coaster. If you wait to ride the Mine Train later in the day, you might be lucky enough to whizz around the track three or four times!
If you're ready to get wet...
Our theme park water rides are popular with the whole family. Don't be shy, it's time to get soaked! 
Battle Galleons

: At the very heart of the resort, Battle Galleons reigns supreme on the Alton Towers lake. Take control of a giant water gun and try to get your enemies wetter than you! This ride is conveniently located for battle. Climb aboard after riding Heave Ho in Mutiny Bay, or on your way to Spinball Whizzer.
Congo River Rapids

: Nestled deep in Katanga Canyon, jump aboard a life raft and sail down the river. Beware of the double waterfalls that are guaranteed to splash! This ride is right next door to the Runaway Mine Train. 
Most guests tend to break for lunch between 12-1.30pm. This can cause longer queues at food outlets and shorter queues on rides! Try to eat before or after this peak time slot.
Stop for lunch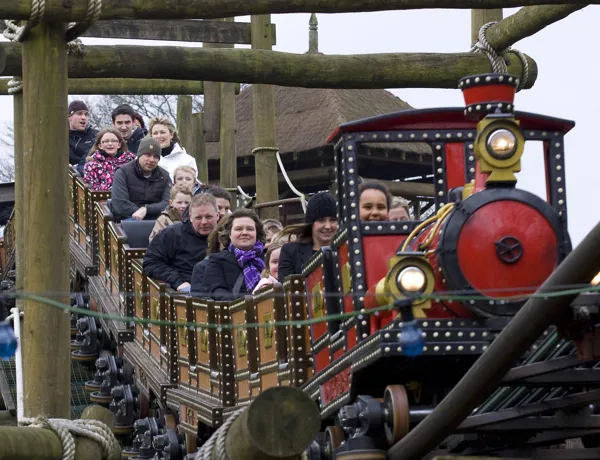 In Katanga Canyon
Refuel your energy at the Explorer's Pizza and Pasta Buffet. This All You Can Eat restaurant is perfect for hungry stomachs of all ages.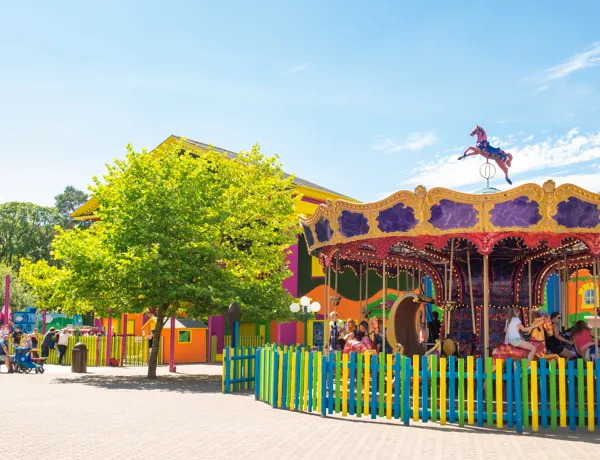 In Cloud Cuckoo Land
Wood Cutter's Bar and Grill is just next door to the Cuckoo Cars Driving School. They serve up delicious steaks, burgers and a children's menu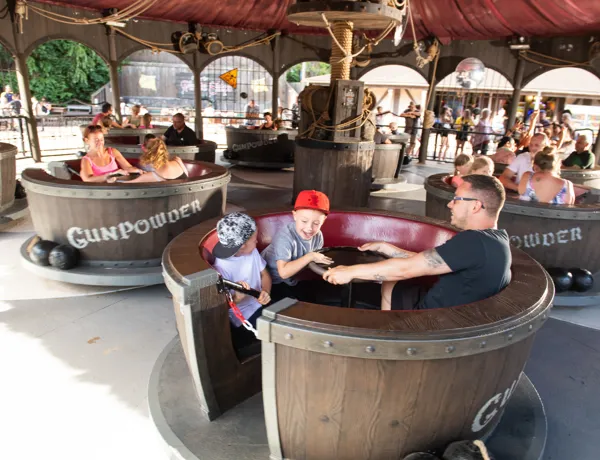 In Mutiny Bay
Try something out of the ordinary and sail to distant lands at the Eastern Express. Try kebabs, halal curries and Asian cuisine to tickle your taste buds. Or, enjoy something family favourites from The Burger Kitchen.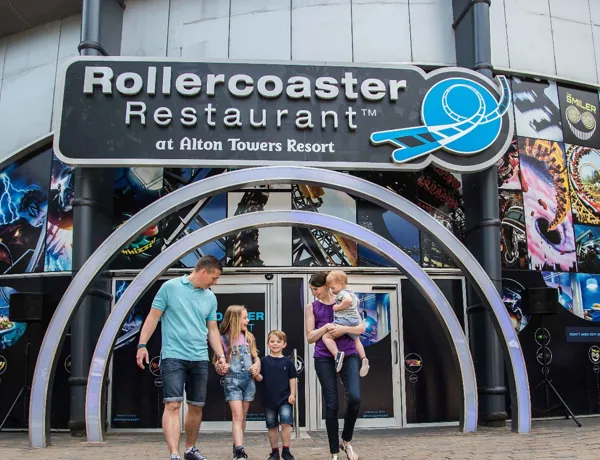 Rollercoaster Restaurant
Why not try the UK's only RollerCoaster Restaurant? Kids love to see their food loop-the-loop towards the table! There's no need to book for lunch, to enjoy this totally unique dining experience.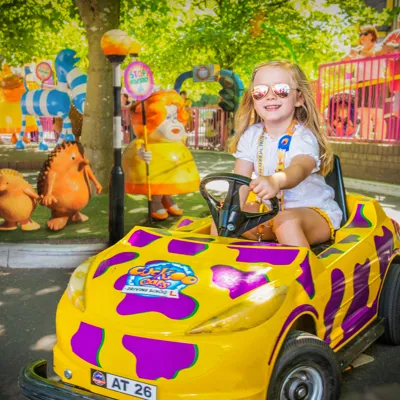 Try Something a bit Different
Once you've enjoyed the biggest kids rides available, why not try something more unusual? Enhance your family day out with an extraordinary haunted adventure.
Or take the time to explore our heritage, with a stately home and gardens which date back to 1810.
You could even visit Sharkbait Reef: take time to relax in Mutiny Bay at our own SEALIFE aquarium. Kids love the chance to get up close with the colourful underwater world.
Haunted Adventures
HEX: The Legend of the Towers

. This multimedia experience will take you deep inside the iconic Towers and bring the historic building to life.

The Alton Towers Dungeon.

 You'll laugh, you'll scream, you'll travel back in time with gruesome detail.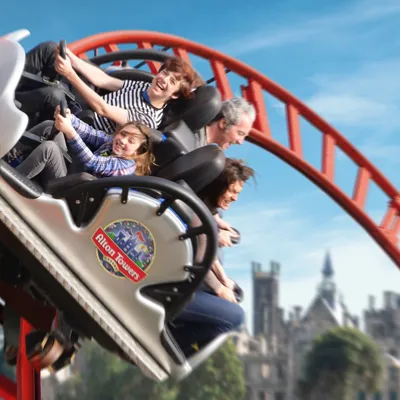 Make the last ride count
Download the Alton Towers App to keep an eye on the latest queue estimates and ride closing times. Remember, the ride closing time marks the moment the queue shuts, not the ride itself. There's still time to take a seat in the last few rides of the day. 
After a full day of adventure, we understand that little legs can get tired. Our multicoloured gondola ride opens at midday to make your journey around the park that little bit easier.
Flying at 61m above the ground, the Skyride is more than just a vehicle, it could be your final adventure on the way back to Towers Street.
On glorious sunny days, rides are sometimes extended for a little longer. So keep an eye on social media or the Alton Towers App for the latest updates!
On the way out...
Remember your family day out with priceless photos from your favourite rides.
If you've ordered any rollercoaster photos throughout the day, you can collect these at the exit of the theme park.
Extend Your Stay
Why not extend your family day out into a short break? Settle in to a unique themed room at the Alton Towers Hotel, or enjoy the privacy of a Woodland Lodge. Enjoy outdoor play areas and plenty of family hotel entertainment, including live shows and activities for all ages.
Try Something New
Then, make the most of a second day full of family fun. Return to the theme park or try something new. How about a free round of Extraordinary Golf? Or slip and slide your way around the Alton Towers water park!
Let us know!
We love hearing your favourite routes around the theme park. If you have any top tips or recommendations, get in touch to let us know!