Thrill Seekers Theme Park Itinerary
With over 40 rollercoasters, rides and attractions to explore, it can be difficult to know where to start! Plan ahead to make the most of your day out at the UK's biggest theme park resort.
Arrival at Alton Towers
The early bird catches the worm and also maximises thrills! Arrive early for a full day of fun! The gates open at 10am every day that Alton Towers theme park is open. 
However, the car park and monorail are open from 9am - so you can make sure you're at the gates the moment they open. The first hour of the day is usually the quietest, so aim to arrive before the crowds.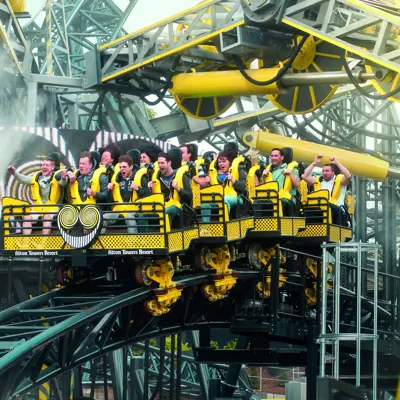 Main Rides Checklist
Thrill seekers will want to take on our seven biggest secret weapons: 
Wicker Man, Galactica, Nemesis, Oblivion, Rita, Thirteen and The Smiler.
TOP TIP: Many guests are so excited to leap on board that they prioritise the rides closest to the entrance. However, if you head straight to the Forbidden Valley or Dark Forest, you'll likely arrive before the queues!
Get your day off to a flying start! Head straight for Galactica and blast straight to another dimension 
Next stop: Nemesis. Nemesis is just stumbling distance from Galactica, so prepare yourself for back-to-back g-force thrills!
Walk through the Haunted Hollow on your way to Wicker Man. Prepare for the world's most immersive rollercoaster experience!
Head past the iconic Towers and over to X-Sector. Plummet 180ft on Oblivion and take on The Smiler's record-breaking 14 loops! Which one first? You decide.
End the day in the Dark Forest. Brave TH13TEEN's freefall drop before you escape the dark powers of the forest at full speed on Rita. 
Stop for Lunch
Thrill seekers will most likely gravitate towards the theme park's biggest and best rollercoasters. Luckily there are plenty of fantastic places to eat near each major ride and attraction.
Most guests tend to break for lunch between 12-1.30pm. Understandably, this can cause longer queues at food outlets and shorter queues on major rides! Eat early, eat late, or even have a picnic in the queue, to make the most of every minute.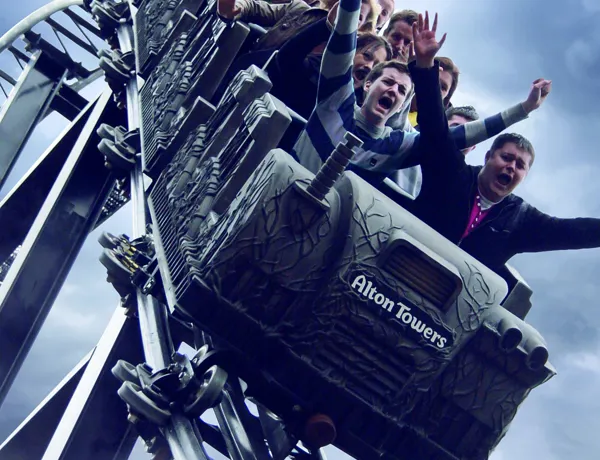 Near Rita & TH13TEEN
Try The Burger Kitchen, Forest Feast or Woodcutters Bar and Grill.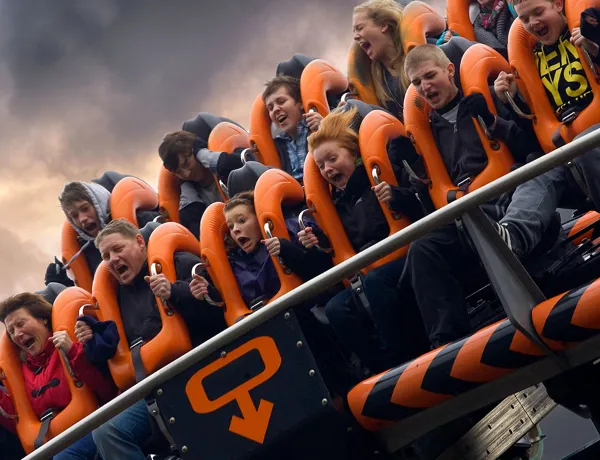 By The Smiler & Oblivion
Enjoy Just Chicken, followed by dessert at the Donut Factory.
Near Wicker Man
Enjoy a warm welcome at the Welcom-Inn, explore the Eastern Express or grab a quick bite at The Burger Kitchen.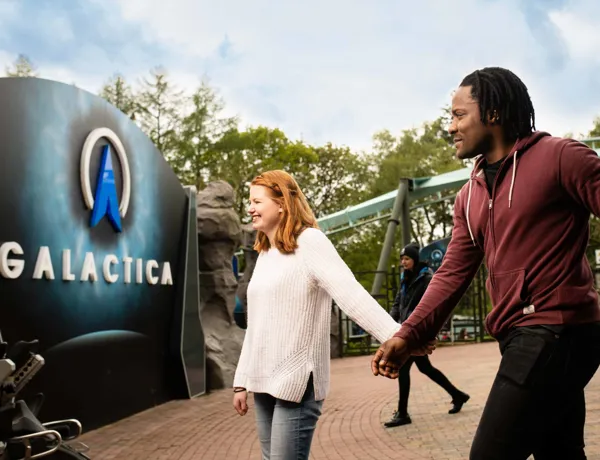 By Galactica & Nemesis
Sprinkle extra thrill-factor on your lunch at the UK's first Rollercoaster Restaurant.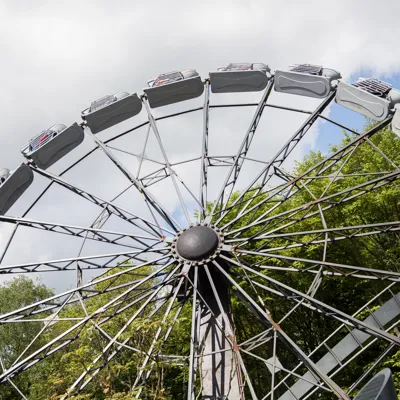 Try Something a bit Different
Thrill seekers and rollercoaster fans naturally gravitate towards our record-breaking main attractions. But why not try something a bit different?
Download the Alton Towers App for the latest queue times and ride updates. (Out of battery? Look for our electronic information boards around the park.) If all seven coasters are unusually busy, there are still plenty of thrills to be found elsewhere. Try our some of our smaller rides with just as much G-Force! 
Enterprise - spin around and around, building up to 3G force on an iconic theme park favourite.
The Blade - sit at the back of this classic swing ride to experience zero-gravity thrills as you leave your stomach in the air.
Spinball Whizzer - this ride is fun for all ages, but the bigger you are, the more your pinball will spin!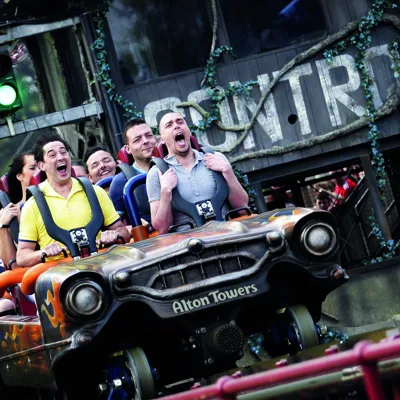 Make the Last Ride Count
A majority of big groups and school trips to the theme park tend to leave between 3.30-5pm. Depending on the time of year, this leaves a window for some last minute thrill seeking!
As with the start of the day, rides near the entrance are most popular towards closing time. Everyone wants to squeeze in one last experience on their way to the carpark. This means, the furthest rides will clear out before those nearest Towers Street. Finish your day with one last freefall on Th13teen or 4.7G-force on Rita as your rush towards the end of the day.
Remember: ride closing time marks the moment the queue shuts, not the ride itself. There's still time to take a seat in the last few rides of the day. If you've already completed the full set of thrill rides, pick your favourite and tackle it again with shorter queues almost guaranteed. 
On glorious sunny days, rides are sometimes extended for a little longer. So keep an eye on social media or the Alton Towers App for the latest updates!
On the way out...
If you've ordered any rollercoaster photos to remember your day out, you can collect these at the exit of the theme park.
This means that you can buy priceless mementos of your adventure, but still jump on board your favourite thrill rides unencumbered.
Extend Your Stay
For the chance to relive all your favourite thrill rides again, extend your thrill seeker day out into a short break. Stay overnight at Alton Towers Resort and  upgrade your ticket to enjoy a second day at the theme park! Wake up early and, after a delicious breakfast before heading direct to Theme Park as soon as it opens!
Let us know!
If you're a regular thrill seeker at Alton Towers, you may well have your own favourite route around the park. Get in touch and let us know your recommendations for the perfect theme park itinerary!