Experience a magical Christmas escape at Alton Towers Resort
Thursday November 21st 2019
Alton Towers Resort
Christmas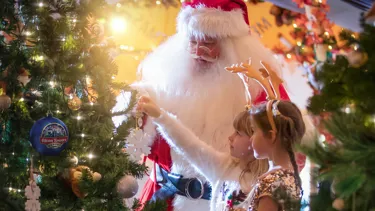 Get away with your families for the ultimate short break this festive season.  You won't believe just how many treats lay in store with every Santa's Sleepover including:
An overnight stay in one of our fabulously themed hotels
A unique visit to meet Santa (with a delightful gift for each child)
Tickets to our amazing Pantomime – Robin Hood
Tickets to the Theme Park with a selection of family rides and attractions including CBeebies Land!
Tickets to the wacky Caribbean themed Waterpark
9 holes of crazy, zany Extraordinary Golf
A fantastically festive evening meal
A delicious buffet breakfast
And last but not least - fabulous evening entertainment including the chance to meet and greet some of your favourite Alton Towers characters, a Christmas cinema and a farewell from Santa.
This unique, festive opportunity is available for families on a number of dates throughout December. With prices ranging from just £215 for a family of four, guests having the choice of three different magical experiences:
Santa's Woodland Grotto - Meet the Elves in the heart of CBeebies Land and follow them down Mistletoe Lane to Santa's cosy Woodland Grotto. Santa has taken a break from his Christmas preparations and can't wait to spend some quality time with you and your family. Capture the moment with a perfect family photo of you and Santa Claus. Enjoy this magical Santa visit when you book a Christmas hotel break in the CBeebies Land Hotel or Alton Towers Hotel.
Santa's Festive Breakfast - Mrs Claus is busy preparing a glorious breakfast feast for you to enjoy! Along the way you will meet Sir Algenon and his friends, Eric the Yeti and Darwin the Dodo, as they share stories of their intrepid explorations to the North Pole. The Elves have some festive songs to share, and there's an extra special visit from Father Christmas himself! Opt for this magical Santa visit when you book a Christmas hotel break in the Alton Towers Hotel or a luxury Treehouse.
Christmas Party with Santa - The fairies and elves are hosting a party in their festive-themed Tipi! Take part in a fun-filled family occasion with singing, dancing and of course two very special guests of honour – Santa and Mrs. Claus. Plus, enjoy a tasty festive drink – mulled wine for the adults and hot chocolate for children. Take part in Santa's Tipi Party when you stay in the Splash Landings Hotel
Santa's Sleepover at Alton Towers Resort is available on 24th, November, 1st, 8th and from 14th to 23rd December 2019.  For more information or to book visit www.altontowers.com.
If you need to relax after the big day enjoy a Festive Break to ensure the fun doesn't stop! Alton Towers Resort is the perfect base for a post-Christmas getaway, with a selection of rides and attractions, the wonderfully wacky waterpark and enjoy our fabulous pantomime, Robin Hood, brand new for 2019.
Festive Breaks run from December 27th to January 6th and include:
An overnight stay in our amazing accommodation
Our fun-filled Pantomime, Robin Hood
One day Theme Park tickets with selected rides and attractions including CBeebies Land and Mutiny Bay!
One day Waterpark tickets
A delicious buffet breakfast
Evening entertainment
9 holes of crazy, zany Extraordinary Golf