Alton Towers Resort reveals first look images of 'Gangsta Granny: The Ride' which plans to open Monday 17th May
Wednesday March 24th 2021
Alton Towers Resort
Gangsta Granny: The Ride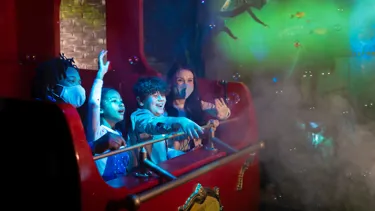 Alton Towers Resort today revealed first look images of Gangsta Granny: The Ride from 'The World of David Walliams'. With the ride planned to launch on Monday 17th May, the new images reveal the ground-breaking, brand-new family attraction that brings to life David Walliams' most popular children's novel, Gangsta Granny. The thrilling new multi-sensory ride experience will see guests join the main characters as they attempt the greatest heist in the history of the world: to steal the Crown Jewels.
The all-new images reveal the exhilarating journey guests will take from the very moment they step foot on the Royal Carriage through to a sneak peek of the 3D projection-mapping and animation inspired by the artwork of Tony Ross, as well as the Gangsta Granny themed bedrooms in the Alton Towers Hotel.
The newly revealed images show how guests will aboard a Royal Carriage as they set off on a remarkable tour of London's Crown Jewels only to be swept-up in Ben and Granny's exhilarating escapade. The ride will whiz, twist and spin through the sewers on a 360° special effect laden wild ride to break into the Crown Jewels vault. Passengers will see, feel, hear and even smell an electrifying and unique re-telling of the Gangsta Granny story. Guests will descend with Ben and Granny into the sewers, be chased through the streets of London and even come face to face with the Queen: but will the madcap scheme succeed?
The fun doesn't stop there: a whole area of the theme park will be transformed, inspired by 'The World of David Walliams'. As well as Gangsta Granny: The Ride, the themed area will feature a host of other rides and attractions where guests can:
Pick up a crazy bargain in Raj's Shop
Race on a regal thoroughbred on the Royal Carousel
Giggle with delight on Raj's Bouncy Bottom Burp
Encounter other surprises and twists along the way
"I can't wait for Gangsta Granny: The Ride to finally come to life and open its doors to families." comments comedian, actor and best-selling author David Walliams. "The latest images really showcase the amazing production behind the ride and it's a real delight to see my characters brought to life". 
To find out more about Gangsta Granny: The Ride, buy tickets or book a stay visit www.altontowers.com