Celebrate 15 years of Scarefest!
Tuesday October 4th 2022
Elle
Scarefest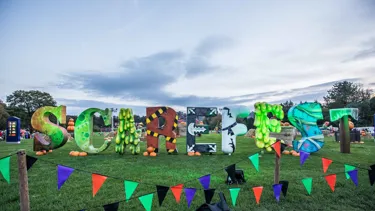 This year, we're celebrating 15 years of our award-winning Scarefest, the UK's favourite spooktacular event! To mark this occasion, we have a brand-new scare attraction, The Invitation, where guests can descend into a burial chamber for a grave experience that will live with you for eternity.  
The Invitation is a brand-new scare attraction that has never been seen or heard at Scarefest before. This horrifyingly unique and immersive attraction is an audio experience, most of which takes place in complete darkness. Guests are invited to visit the Lakeside Cemetery mausoleum where the friendly funeral director is dying to meet you. Enter the vault to choose your final resting place but proceed with caution, you will not be alone, some caskets have already been filled and their occupants are keen to meet you.  
Check out our new thrilling promotional videos for The Invitation below: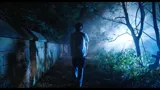 This Scarefest also sees the return of three multi-award-winning scare mazes, which are: 
The Attic: Terror of the Towers

: An unforgettable and truly chilling experience set in the eaves of the Theme Park's famous and historical Tower ruins. Rumoured to be haunted by 'the Governess …but who will be her next victim?

 

Darkest Depths

:

Get ready for a terrifying new adventure aboard 'The Mutiny', a notoriously spine-chilling ghost ship. You'll venture into the darkest depths, avoiding the hazardous calls, dodge the swords of terrifyingly ghoulish pirate and coming face to face with the Kraken – the legendary monster of the seas! 

 
Altonville Mine Tours: Uncover The Legend of the Skin Snatchers:

 

Enter the damp, disused mine, which is believed to have once been home to a family of village outcasts. Nicknamed the 'Skin Snatchers' by local residents, their spine-chilling secret is about to be unearthed.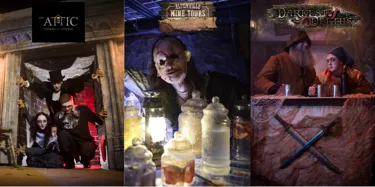 Returning to Scarefest for the second year is fantabulous Trick O Treat Town, but this time in a new partnership with HARBO… meaning this family-friendly attraction just got a whole lot sweeter! At Trick O Treat Town with HARIBO every day is Halloween, as the townsfolk favourite pastime is trick-or-treating for the town's visitors. Guests will be given a tote bag upon entering the indoor attraction and start by taking a walk down Spooky Avenue before moving onto houses in Treat Street, Witchy Woods, The Graveyard and The Hill. Knock on the doors to collect lots of HARIBO sweet treats and other spooky surprises but be careful as there will be tricks aplenty…!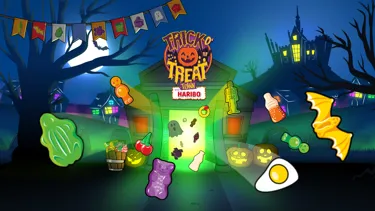 But that's not all for little spook-seekers, we also have a whole range of family friendly attractions and shows including: 
Freaky Fun Zone!:

Join our five super-freaky Halloween characters in their mind-blowingly multi-coloured playground on the front lawns. Enjoy spooktacular shows, meet, and greets, photo opportunities and more!

 

The Alton Ancestors:

The Alton Ancestors are back from the dead and in their favourite haunts. Standing still is not an option so celebrate Halloween by learning their dance moves and joining in! 

 

Garden Lights Walk: Whispering Souls:

Enjoy the Gardens as never before and witness them come to life in a whole new spooktacular…LIGHT!

 

CBeebies Land Monster Ball:

Join the CBeebies characters live in Big Fun ShowTime as they dance, play games, and learn all about spooky things! Features Bing, Ubercorn, Peter Rabbit and many more of your favourite CBeebies friends!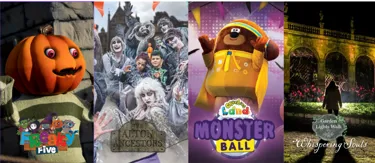 With so many spooktacular shows and attractions to explore, we've put together our Scarefest Top Tips to ensure you have the best day possible!  
Download the app:

Keep up to date with the latest show times and ride updates, plan your route around the Resort, purchase tickets on the day and even unlock access to offers and discounts! 

 

Pre-book:

To make the most of your spooky day out, we recommend pre-booking your entry tickets, Fastracks and Scare Attraction tickets. You can do this via our website

Capture the memories:

We love seeing your spooky snaps during Scarefest, be sure to take lots of photos and share them with us by tagging us in them and using the hashtag #AltonTowersResort 

 
Time for lunch:

Most guests tend to break for lunch between 12-1:30pm, we advise eating early or late to avoid the queues and make the most of every minute at the Resort.

 

Extend your stay:

Turn your fantabulous day into a spectacular short break by upgrading your ticket any enjoy a second day of thrills at the Resort.  

Stay spooky:

Our best Top Tip of all is to have a frightfully fun day out with your friends and family in celebration 15 years of Scarefest!