Christmas 2021 is HERE!
Friday November 26th 2021
Lew
Christmas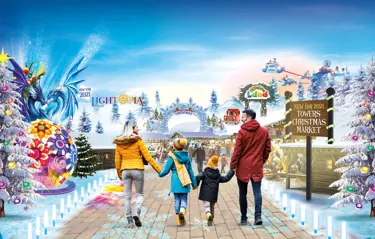 It's the most wonderful time of the year!
Our dedicated team of elves have been busy decking the halls, jingling the bells and sprinkling some festive spirit for all our fantabulous Christmas experiences!
So what's it all about?
Christmas at Alton Towers Resort is set to be bigger and better than ever this year, with our new free Christmas Market, specially selected rides and attractions, entertainment and of course the spectacular Lightopia – Its not to be missed! It's full steam ahead on the metaphorical Christmas express and we're excited to share more details on all the Festive fun before the big day tomorrow (Nov 27th)!
We know the festivities are only a day away, but what would a blog post be without some behind the scenes teasers and secrets! Keep reading until the end for some behind the scenes sneak peeks, fun facts and teasers for what's to come…
Lightopia – Seasonal Wonderland
Brand new for 2021 is Europe's longest light and lantern trail—Lightopia! Get set to take an immersive journey through the four seasons in a spectacular array of illuminated sights and wonders.
The Seasonal Wonderland trail will take you on a magical 2.3km journey, with 120 different groups of lantern and light installations and over one million LED light bulbs, offering the ultimate multisensory experience. This winter, Lightopia will bring never-seen-before, bespoke light installations, and for the first time ever, will showcase a state-of-the-art laser show that will dazzle guests with colourful illuminations, specifically designed for the UK's biggest theme park.
Chris Carter, Events and Entertainments Director at Alton Towers Resort, said: "Last year, Christmas was cancelled for so many people, which is why this year, Christmas will be bigger and better than ever and we are very excited to be working with Lightopia to bring this amazing attraction to life!
"We remain committed to creating a much-needed form of escapism for families and thrill-seekers across the UK and beyond. We've got an incredible line-up of seasonal entertainment and festive delights, which we're sure our guests will love."
You're invited to journey along the seasonal pathway, stepping foot into a unique projection that has been curated to beautifully capture each season and instantly transport you into that time of the year:
Winter: This is where the magic starts, get into the Christmas spirit as the most wonderful time of the year is brought to life with floor projections, immersive dancing lights and smoke bubbles. Continue through the enchanted lands to see majestic winter animals and incredibly fantastical creatures.
Spring: Witness an explosion of colours, flowers and butterflies as nature blooms and awakens, leading the way through sparkling string lights with birds and a giant lantern tree with cute Easter animals.
Summer: Get ready to be transported to the ultimate Summer holiday destination, with brightly coloured floor projections, fun beach party themed lights and lanterns, and a stunning, state-of-the-art laser show.
Autumn: As the leaves start to fall, guests will follow the floor projections as the season changes. Enter a magical world with mythical creatures, friendly ghosts, pumpkins, skeletons and a jaw dropping 6m tall Halloween handmade haunted house and other wicked and spooktacular surprises.
Water Show: Expect to be dazzled as the lake in front of the iconic Towers is brought to life with a spectacular Christmas themed water and light show. The 45m wide and 25m tall water curtain, synchronized dancing lights, shining stars and breath-taking soundtracks, will offer a magnificent and magical finale, the perfect place to create unforgettable memories with friends and family this Christmas.
There's not long to go until all is revealed and we wouldn't like to give too much away, but with the permission of our chief elves, we've grabbed some sneak peeks at the sensational spectacle set to burst into life very soon:
We're sure you agree that there's photo opportunities a-plenty – So we're expecting some positively fantabulous pictures! Be sure to tweet us, tag us and send us any festive photos of your journey through time in Lightopia!
Fantabulous Free Christmas Market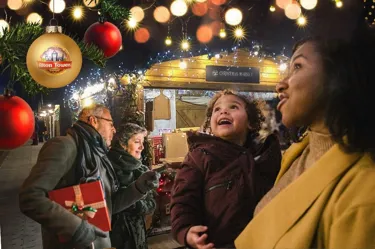 What's Christmas without grabbing a hot drink with friends and loved ones or browsing through Christmassy crafts and gifts. Our new for 2021 free Christmas Market is sure to be a hit with the whole family, with over 60 independent stalls including:
Artisan Food & Drink
Stocking fillers
Handmade Gifts galore
and Alton Towers branded Christmas goodies!
Be sure to soak up the Christmas atmosphere with live entertainment at the Towers Street Bandstand before getting cosy in one of our festive huts. Just imagine tucking into some festive treats with a view of the winter sun setting over the Towers ruins!
Festive Fun & Thrills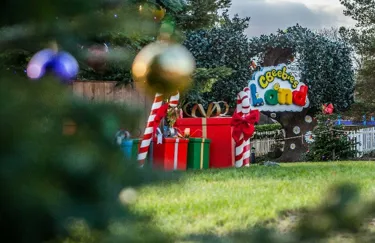 Don't worry little thrillseekers we haven't forgotten about you! As part of our Festive Day Out you can experience specially selected family rides and attractions perfect for the whole family! Where else can you celebrate Christmas with Pirates in Mutiny Bay, take on the greatest jewel heist in history with Ben and Granny on Gangsta Granny: The Ride or meet your favourite CBeebies friends?
The full list of fantabulously festive attractions open on selected dates can be found here
Santa's Sleepover
Returning for 2021 is the family fave Santa's Sleepover. The festive package includes an overnight stay in one of the fantastically themed hotels, a visit to Santa's Grotto, one day entry to the theme park, plus the brand-new Towers Christmas Market and the Gardens Lights Walk: Twinkling Stars, plus so much more!
Festive Goodies Galore!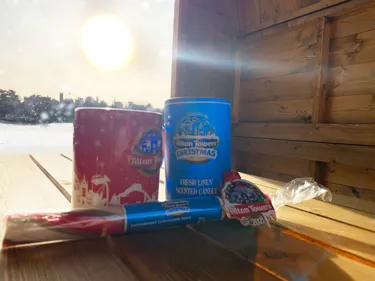 Looking for that perfect stocking filler? An early Christmas gift from you to yourself? Maybe you're an avid badge collector looking for a memento for the festive season? Then look no further this year with our full fantabulous range of seasonal gifts (including a rather fetching Christmas jumper that's sure to fill everyone else with jealousy this Christmas Jumper Day – Dec 10th)
Did You Know?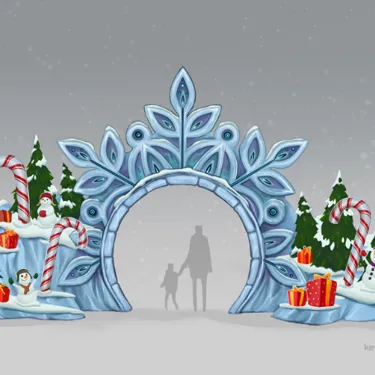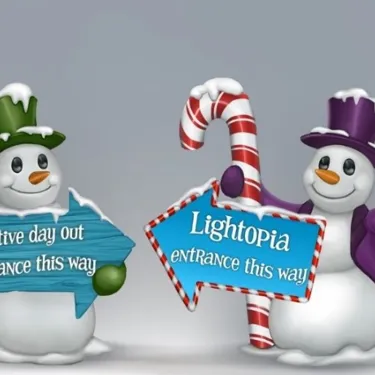 Over 15,000 Baubles have been hung around the resort (No need to count – you can trust us on this one!)
A dedicated team of over 20 Christmas Elves will be hard at work spreading festive cheer in our Christmas Grotto.
Every member of the Alton Towers team has a secret elf name…
300 Christmas trees can be found around the resort
Over 1 mile of garland has been decorated and laid out ready for the big day!
The Towers Street bandstand has taken inspiration from features in the garden such as the bandstand & the Pagoda Fountain
Tree-rific Top Tips: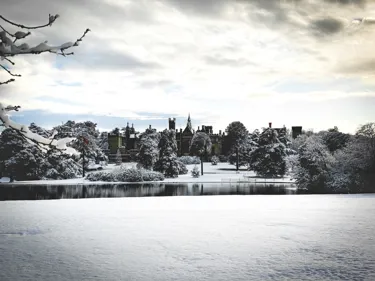 Get in the festive spirit – Don't be afraid to put on your best elf costume, sing along to the Christmas tunes and just let loose!
Explore – We know that during the summer season there's a rush to experience as many thrilliant rides as possible. Why not take these quieter days to explore our enchanting gardens & historic grounds with the twilight transformation of the gardens into : The Garden Lights Walk – Twinkling Stars!
Don't Rush – With 11-8pm opening times, there's plenty of time to soak in the atmosphere and get your Festive Fix around the resort. Take your time and enjoy yourself!
Wrap up warm – Hot chocolate can only do so much! Be sure to layer up in your cosiest Christmas clothing to keep Jack Frost at bay!
Bring a good camera - There's plenty of fun photo ops dotted around the resort (Perfect for the family Christmas card shoot!) Be sure to send in any of your seasonal snaps to us on our social media accounts!
Memory Lane
With Christmas being cancelled for so many people last year, we're keen this Christmas to look back at Festive Days gone-by. If you've made magical Christmas memories with us over the years , or maybe you've decorated your Christmas tree with an Alton Towers themed bauble - we'd love to see! Tag us in your seasonal snaps from previous holiday seasons with #MyAltonXmasMemory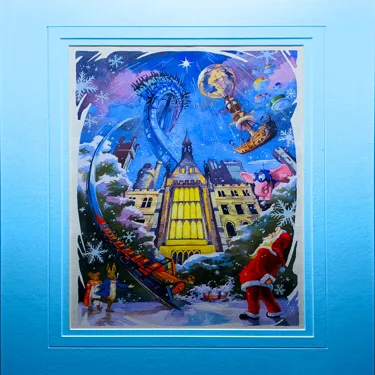 Well – that's a wrap!
Don't miss out on the ultimate Christmas experience. Dust off your tackiest & most fashionably questionable Christmas jumper, pull together your best Christmas playlist for the car journey here and join us for a fantabulous festive day out!
Access to family rides & attractions

CBeebies Land: Peter Rabbit Hippity Hop, Octonauts Rollercoaster Adventure, Go Jetters Vroomster Zoom Ride, Bugbie-Go-Round, Postman Pat Parcel Post, In The Night Garden Magical Boat Ride, Justin's House Pie-O-Matic Factory, 

Mutiny Bay: Marauders Mayhem, Heave Ho 

World of David Walliam's: Gangsta Granny: The Ride, Cuckoo Cars Driving School, The Royal Carousel, Raj's Bouncy Bottom Burp, Flavio's Fabulous Fandango, 

Other: Spinball Whizzer, Sharkbait Reef by SEA LIFE, Please note: Open rides are subject to availability and will be weather permitting. Resort benefits, extras and activities are subject to change and availability.  

NEW for 2023 show - Hey Duggee
UK's only CBeebies Land at Christmas
Fantabulously Festive Atmosphere
Journey through Lightopia: Christmas Wonder Light Trail