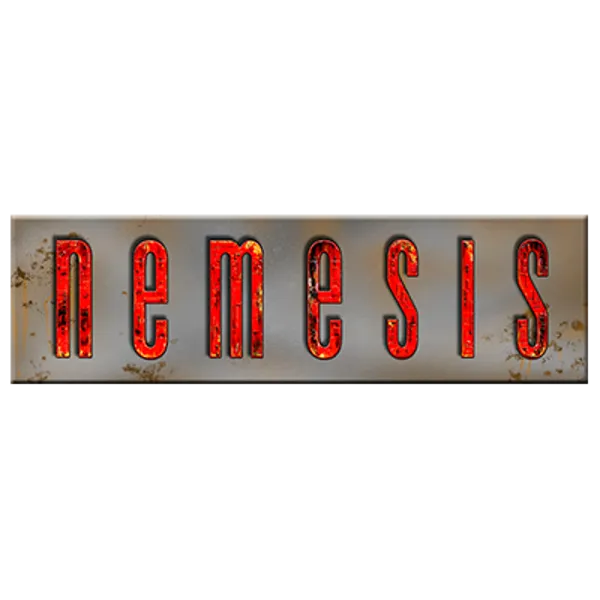 Nemesis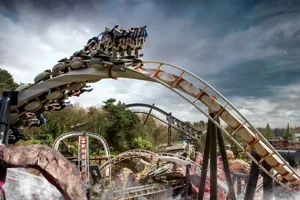 Sit back, it's fright time!
Experience 3.5 G-force as you race past the rocks and rivers of the Forbidden Valley at 50mph!
Inverted on the track, Nemesis carries dangling thrill seekers around 250 tonnes of tangled steel. Ride one of the best rollercoasters in the UK as it corkscrews, spins and loops. Nemesis is, without a doubt, one of the most heart-pounding, exciting and exhilarating rides you will ever experience!
Sit back, it's fright time!
The Legend of Nemesis
Nemesis comes from another dimension, a dimension beyond our imagination! Deep beneath the ground at Alton Towers Resort lived a strange being…
After being disturbed during maintenance, the monster that lay dormant was unleashed, wreaking havoc on the surrounding area. The Phalanx immediately launched their extreme security division to pin down the creature and disable it.
It took 250 tonnes of steel, bent and twisted around the monster, to hold it down. We converted the steel that imprisons the creature into the tangled rollercoaster you see here today.
The monster of the Forbidden Valley is dormant once again - but there's no knowing when it'll next break free. What that g-force you felt? Or something sinister from much deeper beneath the ground?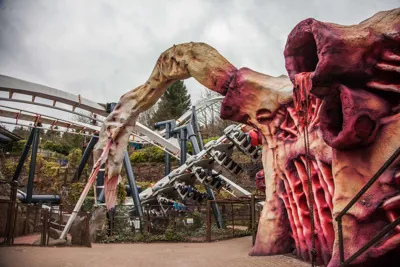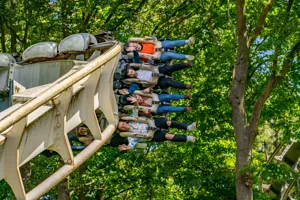 Ride the twists and turns of Nemesis, Alton Towers' inverted steel monster!
"The layout of Nemesis broke the rules [...] What we're doing in twisted steel is what a scriptwriter does with words." - John Wardley, ride designer.
Unlike most other rollercoasters with a 32m drop, this ride keeps you close to the ground. Dive into an underground tunnel and hope that your feet don't touch the river of blood that flows beneath!
Ride Stats
Location

Forbidden Valley

Maximum Height

13m

Top speed

81kph

G-force

+3.5G

Track Length

716m

Ride Features

4 inversions

Capacity

1400 rides per hour

Can you ride?

You must be at least 1.4m to ride.
Nemesis is as unique as they come. [...] The flow of elements and how they are used are unlike any other coaster in the world.
Did You Know?
Since Nemesis opened in 1994, Alton Towers has been home to Europe's first ever inverted roller coaster!

In fact, Nemesis was only the second inverted rollercoaster to be built in any theme park worldwide!

When it was being developed. Nemesis's project name was Secret Weapon 3 (SW3)

Nemesis had it's own fizzy drink and comic book made to promote the ride when it opened.

Nemesis has a sister: visit Thorpe Park to ride Nemesis Inferno.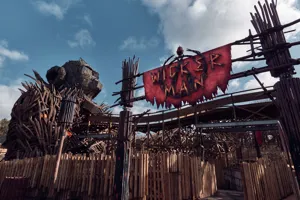 Other Thrill Rides and Attractions
If you're a fan of Nemesis, then there are plenty of other thrill rides and attractions at Alton Towers.
Have you experienced The Smiler? The Smiler is the world's first 14 loop rollercoaster. It's twisting track combines the world beating 14 loops with a speed of 85 km/hr that will challenge your body and mind.
Or brave Wicker Man, the UK's first new wooden coaster built in over 20 years, a globally unique experience that reconnects riders with the primal essence of rollercoasters.