The countdown is on, don't PANIC!
Tuesday September 5th 2023
Alton Towers Resort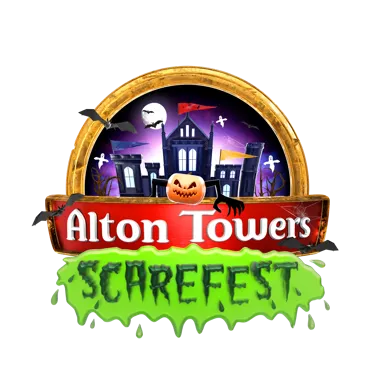 Alton Towers Resort is redefining horror attractions with a terrifying new scare attraction, as the UK's favourite spooktacular event returns for the 2023 season with more thrilling frights and family spooks.
This Scarefest, the UK's largest theme park has partnered with online superstar, Daz Games, to host a horrifyingly unique, immersive experience where escape room meets live action scare maze, Daz Games: PANIC.  
The legendary YouTube star, Daz Black, has become hugely popular for his Daz Games YouTube channel, gaining a huge following of dedicated 'Dazzlers' with over eight million subscribers and over two billion views.  
The brand-new scare attraction is the first of its kind, where players will be given a wristband and released into the attraction to compete to find two unique symbols and exit within seven minutes, however they will not be alone. Daz Games: PANIC will put players through an intense series of tests to challenge the mind and body, as they race against the clock to find the symbols and escape, before being trapped in the game forever.  
In a chilling promo video released by the Resort today, Daz's AI technology has been corrupted and taken over the maze. A brave thrillseeker can be seen running down a dark corridor lined with chain link fencing, searching for the unique symbols before becoming face-to-face with terror.   
In addition to the terrifying new escape maze, guests can expect more creepy scares, shocks and spooktacular thrills than ever before as the Resort has announced two new scare attractions, including:  
Burial Grounds

, a free-flowing outdoor scare zone shadowed by the mighty Wicker Man will be accessible and free for all guests to experience. 
The Unchosen, a cult obsessive of modern-day fanatics obsessed with the lore of the Beornen invite you to their sacred sanctum of ancient burial grounds. Keep your pace amongst the desecrated realm of unearthed bodies, flaming shrines and monstrous deities. Stay too long and they will choose you too - are you ready? 
Altonville Mine Tours – Tiny's Revenge

:

Updated for 2023, rumours are afoot that the old Altonville Mines are alive with activity once again. Following a breakthrough from local law enforcers, the notorious Skin Snatchers have been detained.. but for how long? The ironically named Tiny, however, has evaded capture and is believed to still reside within the Mines. Explore at your peril and risk the adventure, if you dare.

 
The Resort has confirmed the return of three multi-award winning, terrifying mazes, plus the family fave Trick O Treat Town with HARIBO is back for a third year. The line-up of terrifyingly good scare maze and attractions include: 
The Attic: Terror of the Towers

: An unforgettable and truly chilling experience set in the eaves of the Theme Park's famous and historical Tower ruins. Rumoured to be haunted by 'the Governess', local legend says she is eternally trying to avenge the death of her charges; taking the spirits of the living as penance…but who will be her next victim?

 
Darkest Depths:

Get ready for a terrifying new adventure aboard 'The Mutiny', a notoriously spine-chilling ghost ship. You'll truly earn your golden piece of eight by venturing into the darkest depths, avoiding the hazardous calls of the treacherous Sirens, dodging the swords of terrifyingly ghoulish pirate mutineers and coming face to face with the Kraken – the legendary monster of the seas! 

 
The Invitation

: Visit the Lakeside Cemetery mausoleum where the friendly funeral director is dying to meet you. Enter the vault to choose your final resting place but proceed with caution, you will not be alone, some caskets have already been filled and their occupants are keen to meet you. 

 
Trick O Treat Town with HARIBO

where every day is Halloween and the townsfolk favourite pastime is trick-or-treating for the town's visitors. Guests will be given a tote bag upon entering the indoor attraction and start by taking a walk down Spooky Avenue before moving onto houses in Treat Street, Witchy Woods, The Graveyard and The Hill. Knock on the doors to collect lots of sweet treats and other spooky surprises but be careful as there will be tricks aplenty. 

 
Also returning for 2023 is the family friendly frights line-up of live entertainment including the Alton Ancestors, Freaky Five and CBeebies Land Monster Ball, where little monsters can see their favourite CBeebies Land characters for a special Halloween party. 
Open until 9pm each day, daring guests can also face the head-spinning, hair-raising rides and attractions in darkness including the Alton Towers Dungeon.  
If one day just isn't enough, guests can extend their stay with an overnight stay at the Resort's iconic themed accommodation. From the UK's only CBeebies Land Hotel and Caribbean themed Splash Landings Hotel, to enchanting log cabins and the eccentric Alton Towers Hotel, there are six delightfully themed accommodations to choose from, and with a buffet breakfast, live evening entertainment, free parking and a free round of Extraordinary Golf, it's the perfect escape for friends and families. To help families and thrillseekers make the most of the spooktacular activities, the Resort has launched an overnight offer that gives overnight guests a second day on park absolutely free! 
Daz Black, said: "It has been an incredible experience to mix gaming, horror and theme parks to create a totally unique scare attraction for Alton Towers Resort. I am super excited to see it come to life and I hope fans will both love it and be absolutely terrified at the same time."  
Scarefest will take place at Alton Towers Resort from Saturday 7th to Sunday 8th October, then each day from Friday 13th to Tuesday 31st October. To find out more and to book tickets, visit: Scarefest Halloween Event | Alton Towers Resort 
ENDS 
Notes to Editors 
Accompanying photo and video assets can be found here: https://www.dropbox.com/scl/fo/6ybhbsberw1vy27u6529z/h?rlkey=niesvkz519b4wgax46vr515jl&dl=0  
For more information please contact Louise.Eling@Alton-Towers.com or Sophie.Tickle@Alton-Towers.com.  
2nd Day Free  
Enjoy a family getaway from just £170 (family of 4, excluding park tickets) and get a second day free in the theme park for stays from Sunday 13th August 2023

– Friday 27

th

October 2023 

 

The offer is available on all themed accommodations including the Alton Towers Hotel, Splash Landings Hotel, CBeebies Land Hotel, Stargazing Pods, Woodland Lodges and Treehouses

 
An overnight stay also includes:  
2-day theme park entry 

 

A delicious breakfast 

 

Free 9-hole round of Extraordinary Golf 

 

Fantabulous evening entertainment 

 

Free car parking 

 

Waterpark passes must be add at the upgrade stage while booking 

 

Full details can be found here:

2nd Day Free | Alton Towers Resort

 
About Alton Towers Resort  
Coming, ready or not! Escape to Alton Towers Resort in 2023 and get ready to experience The Curse at Alton Manor. A haunting dark ride taking you on a hair-raising journey through the abandoned Alton Manor, which has been repossessed under mysterious circumstances. Have your wits about you as you ride deeper into the historic Manor.  
Learn, play and inspire children's imaginations at the UK's only CBeebies Land and CBeebies Land Hotel. Your little ones can meet their favourite CBeebies friends and enjoy a range of fantastical rides and attractions, including the three latest attractions, Hey Duggee Big Adventure Badge, Andy's Adventures Dinosaur Dig and JoJo & Gran Gran At Home. Extend your stay at CBeebies Land Hotel, with delightfully themed rooms, including the latest Bing-themed bedrooms where Bingsters can enjoy the ultimate sleepover.  
Throughout 2023, as well as launching an amazing new attraction, the Resort will be hosting a world of thrilliant events for the nation to enjoy including the return of Mardi Gras, Oktoberfest, award-winning Scarefest and Fireworks Spectacular, plus Festival of Thrills is back for its second year with an exciting Smiler celebration.  
Alton Towers Resort provides the ultimate staycation option with five uniquely themed hotels and accommodation options for a truly unforgettable escape for friends, families and thrillseekers alike.  
For more information about Alton Towers Resort or to book your fantastical escape, please visit www.altontowers.com