A message from Santa!
Thursday December 10th 2015
Mistletoe
Archive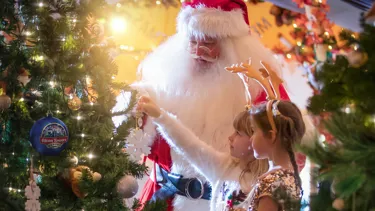 Hi everyone, my name is Mistletoe and I'm one of Santa's Head Elves! This year, Santa has put me in charge of getting his UK outpost at Alton Towers Resort up and running – I love our UK outpost, so am very happy to have this task. Santa has asked me to write this message to you all and let you know how everything is going!
As you can see, from the photos above, festivities here are already well underway - we've got the decorations up and Santa has already seen some very lucky boys and girls that stayed in the hotel here last weekend. I even snuck out to watch the brand new Pantomime, Cinderella, here on Sunday - which was amazing.
This year, I've decided that we should make our UK outpost bigger than ever, meaning that even more boys and girls can come and see us over Christmas and Mrs. Claus is even joining us too!
This year, we've got so much to do and we're going to need your help to make sure that Christmas goes without any problems. This is why I've been working very closely with Mrs. Claus to create the Elves' Emporium – a little slice of the North Pole, where everyone can help us to get ready for the big day! The first step is to help us figure out just how many sleeps we have left to get everything done and Mrs Claus also has something very special that she needs you to help her make in time for Christmas! The Elves' Emporium will be ready for this weekend (12th December) so we can't wait to see you there.
Of course Santa still has his special grottos for all of the children staying over. They've always been Santa's favourite place to meet you all, so this year I've personally been making sure that every Christmas tree is lit, Santa's fire is perfectly snuggly and all of the presents are perfectly stacked!
Anyway, I had better go – there is so much still to do! I really hope that I see you all soon when you come along to visit our UK outpost!
Oh, I nearly forgot - Santa just has one more message for you before I go, he says to be good and make sure you get to bed nice and early on Christmas Eve, he needs as long as possible to get all the way around the world and visit all of the good little boys and girls!