Artist Kyle Lambert helps Alton Towers make a scene
Tuesday January 9th 2018
Sian
Archive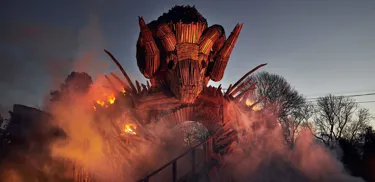 We caught up with L.A. based movie poster artist, Kyle Lambert, known for his Stranger Things key art, to talk about the eye catching illustration he created to celebrate the opening of 'Wicker Man'. 
Kyle said: "I was approached by Alton Towers to work on a poster illustration for a top secret project. I was incredibly excited because, growing up in the North West of England, Alton towers has been a big part of my childhood. It was also where I had my first date with my wife, Ági - So I couldn't resist getting involved! 
I was briefed on the legend of the Wicker Man and given a few key visuals of the new ride to kick-start my creative process. From there I sketched out several loose ideas for a poster design. 
I felt that it was essential to communicate Wicker Man as a fast and thrilling experience, and to clearly show it is a wooden rollercoaster that is unlike anything you've seen before. 
We agreed that having a large looming Wicker Man figure in the background with the track bursting through his chest was a strong visual, so I developed this into the central compositional element for the poster. 
I sketched the outlines using an app called Procreate using an iPad Pro and Apple Pencil. I then added tone and colour using Adobe Photoshop for Mac using a Wacom Tablet.
With fire being a core theme of the Wicker man, it was important to me to have a warm dramatic colour pallet to convey the intensity of the exploding flames. I added a hidden message in the fire using runes and subtly placed a small group of the Beornen people emerging from the forrest, transfixed with the glowing Wicker Man silhouette. 
"It was an amazing project to be involved with and I am really happy with how the final poster turned out. I'm super excited to experience the Wicker man when it debuts later this year."
Wicker Man opens Spring 2018. Visit www.altontowers.com/wickerman